Xolo



Gender

Male

Known Relatives

Attitude as a customer

Closer

Appearances

Normal(Freezeria HD)

Favorite Holiday

Various
Xolo (pronounced: "zow-low")
 is a customer who first debuted in
Papa's Wingeria
as a
closer
. He replaces his sister
Xandra
as a
closer
. He was in a sneak peek that released his name, and the fact that he was a
closer
. Also, he shares Xandra's signature orange hair and yellow "X" t-shirt. He's a
Starlight City
resident.
Orders
Papa's Wingeria
5 Spicy Garlic Wings
5 Red Peppers
2 Mango Chili Dips
Papa's Hot Doggeria
Italian Sausage in a Hoagie Roll
Mustard
Papa's Ballpark Mustard
Mushrooms
Relish
Pickle
Drink and Popcorn:

Large Hyper Green
Small Red Hot Popcorn
Papa's Cupcakeria
In Both Cupcakes:

Random Liner
Lemon Cake
Random Frosting in other holidays
Random Toppings in other holidays
Papa's Freezeria HD
Large Cup
Fudge Brownie
Pumpkin Pie Syrup
Chunky Blend
Chocolate Whipped Cream
Chocolate Syrup
Nuts
Sprinkles
Creameo, Cookie, Creameo
Papa's Pastaria
Regular Fettuccine (except in three holidays)
Three Cheese Sauce (except in five holidays)
7 Meatballs (5 Shrimps in Starlight Jubilee; four or five in eight holidays)
Random Toppings in other holidays
Crescent Roll
Papa's Freezeria To Go!
Large Cup
Tutti Frutti Syrup
Regular Blend
Maui Meringue
Wildberry Derps
Cherry, Cherry, Cotton Candy Creameo
Trivia
In Wingeria, he is the only person to order 5 of any wing or side. All the other customers order 2, 3, 4, 6, 8, 9, or 12 of anything.
He is the first obese customer to appear in Papa's Wingeria.
He was in the 2013 Easter Picture with his sister Xandra.
In Papa's Cupcakeria, the frosting that he orders will change according to the holiday.

Valentines Day: Pink Frosting
St Paddy's Day: Chocolate Frosting
Easter: Violet Frosting
Onionfest: Violet Frosting
Summer Luau: Green Frosting
Starlight Jubilee: Teal Frosting
Baseball Season: White Frosting
Pirate Bash: Dark Blue Frosting
Halloween: Black Frosting
Thanksgiving: Orange Frosting
Christmas: Red Frosting
New Year: Sunglow Frosting

Xolo is dressed as a clown during Halloween.
In Papa's Freezeria HD he is a neutral customer.
Oddly enough, his head doesn't appear to be connected to his body. The scarf normally covers this up; it is visible under certain circumstances, however.
He is Edna's adopted son.
Gallery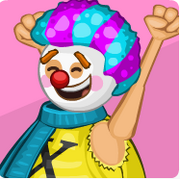 --