Whippa is a female customer who made her first appearance as a closer in Papa's Scooperia, Papa's Scooperia HD, and Papa's Scooperia To Go!
Appearance
Whippa has fair skin and long, white hair with bangs. She also sports black sunglasses. She wears a two-toned, brown striped turtleneck sweater underneath a white jumper dress with brown trim and 4 buttons on the chest, a gold necklace, white pants, and white and brown shoes with black soles and yellow laces.
Style B
For Style B, Whippa wears a two-toned, brown checkered jumpsuit with a gold zipper. She also wears a white fur coat with black trim and gold zippers and buttons.
Orders
As a Closer, Whippa's orders change with the holidays.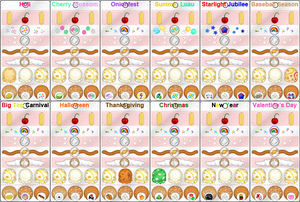 Stickers
| Number | Name | Achievement | Sticker Earned |
| --- | --- | --- | --- |
| 49 | Successful Specials | Earn 3 Special Stars when serving Today's Special | |
| 85 | Cookie Clickin' | Strike out in Mitch's Mess by clicking 3 different cookies | |
| 34 | Interior Decorator | Buy 8 Furniture items from the Shop | |
Trivia
Her name refers to Whipped Cream.
It was speculated that Whippa may have been based on certain celebrities due to her appearance. However, Tony confirmed on the Flipline forum that "Whippa is not based on any such celebrities. If anything, she and Mousse are based off of the style of 70's spy movies." [1]
Gallery
Fan Art