Wendy is a female customer who made her first appearance in Papa's Pancakeria.
Flipdeck Info
Hometown: Maple Mountain
Loves: Shrimp
Hates: Dressing up

At the bottom of Maple Mountain you can find the Greasy Gear Garage. It is owned and operated by Wendy. The winding mountain roads cause many accidents, which leaves Wendy with a lot of work. Although she can fix just about any car, Wendy's expertise lies in motorcycles. When a repair is needed, Rico and Akari's garage of choice is the Greasy Gear.
Appearance
Wendy has long, reddish-brown hair tied in a ponytail and sports blue-trimmed glasses. She wears a blue shirt with gears printed on it. She has black pants, maroon shoes, and black gloves. She also has a maroon belt with a hammer and wrench secured in it.
Orders
Bottom Bun
Rare Patty
Bottom Bun
Rare Patty
Top Bun
Liner A
Cupcake 1:
Cupcake 2:
Purple Burple Syrup
Blueberry Topping
Cherry
Waffle Cone Wedge
Cherry
Blueberry Syrup
Gummy Worm
Cherry
Gummy Worm
Blueberry French Cruller with Blueberry Custard
Regular Egg with Marshmallow Cheeps Cream (Roll with Lemon Chiffon in other holidays)

Vanilla Icing
Pink Lemonade Drizzle (Dreamsicle Drizzle in other holidays)

Blueberry French Cruller with Whipped Cream

Lavender Icing (Strawberry in other holidays)
Blue Moon Drizzle
Jelly Beans (Cosmic Coconut in other holidays)
4 Wasabi Shrimp
4 Wasabi Hog Wings
4 Celeries (left)
4 Green Peppers (right)
Ranch
4 Colby Jack cheeses (left)
6 Spinaches (left)
6 Asiago cheeses (right)
4 Green peppers (left)
Light baked
4 slices
Unlockable Toppings with Her
Ranks Require to Unlock Her 
This list is incomplete. Please help by adding CORRECT info to finish this list. Once the list is complete, please remove this template box.
Papa's Next Chefs
2012- She lost to Utah in the first round. She did earn enough votes to finish in 3rd place with Matt in the Blueberry Division.
Trivia
She has the longest hair of any customer.
Wendy is the last Papa's Pancakeria local to have a flipdeck.
Order Tickets
Gallery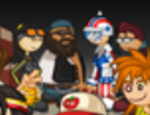 Fan Art