Vincent is a male customer who made his first appearance in Papa's Sushiria.
From Flipline Blog
Vincent is a traveling mailman who loves to stop by for a quick Sushi fix. He's not only here to eat, Vincent's here to help too!
When we introduced stickers in Papa's Bakeria, we made several quests where you had to serve a specific customer specific things. Unfortunately, this could sometimes take a very very long time. See, if you had to serve Rico a specific Special, you would have no idea how long it would take before Rico returned. Sometimes you would be waiting months before Rico would stop by the shop again.
So we solved that problem by creating Customer Coupons that you can buy in the shop.
Once you purchase a Customer Coupon, you can send it to anyone of your unlocked customers.
Once sent, Vincent will head over to that customer's home to deliver the coupon.
After that, you will be certain to see that customer return by the next day!
Vincent will also be taking over the job of delivering new outfits to customers! [1]
Appearance
Vincent has dark skin, short and curly black hair and a goatee. His postman's uniform consists of an orange shirt, white pants, a postman's jacket, navy blue and gray striped shoes, and black-rimmed aviator sunglasses with orange lenses.
Orders
Nori with Shiso Rice
Crab Stick
Octopus
Mocha Tea with Lychee Bubbles
Holiday (Halloween):
Tarantula Soy Paper with Shiso Rice
Crab Stick
Octopus
Torigai
Mocha Tea with Lychee Bubbles
Stickers
| Sticker Number | Name | Achievement | Sticker Earned |
| --- | --- | --- | --- |
| 84 | Loose Change | Grab 250 coins while playing Papa's Raceway | |
| 43 | Costumed Closers | Serve all of the costumed closers during Halloween | |
| 73 | Spooktacular | Serve 20 customers during Halloween wearing any Halloween clothing | |
Earn all three stickers in either games to get this outfit: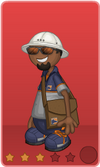 Trivia
When Vincent is ready to receive his new outfit, Matt, Clover, or a custom worker will give him his outfit.
If you deliver a coupon to him, Akari, who is a delivery courier, will give him the coupon.
Order Tickets
Gallery
Ad blocker interference detected!
Wikia is a free-to-use site that makes money from advertising. We have a modified experience for viewers using ad blockers

Wikia is not accessible if you've made further modifications. Remove the custom ad blocker rule(s) and the page will load as expected.