Traditional Crust is an ingredient used in Papa's Bakeria. It is one of three pie crusts available at the start of the game.
Customers who order this (Bakeria)
Customers who order this (Pizzeria HD)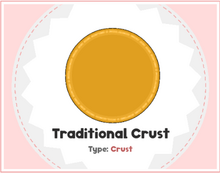 This list is incomplete. Please help by adding the correct info to finish this list. Once the list is complete, please remove this template box.
Specials using this ingredient
Papa's Bakeria
Pie Crust is the twenty-third recipe featured in Papa's Cook Book, a feature on the Flipline Studios Blog. It was featured along with Streusel and Apple Crisp Pie Filling. Together, these three items make an Apple Crisp Pie.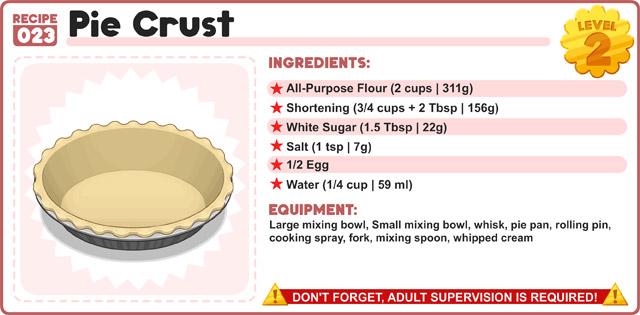 Instructions
The instructions could be found here.
1: Pie Crust Prep
In a large mixing bowl, combine the flour, shortening, white sugar, and salt. Mix it up until it is blended and crumbly.
In a small bowl, whisk the egg and water together. Pour it into the flour mixture, and blend them together.
On a clean surface, sprinkle flour, and roll out the dough into a large flat disk. Spray the pie pan with cooking spray and place dough in it. Firmly press the dough against the bottom and sides of the pan, and trim any overhanging dough from the rim of the pie pan. Using your fingers, flute the dough around the perimeter of the pan.
Ad blocker interference detected!
Wikia is a free-to-use site that makes money from advertising. We have a modified experience for viewers using ad blockers

Wikia is not accessible if you've made further modifications. Remove the custom ad blocker rule(s) and the page will load as expected.