Timm is a male customer who first appeared in Papa Louie: When Pizzas Attack!.
Flipdeck Info
Hometown: Tastyville
Occupation: Competitive Dancer
Loves: Pretzels
Hates: Smooth Jazz
Timm has been a loyal customer of Papa Louie since the very beginning. Always keeping up with the times, Timm has been evolving his look throughout the years. He finally quit his job at "Quinn, Timm, and Associates" to pursue his lifelong dream of becoming a world champion dancer.
Appearance
Timm's clothes were changed from his plain clothes to "cool" clothes and gold glasses in Papa's Taco Mia. During the events of Papa's Freezeria, his hairstyle became curly thanks to visiting the Cloudberry Beauty Salon monthly for a "manly perm".
Timm now wears an orange buttoned shirt, a black leather jacket with gold brass buttons over it, blue pants, black and white shoes, gold-rimmed glasses, and a gold necklace. Timm has brown messy and curly hair.
Orders: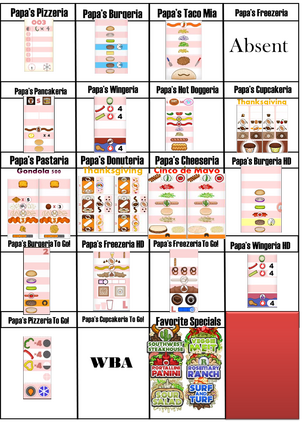 4 peppers
30 minutes
Sliced into 6 pieces
Bottom Bun
Rare Patty
Bottom Bun
Cheese
Rare Patty
Pickle
Onion
Top Bun
Soft
Beef
Cheese
Lettuce
Onion
Cheese
Mild Sauce
2 Pancakes
4 Bananas
Maple Syrup
Drink:
4 BBQ Wings
4 Celery
4 Red Peppers
Ranch Dip
Bottom Bun
Medium Patty
Ketchup
Pickle
Top Bun
Liner C
Chocolate Cake
Cupcake 1:

Mocha Frosting
Chocolate Drizzle
Chocolate Chips
Chocolate Acorn (Nutty Butter Cup in other holidays)

Cupcake 2:

Chocolate Frosting
Pumpkin Pie Drizzle (Chocolate Drizzle in other holidays)
Nutty Butter Cup
Harvest Stripe Cookie (Cherry in other holidays)
Nutty Butter Cup
Large Cup
Cookie Dough
Vanilla Syrup
Chunky Blend
Chocolate Whipped Cream
Butter Scotch Syrup
Chocolate Chips
Hazelnut Swizzle, Waffle Cone Wedge, Hazelnut Swizzle
Regular Mafaldine (Spaghetti in other holidays)
Three Cheese Sauce
Grated Mozzarella
Garlic Rush (No other seasonings in other holidays)
5 Fried Ravioli (Meatballs in other holidays)
Cheesy Bread
Large Cup
Cookie Dough
Espresso Syrup
Smooth Blend
Chocolate Mousse
White Chocolate Syrup
3 Dipped Pretzels
Hazelnut Swizzle on the left
Pumpkin Long John Donut with Pumpkin Pie Filling (Cookie Dough Cream in other holidays)

Cocoa Powder (Chocolate Icing in other holidays)
Autumn Leaves Sprinkles (Rainbow in other holidays)

Chocolate Long John Donut with Boston Cream

Vanilla Icing
Fudge Swirl Drizzle (Chocolate in other holidays)
Chocolate Chips 

Pumpkin Long John Donut with Chocolate Mousse

Cocoa Powder (Chocolate Icing in other holidays)
Candy Corn Drizzle (Dreamsicle in other holidays)
4 Wild Onion Wings
4 Celery
4 Red Peppers
Ranch Dip
4 Green Peppers
4 Red Peppers
4 Banana Peppers (bottom)
Regular bake
6 pieces
Tortilla with Shredded Mozarella (Pretzel Bread in other holidays)
Sauerkraut
Sliced Turkey
Southwest Sauce
Lettuce
Tomato
Regular
Fries:

Curly Fries
Rosemary
Ketchup
Ranks required to unlock him
Pizzeria: Rank 6
Burgeria: Rank 38
Taco Mia!: Rank 10
Pancakeria: Rank 12
Hot Doggeria: Rank 6
Cupcakeria: Rank 54
Papa's Freezeria HD: Rank 36
Pastaria: Rank 5
Papa's Freezeria To Go!: Rank 45
Wingeria HD: Rank 4
Cheeseria: Rank 9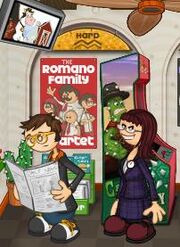 Unlockable toppings along with him
In Pancakeria he's unlocked with Bananas.
In Cupcakeria he's unlocked with Mocha Frosting.
In Freezeria To Go! he's unlocked with Espresso Syrup.
In Donuteria he is unlocked with Pumpkin Pie Filling.
In Pastaria, he is unlocked with Cheesy Bread.
In Cheeseria, he is unlocked with Southwest Sauce.
Papa's Next Chefs
Trivia
He did not appear in Papa's Freezeria, although he does make a cameo in the "Go for the Gold" badge and "The Gang's All Here" badge.
His newest look was first seen in Papa's Next Chefs 2011.
In Hot Doggeria, his drink order changes from Fizzo to Dr. Cherry, then to Root Beer when it is unlocked. 
The background of his Flipdeck is similar to that of Hugo's.
In Papa's Burgeria and Papa's Cupcakeria, he is unlocked in a later rank.
In Papa's Next chefs, he and Matt lost to James twice.
There is a badge in Papa Louie 3: When Sundaes Attack! that can be earned if Timm is used to defeat 25 Disco Plumms.
He is the only playable customer in Papa Louie 3: When Sundaes Attack! who does not attack with a weapon, similar to Ninjoy in PL2.
Order Tickets
Gallery
Fan Art