Timm
Talk

0
431pages on
this wiki
Timm

'

Gender

Male

Known relatives

None

Occupation

Dancer
Quinn's partner (formerly)

Flipdeck Card Number

010 [1]

Attitude as a Customer

Normal

Appearances

Absences

Papa's Freezeria (cameo in two badges)

Hair

Brown
Timm
 is a man who is a dancer and first appeared in Papa Louie: When Pizzas Attack! He was rescued with Penny in WPA (Papa Louie: When Pizzas Attack). He used to work with Quinn, but quit to become a dancer.
Changes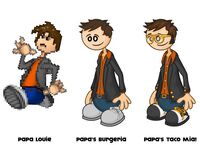 Timm's clothes were changed from his plain clothes to "cool" clothes and gold glasses in Papa's Taco Mia. During the events of 
Papa's Freezeria
, his hair was changed into a manly perm.
Flipdeck info
Timm has been a loyal customer of 
Papa Louie
 since the very beginning. Always keeping up with the times, Timm has been evolving his look throughout the years. He finally quit his job at "Quinn, Timm, and Associates" to pursue his lifelong dream of becoming a world champion dancer.
Orders:
4 peppers
30 minutes
Sliced into 6 pieces
Bottom Bun
Rare Patty
Bread
Cheese
Rare Patty
Pickle
Onion
Top Bun
Sort
Beef
Cheese
Lettuce
Onion
Cheese
Mild Sauce
2 Pancakes
4 Bananas
Maple Syrup
Drink:
Bottom Bun
Medium Patty
Ketchup
Pickle
Top Bun
4 BBQ Wings
4 Celery
4 Red Peppers
Ranch Dip
Hot Dog on Pretzel Bun
Sauerkraut
Onions
Ketchup
Mustard
Sport Pepper
Tomato
Sport Pepper
Drink and Popcorn:

Large Root Beer
Medium Cotton Puffs
Bottom Bun
Medium Patty
Ketchup
Pickle
Top Bun
Liner C
Chocolate Cake
Cupcake 1:

Mocha Frosting
Chocolate Drizzle
Chocolate Chips
Chocolate Acorn (Nutty Butter in other holidays)

Cupcake 2:

Chocolate Frosting
Pumpkin Pie Drizzle (Chocolate Drizzle in other holidays)
Nutty Butter Cup
Harvest Stripe Cookie (Cherry in other holidays)
Nutty Butter Cup
Ranks
Trivia
He enjoys dancing a lot, nothing as of as likely his fun-loving and free-spirited personality.
It seems that he was living with Penny and they lived in Room 1-3 of the apartment.
He did not appear in Papa's Freezeria although he does make a cameo in the "Go for the Gold" badge and "The Gang's All Here" badge.
Usually he comes as a customer on one of the first days. But he is unlocked late in Burgeria and Cupcakeria.
He and Clover have the same shoes, but with different colored laces and sole.
His newest look was first seen in Papa's Next Chefs 2011.
In Hot Doggeria, he changes from Fizzo to Dr. Cherry, then to Root Beer. 
The background of his Flipdeck is similar to that of Hugo's.
In Papa's Burgeria and Papa's Cupcakeria, he is unlocked in a later rank.
In Papa's next chefs, he and Matt lost to James twice.
Unlockable toppings along with him                  
In Pancakeria he's unlocked with Bananas
In Cupcakeria he's unlocked with Mocha Frosting
Papa's Next Chefs
Gallery