If looking for the entry for Yum n' M's, an ingredient used in Papa's Freezeria, please visit this page.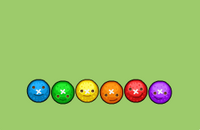 The Yum n' M's
are baddies that appear in
Papa Louie 3: When Sundaes Attack!
They are first seen in
Vanilla Heights
.
Appearance
They resemble small round candies, like M&Ms. They will come in different colours and face appearances. Each one of them has a white 'X' on their face, along with two eyes and a smiling mouth.
There are six different colours. Those are: blue, green, yellow, orange, red, and purple.
Movement
They are the Papa Louie 3 version of Dill Wheels from Papa Louie 2. They will constantly circle around their territory. However, unlike Dill Wheels, they are smaller and come in groups of 3-7.
Ad blocker interference detected!
Wikia is a free-to-use site that makes money from advertising. We have a modified experience for viewers using ad blockers

Wikia is not accessible if you've made further modifications. Remove the custom ad blocker rule(s) and the page will load as expected.