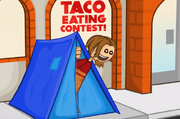 The Taco Eating Contest was a competition to eat as many tacos as you can to win a trophy. In the start of it, many were in line, and the participants were Kingsley, Mitch/Maggie and James.In the afternoon, James had a stomachache due to eating more tacos than he could handle, and waves the white flag in surrender.
In the evening, Mitch/Maggie starts eating two tacos at once. Upon seeing this, Kingsley, who was already starting to sweat out the hot sauce, gives up, leaving Mitch/Maggie as the winner of the competition.
So what does Papa Louie give as an award for winning the Taco Eating Contest? The keys, uniform, and the job of running Papa's Taco Mia!
Trivia
This competition is located in Tacodale.
This competition is the intro of Papa's Taco Mia!
The two competitors will give you a badge if you unlock both of them.
Kingsley is unlocked when Mitch/Maggie serves around half of the customers. James is the second to last before Papa Louie.
Gallery (Taco Mia!)
Gallery (Taco Mia HD)
Ad blocker interference detected!
Wikia is a free-to-use site that makes money from advertising. We have a modified experience for viewers using ad blockers

Wikia is not accessible if you've made further modifications. Remove the custom ad blocker rule(s) and the page will load as expected.