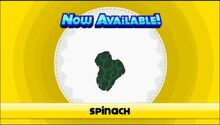 Spinach is an ingredient used in various Papa Louie's restaurant time-management games.
In Papa's Pizzeria To Go!, it is one of ten unlockable fruit or vegetable toppings customers can select for their pizzas, unlocked with Julep when the player reaches Rank 8.
The badge 'Finish with Spinach' is earned when the player serves 30 pizzas with spinach.
In Papa's Pizzeria HD, it is one of thirty-four standard pizza toppings, the seventh to be unlocked in the game. It is unlocked with Captain Cori when a player reaches Rank 12.
Customers who order this (Pizzeria To Go!)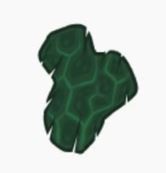 Customers who order this (Pizzeria HD)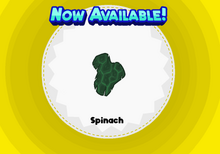 Specials using this ingredient
Papa's Pizzeria HD: