Sour Cream Sliders was the ninth recipe featured in Papa's Cook Book , a feature on the Flipline Studios Blog.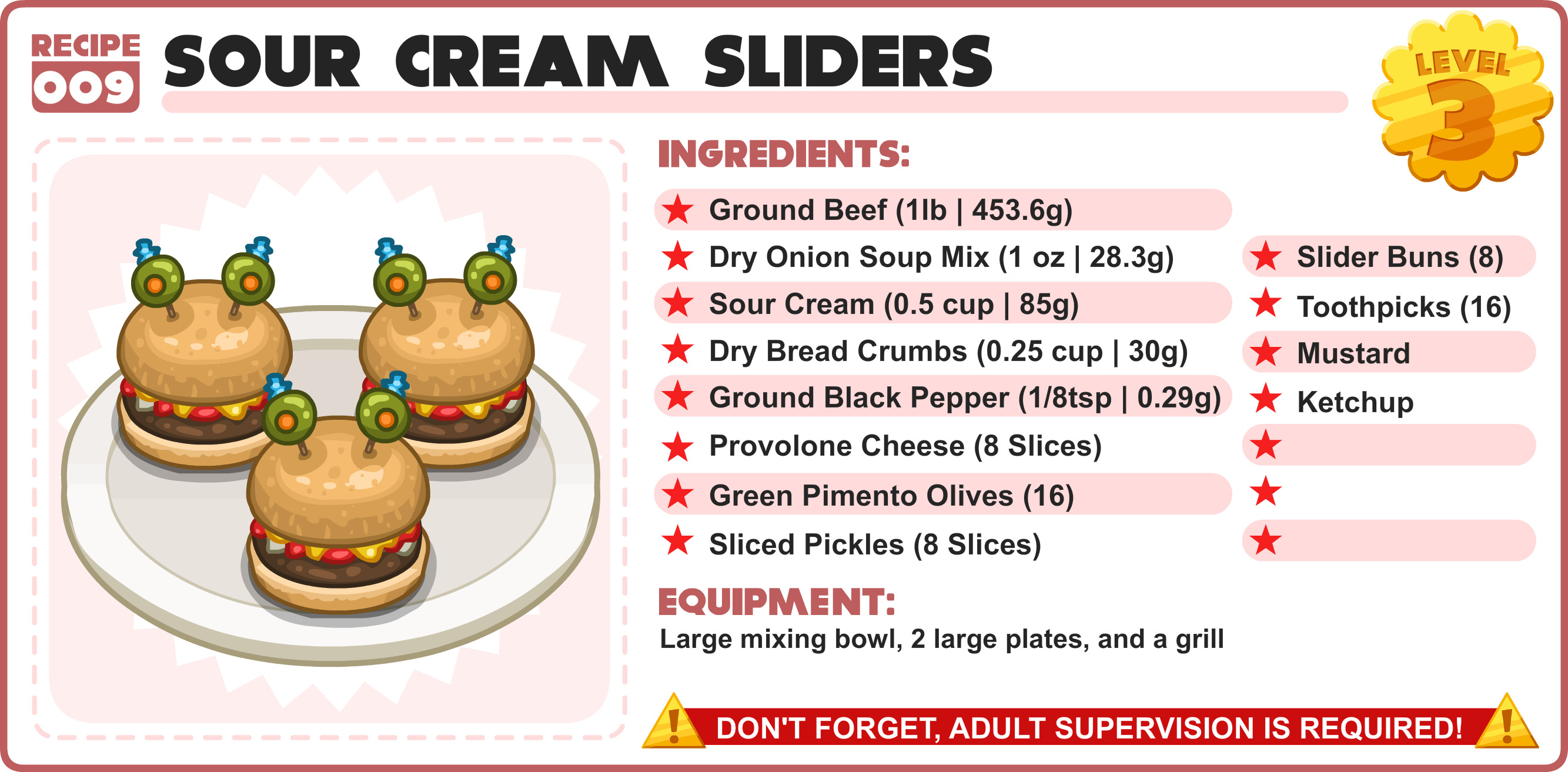 Instructions
1: Mix the Ingredients
Place the ground beef in a large mixing bowl. If the beef was previously frozen, make sure that it is fully thawed out first. Pour in the sour cream, dry bread crumbs, pepper, and dry onion soup mix. Thoroughly mix the ground beef and ingredients together in the bowl with your hands.
2: Form the Patties
From the beef mixture, roll out 8 evenly sized balls using all the beef in the bowl. Slightly flatten them and place them all on a large plate. Make sure not to overly flatten them, their flattened diameter should not be larger than the diameter of the slider buns that they will be served on. Just eyeball the size, don't go putting raw meat on the buns.
3: Grill the Patties
On a grill, carefully cook the patties. Make sure each side is evenly cooked by flipping them. For a burger to be safely eaten, it's interior must reach a minimum of 160 degrees Fahrenheit. At the tail end of the cooking process (after you are done flipping), place a slice of provolone cheese over each of the patties. Allow the cheese to slightly melt before removing from the grill.
4: Build the Sliders!
Once your patties are properly cooked, remove them from the grill and place them on a new, clean plate. First, take a slider bun and place the heel on a plate. Place a beef patty on top followed by some mustard, ketchup, and a pickle slice. Then place the bun on top. Take two toothpicks and stick an olive on each end. Place the olive toothpicks into the top bun of the slider, and enjoy!
Gallery
Ad blocker interference detected!
Wikia is a free-to-use site that makes money from advertising. We have a modified experience for viewers using ad blockers

Wikia is not accessible if you've made further modifications. Remove the custom ad blocker rule(s) and the page will load as expected.