Sky Ninja is a ride in the amusement park in Powder Point. It's the main focus in the intro for Papa's Donuteria. Tony/Scooter/Custom Worker tries riding it, with the use of an employee line jump pass, but the ride breaks down and it's closed for a year, much to Tony/Scooter/Custom Worker's disappointment.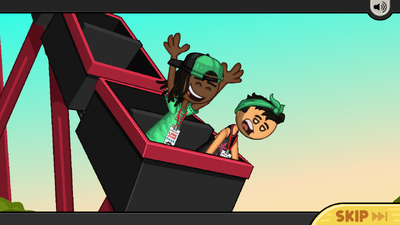 The roller coaster appears in the 2014 4th of July holiday picture.
Trivia
A holiday is dedicated to Sky Ninja, called Sky Ninja Returns, which is the final holiday in the game.
Ad blocker interference detected!
Wikia is a free-to-use site that makes money from advertising. We have a modified experience for viewers using ad blockers

Wikia is not accessible if you've made further modifications. Remove the custom ad blocker rule(s) and the page will load as expected.