Sizzle Shell Tacos was the eleventh recipe featured in Papa's Cook Book , a feature on the Flipline Studios Blog.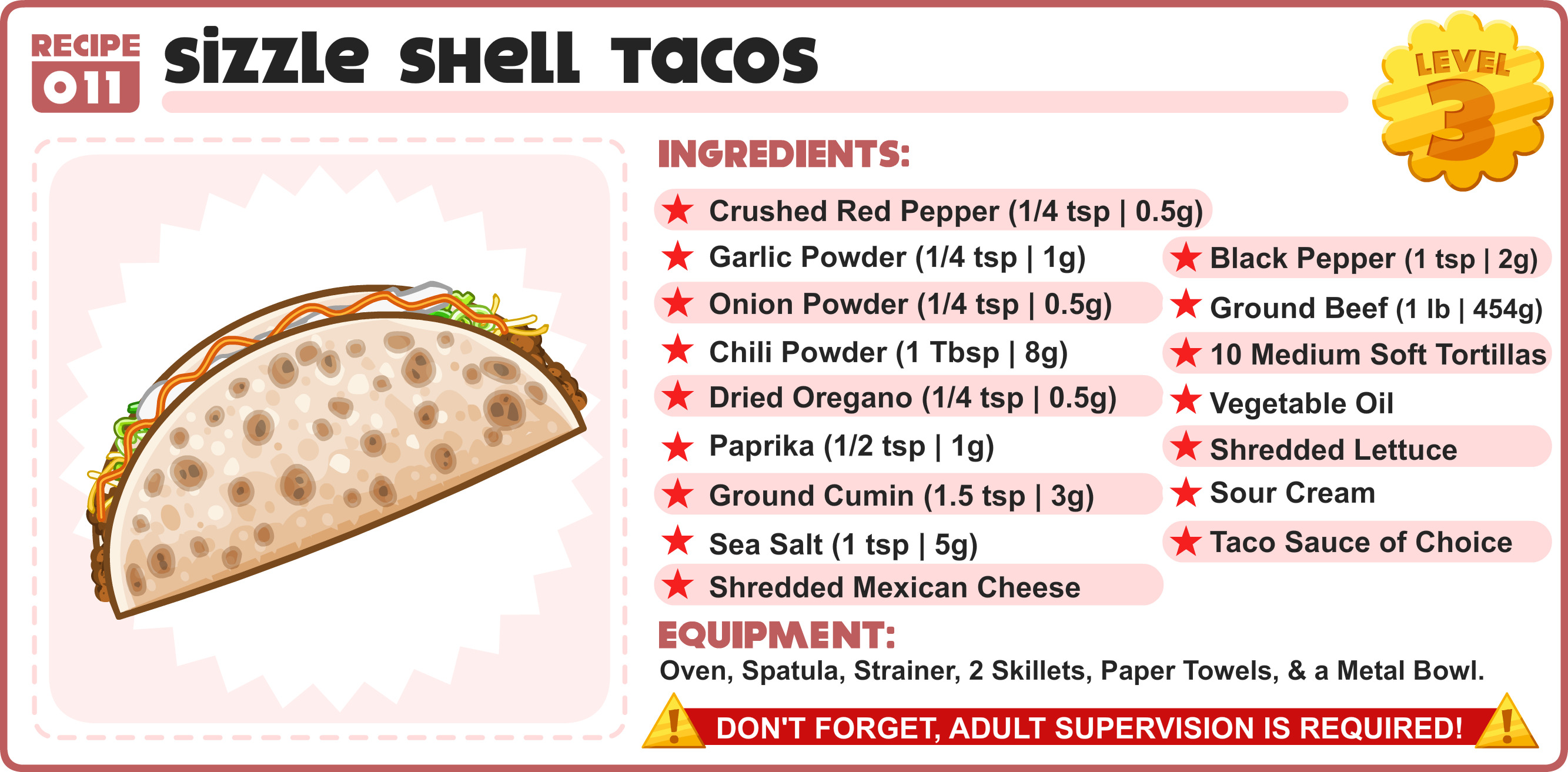 Instructions
1: Prepare the Beef
For this recipe we are using 1 lb of beef, which in the end should be enough for 10 tacos. If beef is frozen, make sure to thaw it out ahead of time. Place the ground beef into a large skillet. Cook over medium heat and stir occasionally until the beef is brown and fully cooked.
Remove the skillet from the heat and pour the beef through a strainer to remove excess grease. Grease can be caught in a metal bowl and discarded later.
2: Seasoning the Beef
Place the strained beef back into the skillet and add the chili powder, garlic powder, onion powder, crushed red pepper, oregano, paprika, cumin, sea salt, and black pepper. Add 2 tablespoons of water, and mix everything together. Cook over medium heat, stirring occasionally, until beef is nice and warm again. Remove from heat and cover with lid.
3: Make the Sizzle Shells
Fill another skillet with 1 inch of oil and heat to about 365 degrees Fahrenheit (185 Celsius). Fold the tortillas in half and carefully place them into the skillet using tongs. Beware of splashing oil! Place only as many folded tortillas into the skillet that will fit without overlapping. Cook them for 15 seconds, then flip them over and cook for additional 15 seconds.
Place the cooked shells on a plate covered in paper towels to absorb excess oil.
4: Build the Tacos
Fill each shell with a layer of seasoned beef, then top with cheese, lettuce, sour cream, and your choice of taco sauce or salsa. Enjoy your Sizzle Shell Tacos!
Gallery
Ad blocker interference detected!
Wikia is a free-to-use site that makes money from advertising. We have a modified experience for viewers using ad blockers

Wikia is not accessible if you've made further modifications. Remove the custom ad blocker rule(s) and the page will load as expected.