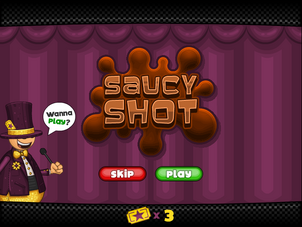 Saucy Shot is a minigame that is played after a day is completed in Papa's Cupcakeria. The targets are different baddies from Papa Louie 2: When Burgers Attack! The weapon used in this game is a bottle of BBQ Sauce.
Rewards
Rugby Shirt Shirt
Lime Stripe Wall Wallpaper
Bright Belt Belt Accessory
Paddy's Poster Waiting Bonus
Golden Tile Flooring
Hanging Plant Waiting Bonus
Sizzlers Hat Hat
Halloween Wall Wallpaper
Summer Skirt/Star Pants Pants
Red Bag/Red Necktie Accessory
Snow Floor Flooring
Gondoliers Jacket Jacket
Yellow Laces Shoes
Poinsettia Box Waiting Bonus
Ad blocker interference detected!
Wikia is a free-to-use site that makes money from advertising. We have a modified experience for viewers using ad blockers

Wikia is not accessible if you've made further modifications. Remove the custom ad blocker rule(s) and the page will load as expected.