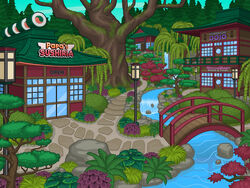 Sakura Bay is a fictional location in the world of Papa Louie's series of time-management games.
This small town strives to keep a perfect balance between buildings and nature. The citizens of Sakura Bay take great pride in their garden-like town, and each person does their part to maintain the beautiful plant-life that surrounds them. [1]
It is the home of Papa's Sushiria. Some of the other businesses located nearby include the Kunoichi Dojo and the MochiMart.
The city is represented at Griller Stadium by the Sakura Bay Samurais baseball team and the Sakura Bay Sables hockey team.
The local high school is Sakura Bay High.
Buildings
Townspeople
Gallery
Sakura Bay during holidays
Trivia
This location was inspired by one of the Flipline Forum moderator, D-Walker, by her fangames. [2]