Powsicle Parfait is a recipe that was introduced with the introduction of Papa's Cook Book, a new feature on the Flipline Studios Blog.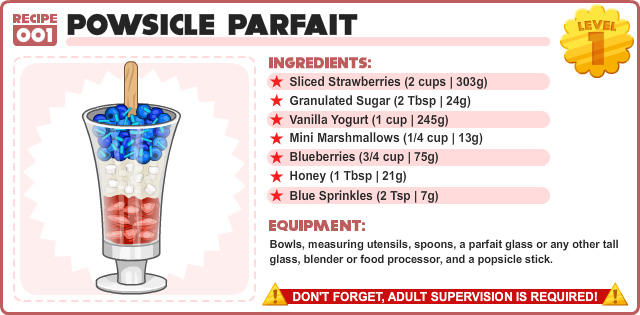 Instructions
The instructions are posted here.
1: THE RED MIXTURE: Pour the granulated sugar and HALF of the strawberries into a blender or food processor and blend until it's nice and smooth. Then, pour the puree into a bowl and mix in the remaining half of sliced strawberries. Set this red mixture aside for later.
2: THE WHITE MIXTURE: In a separate bowl, mix together the vanilla yogurt and mini marshmallows. Set this white mixture aside for later.
3: THE BLUE MIXTURE: In a separate bowl, mix the blueberries, honey, and blue sprinkles together. Set this blue mixture aside for later.
4: FINISH IT! Pour the red mixture a third of the way into the parfait cup. Then pour the white mixture 1 third of the way up the cup. After that, pour the blue mixture to the top of the glass. Garnish with a popsicle stick and enjoy your Powsicle Parfait!
Gallery
Flipline Studios asked users to send pictures of any Powsicle Parfaits made by fans:
Ad blocker interference detected!
Wikia is a free-to-use site that makes money from advertising. We have a modified experience for viewers using ad blockers

Wikia is not accessible if you've made further modifications. Remove the custom ad blocker rule(s) and the page will load as expected.