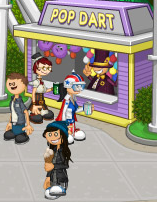 Pop Dart
is a booth owned by Foodini and a minigame in Papa's Donuteria. The goal in this game is to try to pop the golden balloon with the purple star. If the player pops it, they will receive a prize. If the player pops any other balloon, they will win some money. If the player doesn't pop any balloons, they get nothing. After a long absence in the series, it appeared in
Papa's Taco Mia To Go!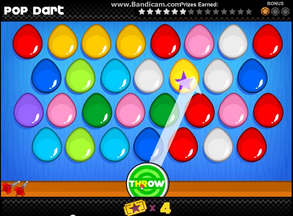 Valentine Balloons
Donut Poster Ring Donut Bonus
Red T-Shirt Shirt
Bonsai
Black Sneakers
Vanilla Poster Vanilla Drizzle Bonus
Wood Planks Flooring
Chef Hat Hat
Powder Poster Powder Sugar Bonus
Blue Polka Wall Wallpaper
Md. Ninja Table
Flavor X Poster Flavor X Bonus
Green Windbreaker Jacket
Bonus:
Papa's Donuteria Prize Gallery
Sm. Jubilee Table
Onion Poster
Sm. Halloween Table
Md. Christmas Table
Bunch o' Bats
Log Cabin
Treats Freezer
Chai Reverb Gum
Lg. Easter Table
Sm. Racing Table
Lg. Onion Crate
Md. Blossom Table
Sm. Carnival Table
Bonus:
Papa's Taco Mia To Go! Prize Gallery
Trivia
Pop Dart is a play on the word Pop Tart, a toaster pastry that comes in a silver package.
In the minigame, the writing is styled in a way similar to a Pop Tart.
When opening Papa's Donuteria, the stall can be seen with plush onions as a prize. However, when playing the minigame, one cannot obtain a plush onion.