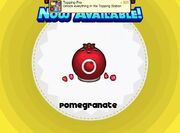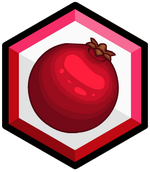 Pomegranate Seeds are a sprinkled topping used in Papa's Freezeria HD / To Go!. It's both unlocked with Kayla on Rank 38. The badge "Pom Topper" is received when you serve 30 orders with Pomegranate.
Pomegranate Filling is a holiday-exclusive filling in Papa's Bakeria. It's unlocked with Scarlett on Rank 11 during Valentine's Day.
Pomegranate is the holiday-exclusive shaker topping in Papa's Sushiria during Valentine's Day, it's unlocked on the 6th day of the holiday.
Customers who order this (Freezeria HD)
Customers who order this (Freezeria To Go!)
Customers who order this (Bakeria)
Customers who order this (Sushiria)