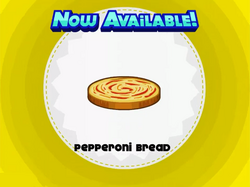 Pepperoni Bread is one of the six bread in Papa's Pastaria. It is the last one to be unlocked.It's unlocked with Franco on Rank 59. The Badge "Side Orders" when unlocked it.
The badge "Pepperoni Pro" is earned by serving 30 orders with Pepperoni Bread.
In Papa's Cheeseria, Pepperoni Bread is a seasonal bread and is unlocked on Day 2 of Portallini  Feast.
Customers who order this (Papa's Pastaria)
Customers who order this (Papa's Cheeseria)