Pauly's Pepper is a store, owned by Big Pauly located in Tastyville, that specializes in crushed pepper and unique spices.
Flipline Blog
Welcome back to Travel Trout Tours. This week we are in Tastyville to visit Pauly's Pepper.
Pauly's Pepper is located right next to Papa's Pizzeria. Specializing in crushed pepper and exotic spices, Pauly's Pepper has a seasoning for every season. Papa Louie uses their spices for all his major restaurants around the world. [1]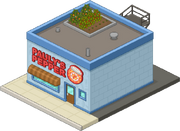 Ad blocker interference detected!
Wikia is a free-to-use site that makes money from advertising. We have a modified experience for viewers using ad blockers

Wikia is not accessible if you've made further modifications. Remove the custom ad blocker rule(s) and the page will load as expected.