Papa Louie
Gender
Male
Occupation:
Chef
Owner of Gameria franchise

First Appearance
Papa Louie: When Pizzas Attack!
Flipdeck Card Number:
15 [1]
Known Relatives:
Roy (Nephew)
Favorite Holiday
New Year (Cupcakeria)


Romano Wedding (Pastaria)
Sky Ninja Returns (Donuteria)

Closer
None
Papa Louie is the main protagonist of the Papa Louie's franchise of platform and time management restaurant games who first appeared in Papa Louie: When Pizzas Attack!. 
Info from the old PapaLouie.com
Specialty: The art of the Pizza Paddle.
"This humble pizza chef gets dragged into the adventure of his life in "Papa Louie: When Pizzas Attack!". Armed with his trusty pizza paddle and Crushida Pepper shakers, Papa must venture across the land to save his customers from the gooey Pizza Monsters."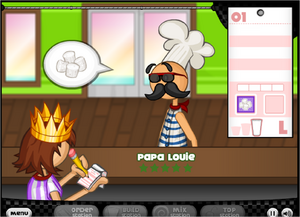 Flipdeck Info
Papa Louie is a lovable Italian chef who got his start selling delicious pizzas. He has a legion of fanatic customers who are willing to try anything Papa Louie has to offer. Whether it's free pizza parties, or the keys to his latest restaurant, Papa Louie is always trying to reward his loyal customers!
Toppings Unlockable with him
He is unlocked with New Year Topper in Papa's Cupcakeria.
In this game, Papa Louie has to be saved. To save him, the player has to defeat Radley Madish. Once Papa has been saved, you can play as him. He glides with his hat and uses his pizza paddle, just like the prequel. But when you buy his last outfit, he will change his weapon to a beach umbrella.
Gallery