Papa Louie is the main protagonist of the Papa Louie's franchise of platform and time management restaurant games who first appeared in Papa Louie: When Pizzas Attack!.
Flipdeck Info
Hometown: Tastyville
Loves: Cooking
Hates: Microwaved meals
Occupation: World Famous Chef
Papa Louie is a lovable Italian chef who got his start selling delicious pizzas. He has a legion of fanatic customers who are willing to try anything Papa Louie has to offer. Whether it's free pizza parties, or the keys to his latest restaurant, Papa Louie is always trying to reward his loyal customers!
Previous info from papalouie.com
Specialty: The art of the Pizza Paddle.
"This humble pizza chef gets dragged into the adventure of his life in "Papa Louie: When Pizzas Attack!". Armed with his trusty pizza paddle and Crushida Pepper shakers, Papa must venture across the land to save his customers from the gooey Pizza Monsters."
Appearance
Papa Louie is a bald man who wears a big white chef hat, a red scarf wrapped around his neck, a long-sleeved white dress shirt, a big red chef belt, brown pants, and brown shoes with red laces.
He has a large black moustache and black eyebrows.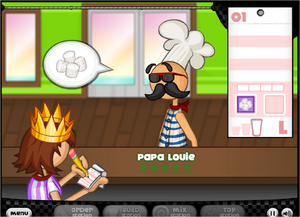 Orders
2 Pepperoni (Top Right)
2 Sausages (Bottom Right)
2 Mushrooms (Bottom Left)
2 Peppers (Top Left)
2 Onions (Top Right)
2 Olives (Bottom Right)
2 Anchovies (Bottom Left)
30 Minutes (1/2 of meter)
Cut in 4 slices
Bottom Bun
Lettuce
Rare Patty
Ketchup
Cheese
Tomato
Mayo
Pickle
Top Bun
Pita Taco
Pork
Black Beans
Cheese
Loco Mystery Sauce
White Rice
Sour Cream
Large Cup
Marshmallow
Rainbow Sherbet Syrup
Smooth Blend
Whipped Cream
Tropical Charms
Gummy Onion, Cherry, Banana
4 Pecan Pancakes
Cinnamon
Powdered Sugar
Honey
Bottom Bun
Awesome Sauce
Swiss Cheese
Bacon
Mushroom
Lettuce
Top Bun
4 Calypso Wings
4 Spicy Garlic Wings (left)
4 Wasabi Wings (right)
4 Carrots
Italian Sausage on a [Hoagie Roll
Fajita Veggies
Onions
Marinara Sauce
3 Tomato Wedges
Drink and Popcorn:

Medium Lemon Mist
Large Cinnamon Swirl
Liner D
Confetti Cake
Cupcake 1:

Deep Purple Frosting
Flavour X Drizzle (Strawberry Drizzle in other holidays)
Rock Candy
Streamer (Marshmallow in other holidays)
New Year Topper (Cherry in other holidays)
Streamer (Marshmallow in other holidays)

Cupcake 2:

White Frosting
Strawberry Drizzle
Stache Sprinkles (Rainbow Sprinkles in other holidays)
Candle (Cloudberry in other holidays)
Cherry
Candle (Cloudberry in other holidays)
Large Cup
Birthday Cake
Blue Moon Syrup
Smooth Blend
Whipped Cream
Coconut Shavings
Tropical Charms
Gummy Onion, Cherry, Gummy Onion
Large Cup
Peppermint
Blue Moon Syrup
Smooth Blend
Maui Meringue
White Chocolate Topping
Tropical Charms
Cotton Candy Creameo, Cherry, Cotton Candy Creameo
Al-Dente Radiatori
Cathedral Carbonara (Three Cheese Sauce in other holidays)
Black Pepper
5 Fried Calamaris
2 Tomatoes
2 Pickled Eggs (2 Green Peppers in other holidays)
Pepperoni Bread
Red Velvet Pon de Ring (Ring Donut in other holidays)

Azuki Icing (Red Icing in other holidays)
Cantaloupe Drizzle (Dreamsicle Drizzle in other holidays)
Boba Bubbles (Mini Mallows in other holidays)

Regular Pon de Ring (French Cruller in other holidays) filled with Chocolate Mousse

Chocolate Icing
Matcha Drizzle (Vanilla Drizzle in other holidays)

Blueberry Pon de Ring (French Cruller in other holidays) filled with Hakuto Jelly (Whipped Cream in other holidays)

Sky Blue Icing
Blue Moon Drizzle
Rock Candy
4 Calypso Hog Wings
4 Wasabi Tofu Skewers (Left)
4 Spicy Garlic Wings (Right)
4 Carrots
6 Asiago cheeses (right, top left)
6 Capicolas (left, top right)
3 Anchovies (left, bottom right)
6 Mushrooms (right, bottom left)
Well done
8 slices
Ciabatta with Gorgonzola Cheese
Sliced Salami 
Pickled Eggs (Fried Egg in other holidays)
Sliced Salami 
Hollandaise Sauce (Honey Mustard in other holidays)
Olives
Well-done
Fries:
Liner D
Confetti Cake (Strawberry cake in other holidays)
Cupcake 1:

Deep Purple Frosting
Blue Moon Drizzle
Rock Candy
Streamer (Cherry in other holidays)
New Year Topper (Marshmallows in other holidays)

Cupcake 2:

White Frosting
Strawberry Drizzle
Countdown Candies (Rainbow Sprinkles in other holidays)
Candle (Cloudberry in other holidays)
Candle (Cherry in other holidays)
Trivia
Depending on what website it is, Papa Louie is a third option for a chef in Papa's Burgeria.
He is always the last customer to be unlocked in each gameria.
He is bald, as it is seen when he glides with his hat in all three Papa Louie games.
You can buy his hat in all Gamerias starting with Papa's Taco Mia! except Cheeseria, where it is a special prize.
He orders every topping in Papa's Pizzeria, making his order the largest in the game. His pizza order is also larger than Big Pauly's order.
His Hot Doggeria building combination is similar to James', but with tomatoes.
In the Papa's Hot Doggeria intro, Papa Louie is the ticket seller (his neckerchief and his hat are seen).
He got a light tan in Papa's Hot Doggeria, as with many of the other characters in the same game.
His name was going to be Papa Lucci but changed to Papa Louie for easier pronunciation.
In Papa Louie 2: When Burgers Attack! and Papa Louie 3: When Sundaes Attack!, if you buy his outfit C, he will wear the bathing suit he wears from Papa's Freezeria, and the weapon he uses changes from the Pizza Paddle from Papa Louie: When Pizzas Attack! to a Beach Umbrella.

This makes him the only character in the platformer games to use two different weapons in the same game.

The first ingredient that is unlocked when he makes his first appearance at any of his restaurants is the New Year Topper in Papa's Cupcakeria.
In Papa's Cupcakeria after New Year is over, Papa Louie won't be the first customer to come in, but still coming back like a normal customer would.
He is never a closer, yet he is hard to impress.

For example, in Papa's Freezeria getting 100% on the topping score for Papa Louie is hard. The dropped toppings have to be close together for a better score.

In games with holidays/seasonal toppings, he always likes the last holiday in the game.
He is the only customer who orders more than one donut with 2 toppings in Papa's Donuteria.
He orders all of the holiday toppings in Cupcakeria and Donuteria, but not in Pastaria.
He has the same topping combination with Carlo Romano on Papa's Hot Doggeria
Unlockable toppings along with him
Order Tickets
Gallery
Fan Art