Papa's Taco Mia!



Release Date

May 20, 2011

Previous Game

Next Game

Previous Gameria

Next Gameria

Play the game

Post Mortem
Papa's Taco Mia! is the third gameria in the Papa Louie series. You can choose either Mitch or Maggie as your worker and make delicious tacos for the people of Tacodale.
Intro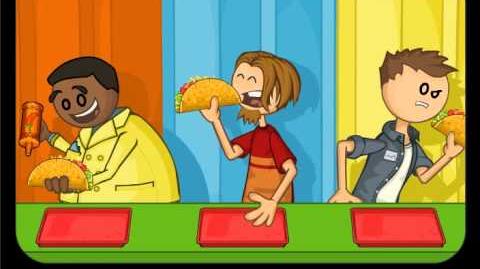 One day in
Tacodale
,
Papa Louie
opens his new taco shop and hosts the
Taco Eating Contest
.
Mitch
/
Maggie
camps out in front of the shop to be the first contestant. The other competitors are
James
and
Kingsley
. The contest starts and the three contestants must eat as many tacos as they can.
In the later afternoon hours, James gets a stomach-ache while eating a taco and gives up. In the evening, as Kingsley tries to eat his next taco, he begins to sweat and surrenders also. This means that Mitch/Maggie wins the contest and the trophy and is unexpectingly given the shop by Papa Louie.
Gameplay
In this game the player makes tacos. You can unlock all the ingredients and upgrade your shop to increase style and speed and scores. The player must be quick on serving those new, picky Closers (Robby, Akari, Allan, Quinn, Rico, Xandra and Jojo) and show them your wild taco making skills. You can also earn up to 60 Badges while playing the game, unlocked for a variety of achievements including using certain toppings, getting high scores in each station, serving certain customers, as well as many, many more.
List of Customers
Closers are written in italics
Note: Time customers are customers that are unlocked when you don't manage to go up a rank in a day (after Rank 2)
Customer Debuts
Bold customers are closers
Absent Customers
This is the second game where no one is absent, the first being Papa's Pizzeria.
Ingredients
Meats
All the Meats if the Taco Mia! debuts are unlocked.
Taco Shells
Toppings

Sauces

Ranks
Newbie ($100)
Taco Trainee ($105)
Tray Cleaner ($110)
Cashier ($115)
Part-Time Cook ($120)
Ticket Handler ($125)
Order Attendant ($130)
Line Cook ($135)
Taco Apprentice ($140)
Hard Taco Pro ($145)
Soft Taco Server ($150)
Pita Pro ($155)
Taco Filler ($160)
Tomato Topper ($165)
Cheese Champ ($170)
Lettuce Lover ($175)
Pinto Pro ($180)
Onion Expert ($185)
Guacamole Pro ($190)
Rice Wrangler ($195)
Jalapeno Master ($200)
Pepper Fan ($205)
Sauce Specialist ($210)
Nacho Squeezer ($215)
Brown Rice Boiler ($220)
Black Beans Expert ($225)
Verde Veteran ($230)
Loco For Loco Sauce ($235)
Beef Broiler ($240)
Chicken Champ ($245)
Pork Puller ($250) 
Steak Server ($255) 5,000 points till Rank 33.
Master of Meats ($260)
Expert Taco Builder ($265)
Stove Top Champ ($270)
Spatula Pro ($275)
Knife Expert ($280)
Grade A Griller ($285)
Top Topper ($290)
Part-Time Manager ($295)
Taco Shop Manager ($300)
Tex-Mex Legend ($305)
Taco Mia! Master ($310)
Better Than Papa ($315)
New Gameria features
New features that are introduced in this game, and will be used in future Gamerias, are:
Trivia
Minigames representing Taco Mia
Icons
Gallery