Papa's Pizzeria
Talk

0
331pages on
this wiki
Papa's Pizzeria

'

Release Date

August 7, 2007

Previous Game

Next Game

Next Gameria

Play the Game
Papa's Pizzeria
is the first gameria, the start of Flipline Studio's popular Papa Louie's Gameria series. It was released in August 2007.
Intro (Narrative Version)
Edit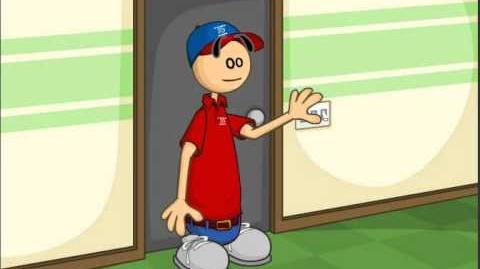 One day in
Tastyville
,
Roy
 finishes delivering pizzas and comes back to the restaurant. When he enters into the Pizzeria and turns on lights, he shouts for his uncle, but there is no answer. Roy shouts again, but Louie isn't heard. Suddenly, Roy sees a letter on the counter and reads it. On the letter,
Papa Louie
tells Roy to run the Pizzeria while he's gone. Terrified, Roy sees that
Kingsley
at the door.
Customers
Edit
Customer Debuts
Edit
Newbie
Trainee
Cashier
Delivery Boy
Part-Time Cook
Line Cook
Pizza Topper
Head Cook
Chef Trainee
Assistant Chef
Sous Chef
Pizza Chef
Head Chef
Master Chef
Pizza Master
Pepperoni Lover
Sasusage Specialist
Mushroom Master
Pepper Pro
Onion Wrangler
Olive Expert
Anchovy Flinger
Dough Tosser
Cheese Grater
Oven Expert
Slicer and Dicer
Pizzeria Manager
Pizza Commander
Master Of Pizzas
Ultimate Chef
Better Than Papa
Undefined (for the first day, but after that, it reverts back to "Better than Papa")
Cheat Name
Edit
If a player makes his or hers save slot name almostpapa, the player will go to day 99 and Rank 30. Every customer will be unlocked with a gold customer badge except Papa Louie. Note that Sarge Fan is the only one that is a 3 star silver customer.
Papa's Pizzeria is the only Gameria that has an animated intro instead of a slideshow intro.
It is also the only game that you can't decorate the resturant, upgrades and/or furniture, as this feature was introduced in Papa's Burgeria. That allowed the waiting scores to drop significantly.
When Roy presents an order to a customer, he is shown giving the pizza to a customer. In the Burgeria and beyond, the customer is already either looking at the food or eating one part of it.
This is the only game so far to have a cheat name. (see above)
Your worker can only be Roy in this game. In Burgeria and on, you can choose from two workers. (One Male, One Female) or a custom worker.
This game has 'New Menu Items" on Day 2, but there isn't a screen showing it.
External Links
Edit