Papa's Next Chefs 2013
Comments

0
603pages on
this wiki
Papa's Next Chefs 2013
is the third Next Chefs tournament. The winners of this tournament are
James
and
Willow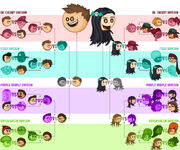 . They won the worker job at
Papa's Cupcakeria
.
Introduction
Hey Everyone! Have you noticed that it has been over 5 months since our last Gameria? What?? Well don't worry, we have the next restaurant all planned out, and let me tell you... it's going to be awesome!
With that being said, we figured it's about time to kick off Papa's Next Chefs 2013!
As some of you may know, the Papa's Next Chef tournament is a yearly challenge where you, the fans, get to choose who will be working at Papa's next restaurant! We will be showcasing 2 battles each week, one for the guy's position and one for the girl's position. The winners for each week move on to the next round and one step closer to Papa's Next Chefs!
We would like to thank our sponsors; Dr. Cherry, Fizzo, Purple Burple, and Hyper Green for representing the four divisions this year. Let's get this party started!
Matches
BOLD means the winner of that round.
Dr. Cherry Division
May 6, 2013: James vs. Cletus/Clover vs. Mindy
May 13, 2013: Robby vs. Tony/Zoe vs. Scooter
Finals of Dr. Cherry Division
May 20, 2013: Tony vs. James/Clover vs. Scooter
Purple Burple Division
May 27, 2013: Gremmie vs. Franco/Kayla vs. Tohru
June 3, 2013: Doan vs. Greg/Lisa vs. Mary
Finals of Purple Burple Division
June 10, 2013: Doan vs. Franco/Tohru vs. Mary
Fizzo Division
June 13, 2013: Allan vs. Hank/Edna vs. Wendy
June 17, 2013: Wally vs. Timm/Willow vs. Sue
Finals of Fizzo Division
June 20, 2013: Allan vs. Timm/Willow vs. Wendy
Hyper Green Division
June 24, 2013: Johnny vs. Hugo/Sasha vs. Ivy
June 27, 2013: Connor vs. Matt/Utah vs. Cecilia
Finals of Hyper Green Division
July 1, 2013: Johnny vs. Matt/Utah vs. Ivy
Semi-finals
July 4, 2013: James vs. Timm/Willow vs. Scooter
July 8, 2013: Doan vs. Matt/Utah vs. Tohru
Final Match
July 11, 2013: James vs. Matt/Willow vs. Utah
Ineligible Customers
Rounds and finals
Dr. Cherry
Dr. Cherry Division Round 1
Dr. Cherry Division Round 2
Dr. Cherry Division Finals
Purple Burple
Purple Burple Division Round 1
Purple Burple Division Round 2
Purple Burple Division Finals
Fizzo
Fizzo Division Round 1
Fizzo Division Round 2
Fizzo Division Finals
Hyper Green
Hyper Green Division Round 1
Hyper Green Division Round 2
Hyper Green Division Finals
Finals
Semi-finals Round 1
Semi-finals Round 2
Finals
Winners