This article has been awarded the Blue Ribbon as an outstanding featured article!

Papa's Freezeria To Go! is an edition of Papa's Freezeria made for iPhones, iPads, iPods, and Android phones. It was announced on January 15, 2014 and was released February 27, 2014. It costs $0.99.
Previews
New Ingredients
Customers
On November 20, 2014, Flipline Studios announced an update to Papa's Freezeria to Go, adding the Powder Point locals to the game. iPod Touch and iPhone users could get the update today, while Android users will get the update "in a few days." [8]. They are unlocked between Sue and Wendy. If you already unlocked Papa Louie, they will come after. (Hacky Zak will be the first one to come everyday after that.)
Ingredients
The format for this is Ingredient (Rank unlocked with customer) (related badge(s))
Cups
Mixables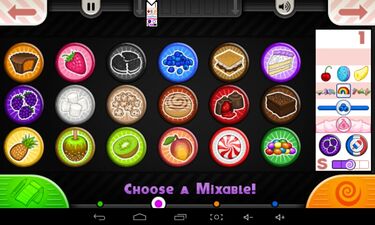 Syrups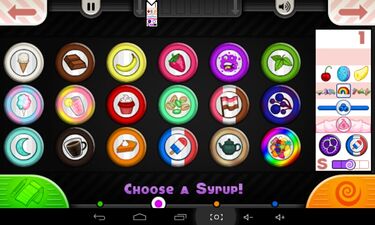 Whipped Creams
Sprinkled Toppings
Topping Syrups
Place-able Toppings
Ranks
| Rank | Name | Unlocks |
| --- | --- | --- |
| 1 | Newbie | S'mores, Clover |
| 2 | Trainee | Purple Burple Syrup, Foodini |
| 3 | Tray Cleaner | Chocolate Chips, Allan |
| 4 | Cashier | Birthday Cake, Hope |
Game Features
Hands-on ice cream shop in the Papa Louie universe
All new controls and gameplay designed for smaller screens
Multi-tasking between building, mixing, and topping
85 customers to unlock with unique orders
Unlock new mixables, toppings, and syrups
Shop to buy upgrades using your in-game tips
Challenging Closers and Food Critic
120 in-game achievements to earn
Trivia
It costs $0.99 on the App store and Google Play or £0.89 in the UK.
In the main menu of the game, as seen in the picture, there are only 2 surfboards instead of the original 3 (which was used as an easter egg in Papa's Freezeria).
Customers who debuted in Papa's Pastaria, and Papa's Donuteria will appear in this game (Sienna, Olivia, Deano, Hope, Crystal; Rudy, Iggy, Ember, Julep, and Hacky Zak). Santa does not make an appearance in this game.
To accommodate the size of smaller smartphones, the toppings station on Papa's Freezeria To Go! utilizes the same drop-down feature that first appeared in Papa's Burgeria To Go!
In the topping station, the whipped creams appear first. Once done with the creams, the syrups and smaller toppings appear. You can switch back and forth from the smaller toppings and larger ones.
The weekly pay rises $1.50 instead of $5.00, and the badges are worth much less than in other Gamerias.
Cotton Puffs and Rainbow Sherbet Syrup are not featured in this version of Papa's Freezeria, "replaced" by Caramel Apple and Tutti Frutti syrup respectively.
While there are 8 slots for them, there are only 5 whipped creams that are available. So when you unlock all 5 whipped creams there will be 3 empty slots.
Mandi and Tony haven't changed their orders. Their orders have stayed the same in all 3 versions of the game.
This version of Papa's Freezeria has 27 more ingredients than the HD version or has 47 more ingredients than the desktop version.

Gremmie is a closer, but in his tank a smile face and his mouth happy.

There are 972 possible cup size/mixable/syrup combinations.
On March 02, 2014, Flipline Studios mentioned that Papa's Freezeria To Go! reached the top 10 apps in the iTunes store. [9]
Gallery