Ad blocker interference detected!
Wikia is a free-to-use site that makes money from advertising. We have a modified experience for viewers using ad blockers

Wikia is not accessible if you've made further modifications. Remove the custom ad blocker rule(s) and the page will load as expected.

This article has been awarded the Blue Ribbon as an outstanding featured article!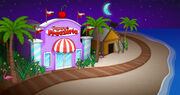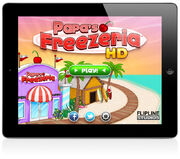 Papa's Freezeria HD is the 3rd App game by Flipline Studios. The game is on simultaneously for both Android Tablets and iPads. It has also been revealed that fans can expect plenty more customers in the game. It has also been revealed that there will be double the mixables, six more toppings, and a total of twenty new unlockables. All this with a grand total of 54 menu items! You can buy it in the App Store and Google Play for $2.99.
Previews
New Ingredients
Customers
Ingredients
Cups
Syrups
Mixables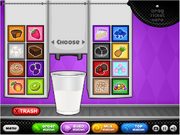 Toppings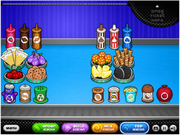 Trivia
The Custom Worker maker is now available.
Most of the customers who did not appear in the desktop version of the game will be in this version.
The clue for the new ingredient on the End of Day screen is the blue moon.
The closers in Freezeria are the same in HD.
In one of the pictures for Freezeria HD, Utah's pose from her Flipdeck is used.
The closers do not have red on the edges of their names this time. This comes back in Pastaria.
In all of the Freezeria games, the second to last to be unlocked are female characters (Ninjoy - desktop, Mary - HD and Cecilia- To Go!).
There are 26 customers who did not appear in the desktop version of the game.
Gremmie, who's a closer, doesn't frown and his shirt doesn't have the angry face, unlike in the desktop game.
After Papa Louie is unlocked, random customers will be the first of the day.
Back in the desktop version, Jojo always ordered a small cup. Now he orders different size cups, although he still always orders his sundae regular blended.
This version of Papa's Freezeria has 20 more ingredients than the desktop version.
There are 576 possible cup size/mixable/syrup combinations.
This is the first time that Xolo is a regular customer, alongside Papa's Freezeria To Go! . However, Xandra, his sister, replaces him in the two mentioned games as well as in the desktop version.
Gino Romano is only Romano with unlocked ingredient with him.
This is the first app to have Xolo as a customer.
Gallery