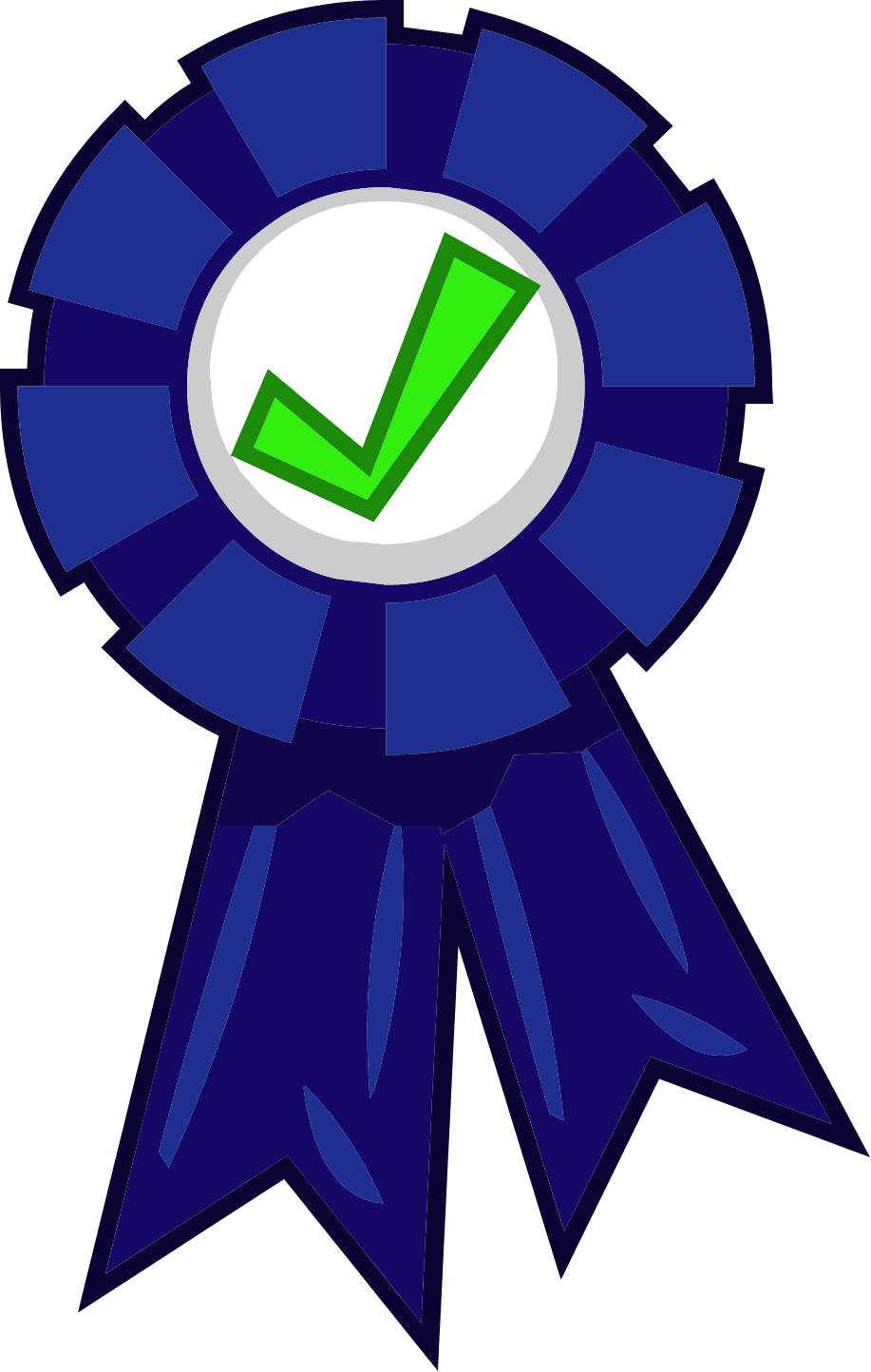 This article has been awarded the Blue Ribbon as an outstanding featured article!

Papa's Cupcakeria is the 8th game in the Papa Louie restaurant management series that was released by Flipline Studios on August 7, 2013. The winners of Papa's Next Chefs 2013, James and Willow, are the default workers in the game, but players have the ability to create their own custom worker if they please. Seasons are introduced in this game, and with it comes the ability to unlock special ingredients that will be used exclusively during a specific time frame. There are over 100 menu items, many of them being seasonal toppings. This game takes place in Frostfield.
Previews
Description
Cook a ridiculous amount of delicious cupcakes for all your wacky customers in Papa's Cupcakeria!
Papa's Cupcakeria just opened up in the picturesque town of Frostfield and you've been "hired" to run the restaurant all by yourself. You will need to master all 4 of the stations to become a cupcake crafting master.
Take your customers quirky orders in the Order Station. Prep the pan with wrappers and gooey batter in the Batter Station. Cook the cupcakes to perfection in the Bake Station. Finally, frost the cupcakes and cover them with delicious decorations in the Build Station.
As you level up and build a loyal customer fan base, you will notice the seasons changing all around you. Celebrate the 12 holidays with special clothing, furniture, and awesome seasonal toppings. With over 100 menu items, 90 achievements, tons of furniture, over 80 customers, and all the holidays you can imagine, this is by far the most epic restaurant Papa Louie has ever opened!
Introduction
Papa Louie and Roy witness Mayor Mallow, the mayor of the town of Frostfield, give the official seal of approval to open Papa Louie's new restaurant, Papa's Cupcakeria. While waiting at a stop on their way back to the shop, a black car hits them from behind. Roy taps the car's window, and the driver is revealed to be James/Willow/Custom Worker. He/she gets out of the car to apologize, but Roy is angry about the incident and demands payment; James/Willow/Custom Worker happens to have no money, which makes Roy more frustrated. Papa Louie instead pays Roy and offers James/Willow/Custom Worker a job in order to help pay for their expenses. He takes off Roy's Cupcakeria cap (despite his protests) and places it on James/Willow/Custom Worker's head, thus making him/her the new worker of the Cupcakeria, much to their dismay.
Workers
The workers are James and Willow, plus the custom worker that players can create. The uniforms are striped pink and brown. The caps colors are pink, black, white and brown, with a cupcake in front and a cherry on top.
Customers
Locals
Bold means customer is a closer.
Holidays
Minigames
You can earn up to 3 tickets per day (depending on your quality ratings) to play one of 7 Foodini minigames, with a different one available at the end of each day of the week. You can choose to use all your tickets on that day's game or save them up for a game you'd rather play more of later in the week.
There are also several badges available from the minigames, including:
Game Show Contestant (play all of the minigames) +$25
Winner! (earn a prize) +$15
Skillful Contestant (earn a prize in each game) +$20
Big Winner (earn 20 prizes) +$30
Grand Prize Winner (earn at least 5 prizes in each game) +$50
Sharpshooter (shoot 20 flying Lettuce Larks in Saucy Shot) +$35
Ingredients
Basic Liners
Liner A (Pink/White Vertical Stripes)
Liner B (Blue/ White Polka Dots)
Liner C (Yellow/ White Swirls)
Liner D (Green/White Horizontal Stripes)
Holiday Liners

Valentine's Day Liners
Liner A (Pink/Black Plaid)
Liner B (Pink/Brown Vertical Stripes)
Liner C (White/ Red Hearts)
Liner D (Red Cheetah Print)
Saint Paddy Day Liners

Liner A (Green/ Dark Green Shamrocks)
Liner B (Irish Flag Design) 
Liner C (Brown/ Two Green Horizontal Lines) 
Liner D (Gold/ Little White Dots) 
Easter Day Liners

Liner A (Purple Wavy Lines/ Yellow Dots)
Liner B (Grass and Dirt)                   
Liner C (Colorful Tulips) 
Liner D (Easter Bunny's Face) 
Onionfest Liners
Liner A (Sarge's Sign)
Liner B (Purple/Green/Brown Polkadots)   
Liner C (Purple Swirls) 
Liner D (Purple/Green Stripes) 
Summer Luau Liners

Liner A (White Diagonal Line/ Yellow Background)
Liner B (Water Pods) 
Liner C (Suns) 
Liner D (Waves/ Sunshine) 
Starlight Jubilee Liners

Liner A (White Stars/ Blue Background)
Liner B (Red/White Stripes) 
Liner C (Red/Blue Stars) 
Liner D (Red/Blue/White Stars) 
Baseball Season Liners
Liner A (Baseball) 
Liner B (Bat) 
Liner C (Popcorn Cup) 
Liner D (Batter's Sign) 
Pirate Bash Liners

Liner A (Pirate's Sign) 
Liner B (Shark) 
Liner C (Anchors) 
Liner D (Blue/Black Horizontal Stripes) 
Halloween Liners

Liner A (Jack-O-Lantern) 
Liner B (BOO Sign) 
Liner C (Cat's Eyes) 
Liner D (Orange/Black Stripes) 
Thanksgiving Liners

Liner A (Orange Big Diagonal Lines) 
Liner B (Turkey Feathers) 
Liner C (Orange Swirls) 
Liner D (Thanksgiving Dawn) 
Christmas Liners

Liner A (Candy Cane's Stripes) 
Liner B (Pine Trees) 
Liner C (Present's Tie) 
Liner D (Red/Green Dots) 
New Year Liners

Liner A (White/Pink Fire)
Liner B (Colorful Diamonds)
Liner C (Colorful Tiger Fur) 
Liner D (Rainbow) 
Cakes

Frosting

Toppings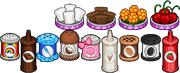 Holiday Toppings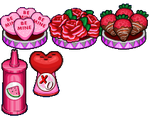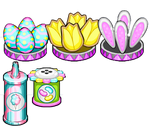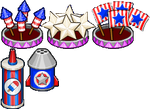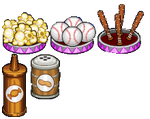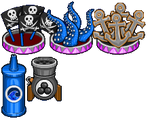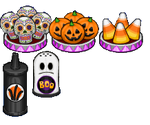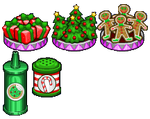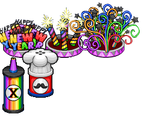 Ranks
| Rank Number | Rank Name | Total XP (+1,800 per Rank after Rank 11) | Payday increase (+$5 each rank) | Unlocks |
| --- | --- | --- | --- | --- |
| 1 | Newbie | Start/0 | $100 | — |
| 2 | Trainee | 300 | $105 | Matt, Shaved Coconut |
| 3 | Tray Cleaner | 750 | $110 | Mitch, Marshmallows |
| 4 | Cashier | 1,350 | $115 | Carlo Romano, Strawberry Drizzle |
| 5 | Strawberry Fan | 2,100 | $120 | Ivy, Blueberry Cake |
| 6 | Blueberry Buddy | 3,000 | $125 | Valentine's Day, Scarlett, Creameo Bits, Chocolate Strawberry |
| 7 | Strawberry Dipper | 4,050 | $130 | Roy, Strawberry Cake, Watermelon Drizzle |
| 8 | Valentine Fan | 5,250 | $135 | Sue, Frosted Rose |
| 9 | Candy Heart Hero | 6,600 | $140 | Hugo, Nutty Butter Cups |
| 10 | Peanut Butter Fan | 8,100 | $145 | Lisa, Vanilla Drizzle |
| 11 | Vanilla Buddy | 9,750 | $150 | Spring, St. Paddy's Day, Georgito, Mint Bar |
| 12 | Mint Master | 11,550 | $155 | Gino Romano, Mint Shavings |
| 13 | Pistachio Pal | 13,500 | $160 | Skyler, Chocolate Coin |
| 14 | Shamrock Champ | 15,600 | $165 | Zoe, Rock Candy |
| 15 | Rock Star | 17,850 | $170 | Doan, Violet Frosting |
| 16 | Top Froster | 18,750 | $175 | Easter, Xandra, Bunny Ear Candy |
| 17 | Bunny Buddy | 20,550 | $180 | Mandi, Cotton Candy Drizzle |
| 18 | Cotton Candy Fan | 22,350 | $185 | Kingsley, Tulip Cookie |
| 19 | Egg Hunter | 24,150 | $190 | Cletus, Carrot Cake |
| 20 | Carrot Champ | 25,950 | $195 | Mindy, Lollipop Bits |
| 21 | Candy Crusher | 27,750 | $200 | Onionfest, Sarge Fan, Gummy Onion |
| 22 | Gummy Buddy | 29,550 | $205 | Rico, Sourballs |
| 23 | Sour Master | 31,350 | $210 | Nick, Frosted Onion |
| 24 | Onion Wrangler | 33,150 | $215 | Allan, Green Frosting |
| 25 | Green Guru | 34,950 | $220 | Cecilia, Lemon Cake |
| 26 | Lemon Zester | 36,750 | $225 | Summer, Summer Luau, Nevada, Paper Umbrella |
| 27 | Beach Buddy | 38,550 | $230 | Clover, Honey Drizzle |
| 28 | Honey Buster | 40,350 | $235 | Kahuna, Banana |
| 29 | Banana Fan | 42,150 | $240 | Utah, Teal Frosting |
| 30 | Teal Hero | 43,950 | $245 | Chuck, Cloudberry |
| 31 | Cloud Topper | 45,750 | $250 | Starlight Jubilee, Boomer, Candy Rocket |
| 32 | Rocketeer | 47,550 | $255 | Cooper, Silver Star Sprinkles |
| 33 | Star Master | 49,350 | $260 | Alberto, White Chocolate Star |
| 34 | Flag Flier | 51,150 | $265 | Clair, Red Velvet Cake |
| 35 | Velvet Fan | 52,950 | $270 | Shannon, Dark Blue Frosting |
| 36 | Frosting Fan | 54,750 | $275 | Baseball Season, Pinch Hitwell, Pretzel Bat |
| 37 | Pretzel Batter | 56,550 | $280 | Bertha, Butterscotch Drizzle |
| 38 | Peanut Buddy | 58,350 | $285 | Taylor, Popcorn |
| 39 | Corn Popper | 60,150 | $290 | Peggy, Confetti Cake |
| 40 | Confetti Champ | 61,950 | $295 | Greg, Red Frosting |
| 41 | Red Froster | 63,750 | $300 | Autumn, Pirate Bash, Captain Cori, Anchor Cookie |
| 42 | Anchorman | 65,550 | $305 | Robby, Cannonball Gum |
| 43 | Cannon Fan | 67,350 | $310 | Wally, Gummy Kraken |
| 44 | Kraken Champ | 69,150 | $315 | Gremmie, Zebra Stripe Cake |
| 45 | Zebra Striper | 70,950 | $320 | Akari, Black Frosting |
| 46 | Frosting Hero | 72,750 | $325 | Halloween, Sasha, Candy Jack - o - Lantern |
| 47 | Pumpkin Carver | 74,550 | $330 | Ninjoy, Licorice Drizzle |
| 48 | Spooky Sprinkler | 76,350 | $335 | Professor Fitz, Sugar Skull |
| 49 | Halloween Hero | 78,150 | $340 | Scooter, Orange Frosting |
| 50 | Orange Fan | 79,950 | $345 | Penny, Deep Purple Frosting |
| 51 | Purple Pro | 81,750 | $350 | Thanksgiving, Hank, Chocolate Acorn |
| 52 | Acorn Harvester | 83,550 | $355 | Big Pauly, Autumn Leaves Sprinkles |
| 53 | Leaf Raker | 85,350 | $360 | Tohru, Harvest Stripe Cookie |
| 54 | Cookie Champ | 87,150 | $365 | Timm, Mocha Frosting |
| 55 | Mocha Manager | 88,950 | $370 | Prudence, Sunglow Frosting |
| 56 | Sunglow Hero | 90,750 | $375 | Winter, Christmas, Santa, Candy Present |
| 57 | Gift Giver | 92,550 | $380 | Rita, Santa Cookie Drizzle |
| 58 | Santa Fan | 94,350 | $385 | Wendy, Tree Cookie |
| 59 | Tree Trimmer | 96,150 | $390 | Marty, Forest Green Frosting |
| 60 | Forest Fan | 97,950 | $395 | Tony, Kiwi Cake |
| 61 | Kiwi Juicer | 99,750 | $400 | New Year, Papa Louie, New Year Topper |
| 62 | Better Than Papa! | 101,550 | $405 | Stache Sprinkles |
| 63 | Better Than Papa! | 103,350 | $410 | Candle |
| 64 | Better Than Papa! | 105,150 | $415+ | ― |
The rank number and payday amount continues growing after 62, but the Rank Name does not.
Shop

Upgrades
Doorbell ($30) You'll hear when knew customers enter, no matter where you are.
Oven booster (4) ($120) Hold down the booster to cook your food faster.
Oven alarm (4) ($150) These alarms will automatically alert you when to remove cupcakes.
Fill guides ($100) Shows a clear fill line for adding batter to wrapper cups.
Double batter ($300) Pour batter into both cups at the same time.
Frosting copier ($400) Click to copy frosting to the second cupcake exactly like the first!
Furniture
Posters
Wall/Floor
Clothing
Badges
There are 90 badges in Papa's Cupcakeria:
Playing Cupid: Unlock all Valentine's Day toppings
Go Green: Unlock all St. Paddy's Day toppings
Easter Candy: Unlock all Easter toppings
Onion Obsession: Unlock all Onionfest toppings
Summer Fun: Unlock all Summer Luau toppings
Patriotic: Unlock all Starlight Jubilee toppings
Stadium Favorites: Unlock all Baseball Season toppings
Scourge of the Seas: Unlock all Pirate Bash toppings
Trick or Treat: Unlock all Halloween toppings
Cupcake Harvest: Unlock all Thanksgiving toppings
Holiday Cakes: Unlock all Christmas toppings
New Year Celebration: Unlock all New Year toppings
Papa's Return: Unlock Papa Louie
Spring Has Sprung: Reach Spring
Summer Vacation: Reach Summer
Fall Harvest: Reach Autumn
Winter Wonderland: Reach Winter
Completed Calendar: Unlock all of the Holidays
Icing on the Cupcake: Unlock all of the Frostings
Learning the Basics: Serve 4 cupcake orders
Head in the Clouds: Serve 30 orders with Cloudberries
Very Cherry: Serve 30 orders with Cherries
Peanut Buttery: Serve 30 orders with Nutty Butter Cups
Flufftastic: Serve 30 orders with Marshmallows
Choco Chipper: Serve 30 orders with Chocolate Chips
Sprinkle Service: Serve 30 orders with Rainbow Sprinkles
Tropical Topping: Serve 30 orders with Shaved Coconut
Crushed Cookies: Serve 30 orders with Cremeo Bits
Candy Crusher: Serve 30 orders with Lollipop Bits
Nilla Drizzle: Serve 30 orders with Vanilla Drizzle
Chocolate Lover: Serve 30 orders with Chocolate Drizzle
Strawberry Syrup: Unlock all of the Standard Toppings
Plain Vanilla: Serve 30 orders with Vanilla Cake Batter
Chocolate Cake: Serve 30 orders with Chocolate Cake Batter
Velvety Smooth: Serve 30 orders with Red Velvet Cake Batter
Eat Your Veggies: Serve 30 orders with Carrot Cake Batter
Berry Blast: Serve 30 orders with Strawberry Cake Batter
Baking Blue: Serve 30 orders with Blueberry Cake Batter
Earn Your Stripes: Serve 30 orders with Zebra Cake Batter
Cupcake Party: Serve 30 orders of Confetti Cake Batter
Let Them Eat Lemons: Serve 30 orders with Lemon Cake Batter
Batter Up: Unlock all of the Cake Batters
Bronze Beginning: Earn 5 Bronce Customer Awards
Repeat Customers: Earn 15 Bronce Customer Awards
Silver Medal: Earn 10 Silver Customer Awards
Restaurant Regulars: Earn 15 Gold Customer Awards
Halfway There: Earn 40 Gold Customer Awards
Go For the Gold: Earn Gold Customer Awards on all Customers!
Order Expert: Get a 100% Waiting Scotre on 20 orders
Oven Expert: Get a 100% Baking Score on 20 orders
Build Expert: Get a 100% Building Score on 20 orders
Batter Expert: Get a 100% Batter Score on 20 orders
Critically Acclaimed: Get a Blue Ribbon from Jojo the Food Critic
Award Winning Cupcakes: Get 5 Blue Ribbons from Jojo the Food Critic
Romano Family: Serve everyone in the Romano Family Quartet
Quality Assurance: Get 90% Service Quality or higher on five different days
High Quality: Get 95% Service Quality or higher on 20 different days
First Paycheck: Get your first paycheck on Pay Day
Month's Pay: Receive your wages on four Pay Days
Perfect!: Get a Perfect Score on 30 orders
One-Stop Shopping: Buy any 50 items from the Shop
Advertiser: Buy any 8 Posters from the Shop
Interior Decorator: Buy any 8 Furniture items from the Shop
Updated Wardrobe: Buy any 8 Clothing items from the Shop
New Coat of Paint: Buy any 4 Flooring or Wallpaper from the Shop
Upgrade Master: Buy all of the Upgrades in the Shop
New Threads: Change your worker's shirt, pants, hat, and shoes
Scarlett and the Shakers: Serve everyone in the band 'Scarlett and the Shakers'
Cupcake Closers: Serve all of the Closers
New Faces: Serve all of the new customers
Worker Reunion: Serve all of the workers from Papa's other restaurants
The Gang's All Here: Serve all of the customers!
Costumed Closers: Serve all of the Costumed Closers during Halloween
Game Show Contestant: Play all of Foodini's Mini-Games
Winner!: Earn a Prize in one of Foodini's Mini-Games
Skillful Contestant: Earn a Prize in each of Foodini's Min-Games
Big Winner: Earn 20 Prizes in Foodini's Mini-Games
Grand Prize Winner: Earn 5 Prizes or more in each of Foodini's Mini-Games
Sharpshooter: Shoot 20 flying Lettuce Larks in Saucy Shot
Lump of Coal: Burn Santa's Cupcakes
Jack Attack: Serve 12 customers wearing the Jack O'Lantern mask
Team Player: Serve Pinch Hitwell wearing the Batters shirt, pants, and hat
Fancy: Serve Georgito wearing the Green Top Hat and Monocle
Sarge Service: Serve Sarge Fan wearing the Sarge Sweater and Onion Knit Hat
25 Days of Christmas: Serve 25 customers wearing the Santa hat
Beach Buddies: Serve Chuck wearing the Tropical Shirt, Sunglasses, Puka Wrist, Puka Necklace
Daredevil: Serve Boomer wearing the Red Cape and Boomer Helmet
Trivia
Both employee's favorite holidays are Halloween.
This is the third gameria where it features sweets/desserts, following Papa's Freezeria and Papa's Pancakeria.
This is the only game where customers order two of something but with different toppings. However, there are some customers who will order the same toppings for each cupcake.
Instead of being scooped from bins, toppings like chocolate chips and sprinkles are poured from shakers.
Georgito, Pinch Hitwell, Boomer, Sarge Fan, and Chuck all have their own badge. They involve the worker wearing certain clothes when serving them.
Rank 5's name was invisible during the early versions of the game, but was fixed.
Saucy Shot, which is played the same way as Hot and Cool Shot from past Gamerias, is the only new mini-game played after a day of serving customers.

This is also the first Gameria not to feature Customer Cravings. This is mainly because customers' orders can vary depending on the holiday.

The music and action when you get a new customer and ingredient have changed in this game.
The title screen music is a remix of Leaf Landing and Lettuce Lane themes from for Papa Louie 2 with a playful melody.
The badge "Better than Papa" is replaced by "Papa's Return" in this game.
All closers like all holidays.
There are no badges for acheiving on certain ranks but there is one for unlocking Papa Louie.
How the closers dress for Halloween:

Trishna: Princess
Radlynn: Radley Madish
Xolo: Clown
Mayor Mallow: Ghost
Quinn: Cat
Kenji: Luchador
Jojo: Superhero

This is the fourth gameria that Roy is seen in the preview.
This is the first Gameria to feature Wally as an unlockable customer that is not on Rank 15.
After unlocking Papa Louie and the season changes Louie won't be the first customer to come in.
Some of the customers will look special in their holiday, like... Sasha, Xandra, Hank, and a few more.
The closer is always the one seen walking off at the end of the day, even if they are not the last customer served.
Kingsley, Rico, Clover, and Rita wear new outfits, which first appeared as costume options in Papa Louie 2: When Burgers Attack!
Some of the closers, especially Xolo, will order different Frostings when the holidays change.
There is a mistake for one of the prizes in Pizza Pachinko: the prize is a skirt from the Tomatoes outfit, but the description says, "From the Buffalo's uniform".
There is a glitch when a player (custom or not) wears a short sleeve jacket and wears a long sleeve shirt, there will be gaps showing skin.
This is the only Gameria where Wendy is unlocked on a high rank.
Each Holiday has five seasonal toppings.
This is the only Gameria besides Papa's Pizzeria where gold customer could just come whenever they want rather than come when everyone else is gold as well. Because of this, getting the "Go For The Gold" badge will take longer when compared to the other previous Gamerias.

Customers will come in during their favorite holiday even if they are a gold customer. Once you reach the point where 7 customers come in every day, three customers favorite holiday will be the current holiday and three customers who have a different favorite holiday and aren't gold along with the closer will come in.

If you look carefully in Frostfield's town clock, the hour and minute hand matches exactly the computer's time, making the first Gameria to have it's own built in time.

All customers who debuted on a certain holiday (e.g. Christmas) will have it as a favorite holiday.
Most of the customers have Halloween as their favorite Holiday.
The customers bring some stuff to celebrate the holidays:

Valentine's Day - Rose
St. Paddy's Day - Flag
Easter - Basket Full of Grass
Onion Fest - Onion Staff
Summer Luau - Hand Fan
Starlight Jubilee - Sparkler
Baseball Season - Foam Finger / Baseball Mittens (from Hot Doggeria)
Pirate Bash - Hook Hand
Halloween - Jack-O-Lantern Basket
Thanksgiving - Turkey Leg
Christmas - Candy Cane
New Year - Rainbow Noisemaker

There is a glitch with the alarms. When you swap the position of an uncooked cupcake and a ringing one usind the raw one, the raw one will be on the alarming cooker but the alarm is still moving and the cooked one's alarm wouldn't ring.
The "We Love Jojo" poster does not return in this game.
The basic liners will never return after holidays are unlocked.
Some of the drink tables are marked as certain holiday tables. For example: the large Christmas Table holds the coffee maker and cups while the large Summer Luau table holds the punchbowl and coconut cups.
After the finish of their favorite holiday the customer will order standard toppings.
There is a glitch in the Build Station. If you click on a topping while the cupcakes are being sent for evaluation, the topping will be poured from the customer's face, but this does not effect your score.
If a customer orders different toppings on each cupcake, and each combinations are on the opposite sides than what they originally ordered, it will not affect your score.
This is the last gameria in which the other chef in the game is a tutorial customer.
This is the first gameria where there is an indication between bronze, silver, and gold customers
This is the last gameria where the other chef, or other gender chef apears in the game as a customer. This is because servers and the dining room have been introduced in Pastaria onwards.
This is the only gameria where anything can be unlocked after Papa Louie appears.
This is the first game where Foodini is not unlocked before Papa Louie.
The order of holiday toppings is this pattern: Topping, sprinkles, drizzle, topping, topping, then topping, drizzle, sprinkles, topping, topping.
Gallery