Papa's Pancakeria is the fifth game in the Papa Louie Gameria series to be released by Flipline Studios. It was released on March 5, 2012. 
Description
Rise and Shine with Papa's Pancakeria!
After searching high and low for your pet, you get a surprise call from Papa Louie. He's been taking care of your pet at his latest restaurant, Papa's Pancakeria. You quickly drive to Maple Mountain only to find your pet and a note from Papa Louie. Soon you find yourself knee deep in batter as you try to run the shop until Papa Louie returns.
This latest game features pancakes, waffles and french toast along with a variety of new and returning customers in search of the best breakfast around. The time-management and hands-on gameplay of the series is back, with new challenges related stacking, arranging toppings and pouring syrup. Closers, badges, and tons of furniture are back and better than ever. New to the series, is a traveling game-show hosted by the Great Foodini! He stops by at the end of every day with a new mini-game to play. However Foodini only accepts special tickets that are earned throughout the day. Each ticket gives you a chance to play his daily game and possibly win over 95 unique prizes. Also new to the series is a very special Drink Station that can be unlocked that will add to the growing challenge of juggling your customers orders.
Introduction
Cooper/Prudence drives a white car with his/her pet and he/she were surprised when he/she sees Papa's Pizzeria, so he/she leaves his/her pet in the car to go get some pizza. Meanwhile, his/her pet sees a squirrel and the pet ran after him. When Cooper/Prudence is back, he/she gets worried, because his/her pet is missing. The next morning, he/she advertises that his/her pet has been lost and Papa Louie calls him/her that he found his/her pet at Maple Mountain. He/she drives to Maple Mountain, and he/she became surprised when he/she sees his/her pet. He/she also finds a letter from Papa Louie. His/her pet gives them a spatula and he/she didn't know that he/she is now working in Papa's Pancakeria.
Characters
Customers
Closers
Absent Customers
Ingredients
Bases:
Grill Mixables:
Toppings:
Syrups:
Drinks:
Drink Extras:
Ranks

This list is incomplete. Please help by adding CORRECT info to finish this list. Once the list is complete, please remove this template box. (the green puzzle piece.)
Rank, Name, Pay, Customer Points To Achieve The Rank
Newbie $100 CP is 300
Trainee $105
Tray Cleaner $110
Cashier $115
Toast Topper $120
Ticket Handler $125
Cinnamaster $130
Waffle Wrangler $135
Order Attendant $140
Berry Buddy $145
Topping Artist $150
Mixable Trainee $155
Pancake Fan $160
Pecan Fan $165
Mixable Master $170
Drink Assistant $175
Tea Brewer $180
Ice Dispenser $185
Orange Juicer $190
Cocoa Champ $195
Milk Server $200
Crantastic $205
Cream Whipper $210
Maple Master $215
Honey Drizzler $220
Blueberry Buddy $225
Butter Lover $230
Top Banana $235
Super Stacker $240
Coffee Pro $245
Griddle Hero $250
Waffle Ironer $255
Flapjack Flipper $260
Hotcake Hero $265
French Toast Fanatic $270
Part Time Manager $275
Morning Master $280
Breakfast Chef $285
Restaurant Manager $290
Sunrise Specialist $295
Pancakeria Pro $300
Breakfast Champion $305
Better than Papa! $310
New Gameria features
Being able to unlock Papa Louie at a certain rank instead of getting a gold badge for every other unlocked customer.
Mini games after each level using tickets earned from how well the level has been done (up to 3 tickets can be earned).
Parades with unlocked customers and floats.
Mini Games
Click on the minigame name to view the prize list.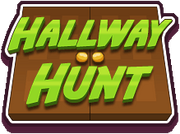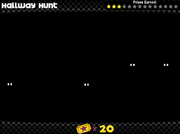 In Hallway Hunt, you must follow the specified person's eyes... then guess which room the person went in to. You win a prize if you guess correctly. You lose if you guess incorrectly. You earn a prize Papa Louie related.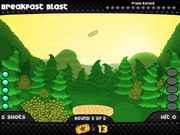 Breakfast Blast is like a in the woods shooting game... Except you're shooting breakfast! What a waste! You get a prize that is Pancakeria related.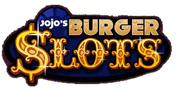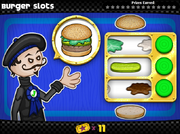 In Jojo's Burger Slots, Jojo asks for a specific kind of burger, and you must make it right! If you get all of the ingredients right, you get a Burgeria related prize!
Spin n' Sauce features at least 20 kinds of sauces, but try to get the mystery sauce into the taco! You get a Taco Mia! related prize or more tips!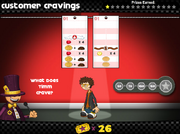 In Customer Cravings, go through memory lane and try to figure out which breakfast the person usually orders! Get them all right and get an awesome prize!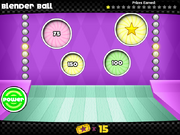 This is a standard game of throwing the cookie into the holes. Get it into the star hole and get a Freezeria related prize.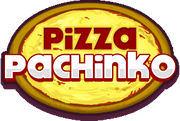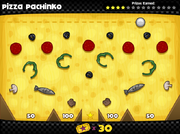 In Pizza Pachinko, you must manage to get the metal ball in the star hole. You get a Papa's Pizzeria related prize.
Trivia
This is the first game where Papa Louie was unlocked on a rank.
The sauce in this game spreads, unlike others like Donuteria, Cupcakeria and Freezeria. It is probably because of the heat.
This game have 8 order spaces, (1 is for drink).
This and Donuteria are the only gamerias without onion-themed items.
This is the first and only game to have an unlockable station (Drink Station).
This is the first game where it has mini-games that are hosted by Foodini, because of his appearance.
This is the first game where the customers order drinks. The second game is Papa's Hot Doggeria.
This is the first game to feature a parade.
This is the only game where it won't turn to nighttime and where the closing time stays in between day and night and not near night.
This game has about 10 absent customers, the most in any gameria.

This is also the last game where there were absent customers.

Georgito is the only absent customer in this game not to make a cameo on the BRACKETS poster won in Customer Cravings.
Captain Cori and Edoardo Romano are the only customers to order different breakfast bases.
Mindy, Clair, and Clover are absent in this game beacause they are getting new looks as seen in Wingeria.
This is the last gameria where the chefs write down customers' orders using their left hand.
This is the only game where the chefs wear aprons.
This is the last gameria where the chefs turn to face the player after serving the last customer of the day.
If a customer orders a topping that has to be poured, and some of it gets on the plate, they'll sometimes still give you 100% on the building score.
All the customer debuts here have flipdecks.
If you look closely, when the chef turn to face to the player, later to serve the last customer, in the aprons of Cooper and Prudence bears his name but backwards (instead of Cooper says repooC and instead Prudence says ecenedurP).
This is the only Gameria where the cooking booster is not available in the upgrade shop, but is in the Grill Station at the beginning of the game.
Gallery