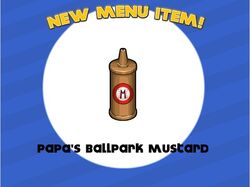 Papa's Ballpark Mustard
is a new ingredient in
Papa's Hot Doggeria
. It is unlocked with
Shannon
on Rank 5. This is a different type of mustard compared to the other mustard,
Mustard.
Customers who order this in Hot Doggeria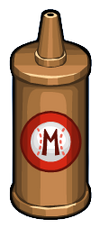 Trivia
According to a blog post from Flipline Studios [1], Ballpark Mustard is the game's version of a brown mustard that is a favorite condiment among residents of northern Ohio called "Stadium Mustard." In Cleveland, OH, home of Flipline Studios, there are two major companies that produce this style of mustard, and are sold to the city's major stadiums: Progressive Field, home of the Cleveland Indians Major League Baseball team and FirstEnergy Stadium, home of the Cleveland Browns of the National Football League. [2] [3]
Ad blocker interference detected!
Wikia is a free-to-use site that makes money from advertising. We have a modified experience for viewers using ad blockers

Wikia is not accessible if you've made further modifications. Remove the custom ad blocker rule(s) and the page will load as expected.