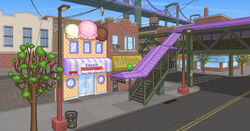 Oniontown is a fictional town in the world of Papa Louie's series of time-management games.
Allan and his family moved here from Tastyville while in high school, so he transferred to Oniontown High School.
Oniontown is also the home of the baseball team Oniontown Crushers and the hockey team Oniontown Ringers. Pinch Hitwell played for a minor league team at the Oniontown Sourdome.
Oniontown also is host to Sprocketworld, an underground steampunk convention, held annually.
Local Businesses
Allium Arrangement
Baiter Fish Market
Oniontown High School
Townspeople
Trivia
This is the location of Papa's Scooperia.
If you look closely to the railway you can see a number 14. This is most likely because Papa's Scooperia is the 14th game in the "Gameria" series.