This article is about an ingredient. If looking for one of the Specials from Papa's Bakeria, please click here.
In Papa's Freezeria HD/To Go!, Neapolitan Syrup is a new syrup unlocked with Rico when the player reaches Rank 22 (Freezeria HD)/Rank 33 (Freezeria To Go!). The badge "Multiple Flavors" is unlocked when the player serve 30 orders with Neapolitan Syrup.
In Papa's Donuteria, Neapolitan Drizzle is a holiday-exclusive drizzle unlocked on Day 6 of Valentine's Day.
Customers who order this (Freezeria HD)
Customers who order this (Freezeria To Go!)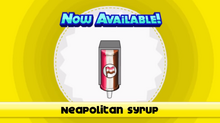 Customers who order this (Donuteria)
Trivia