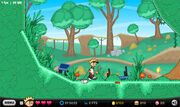 Munchmore is an alternate "food" world consisting of the food baddies found in the three Papa Louie Platformers.  
The area was first mentioned in a Q&A blog post. Not much is known about the mysterious land. 
Radley Madish aspires to use the Land of Munchmore to capture all the customers and take over the entire Flipverse.
Locations
Papa Louie: When Pizzas Attack!
Papa Louie 2: When Burgers Attack!
Papa Louie 3: When Sundaes  Attack!
Other:
Ad blocker interference detected!
Wikia is a free-to-use site that makes money from advertising. We have a modified experience for viewers using ad blockers

Wikia is not accessible if you've made further modifications. Remove the custom ad blocker rule(s) and the page will load as expected.