This article is about a Special Breakfast from Papa's Pancakeria HD. If looking for the city this Special is named for, please click here.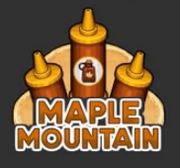 Maple Mountain
is a Special Breakfast that can be selected by players to be the "Special of the Day" in
Papa's Pancakeria HD
. Customers who ask for Maple Mountain will give the player 140% Points. The Special Prize for mastering this recipe is the Maple Hoodie.
Recipe