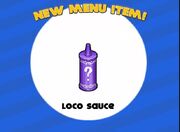 Loco Mystery Sauce is a standard sauce in Papa's Taco Mia!. It's unlocked when the player reaches Rank 14. The badge "Solve the Mystery" is received when this is served 30 times.
In Papa's Taco Mia HD / To Go!, it is unlocked with Professor Fitz when the player reaches Rank 24.
Customers who order this (Taco Mia!)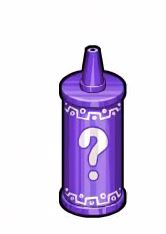 Customers who order this (Taco Mia HD)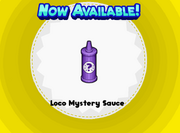 Customers who order this (Taco Mia To Go!)
Recipe
The recipe was posted on a Flipline Q & A, showing step by step how to make it. You shouldn't tell Papa Louie though!
6 oz of Tastyville Tomato Paste
2 tsp of cayenne pepper
3 cups of water
2 tbsp of Pauly's Chili Powder
2.5 tsp of salt
2 tsp of cornstarch
2 tsp of white vinegar
2 tbsp minced dried Purple Onions
3 tbsp of Purple Hot Peppers
With the help of an adult, mix the tomato paste and water in a saucepan. Stir over medium heat until it's nice and smooth. Then stir in the chili powder, cayenne pepper, salt, cornstarch, vinegar and dried onions. Chop up the purple peppers into very fine pieces (if you can't find Purple Hot Peppers, you can substitute 2 tbsp of canned jalapeno slices). Add the chopped peppers to the saucepan and heat the sauce to boiling stirring occasionally. Once boiling, stir for 3 minutes then remove from the heat. Let the sauce cool, and then put into a sealed container and refrigerate.
Trivia
Posters
| Picture | Bonus | Cost |
| --- | --- | --- |
| | Improves Wating Score | $20.00 |
| Picture | Bonus | Points | Holiday Item | Cost | Appear in Mini-Games |
| --- | --- | --- | --- | --- | --- |
| | | | | | |