LePete is a male customer who made his first appearance as a Closer in Papa's Pizzeria HD.
Appearance
LePete has a tanned complexion, short, curly, yellowish-blond hair, and a coconut hat worn on top of his head with a small turquoise parasol, white brimming, yellow stems and light blue innings.
He wears a lime collared t-shirt underneath a sky blue shirt with an abstract image of Luau LePunch and ripped ends in the shirt. He also wears magentaish-pink bare knuckle gloves, cyan, yellow, and lime-colored armwarmers. He also wears turquoise pants held up by a brown belt with a yellow star buckle and a pair of coconut-tinted shoes with black laces.
Style B
LePete wears a white collared shirt underneath a brown shirt with Luau LePunch's eyes printed on it and magentaish-pink ringed collar and sleeves. He now wears sky blue pants, turquoise belt, and lime green sneakers with dark, pale pink laces and yellow accents. His hat is also adorned by a magenta parasol with lime innings.
Style H
LePete's dresses up as Luau LePunch for Halloween, complete with a LePunch mask (with the nostrils doubling as eye holes. He wears a pair of coconut-tinted shoes from his Style A and a coconut shirt that has three spots seen in the upper side of it, lime green collar, and sky blue sleeves.
Orders
Traditional Crust
BBQ Sauce with Grated Parmesan Cheese
4 Sausages (bottom)
6 First Holiday Topping (top)
4 Second Holiday Topping (top)
3 Cajun Shrimps (bottom right)
Regular Bake
4 Slices
Hot on a Regular Bun
Chili 
Relish
Drink and Popcorn:

Medium Fizzo
Large Buttered Popcorn
Stickers
| Number Sticker | Name | Achievement | Sticker Earned |
| --- | --- | --- | --- |
| 87 | Fire Drill | Leave 4 pizzas in the oven at the end of the day | |
| 61 | Rustic Radlynn | Serve a Rustic Garden Special to Radlynn | |
| 43 | Game Show Contestant | Earn a Prize in each of Foodini's Mini-Games | |
Earn all three stickers to get this outfit: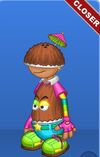 Trivia
LePete is the first customer, fourth character overall, to debut in an app game as a Closer.
His name and design are based off of Luau LePunch, a boss from Papa Louie 3: When Sundaes Attack!

This makes him the third customer to be based off of a boss from the platformer games.
Interestingly, all of them wear hats in a way that their eyes can't be seen.

LePete has always been a closer since he debuted in Papa's Pizzeria HD.
He appears in the Papa's Freezeria Stickers Pack even though he never appears in the game or its HD and To Go remakes.
Gallery
Fan Art