Kettle Corn
is an ingredient that appears in the various Papa Louie's games.
In Papa's Hot Doggeria, it is one of eight flavors popcorn. It's unlocked with Clair when a player reaches Rank 16.
The badge 'Sweet Corn' is unlocked when you serve this popcorn to 30 customers.
Customers who order this (Hot Doggeria)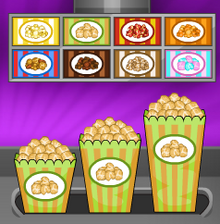 Trivia
Quinn is the only Closer to order this.
Kettle corn is a sweet and salty type of popcorn. It is made using sugar, salt, and oil. It gets its name because it has been made in cast iron kettles before, but now, it is made in other types of pans.
Poster
Ad blocker interference detected!
Wikia is a free-to-use site that makes money from advertising. We have a modified experience for viewers using ad blockers

Wikia is not accessible if you've made further modifications. Remove the custom ad blocker rule(s) and the page will load as expected.