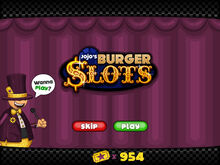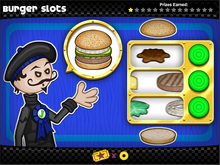 Jojo's Burger Slots
or 
Jojo's Burger Match
is a mini-game introduced in
Papa's Pancakeria
. The player must try to match correctly all three burger ingredients given by
Jojo
by trying to click at the time you think it's gonna be the sauce/topping wanted.
Burgerzilla Poster 
Patty Poster
Burgeria Poster
Burgeria Wall
Small Burger Table
Burger Block Wall 
Burger Break Wall
Medium Burger Table
Burger Block Windows
Striped Carpet
Large Burger Table
Barbecue Gum 
Blue Tile
Jumbo Burger
Papa's Pancakeria Prize Gallery

This section may be having some missing details or it is incomplete! You can help by adding the correct info to finish the list. Once the list is complete, remove this template box.
Papa's Burgeria HD Prizes Gallery
Foodini Balloons
Pink Poster
Sm. Easter Table
Jojo Poster
Red Tile Lobby
Md. Cinco Table
Valentine Poster
Rainblow Gum
Chocolate Poster
Red Flag
Green and White
Md. Shamrock Table
Anchor
Rare Prizes:
Papa's Cupcakeria To Go! Prizes Gallery
Sm. Harvest Table
Cactus
White Rice Poster
Foodini Theme
Md. Heart Table
Checkered Wall
Licorice Gum
Pretzel Stand
Sm. Sugarplex Table
Blockmalz Candy
Md Groov Trunk
Sm. Shamrock Table
Sm. Pirate Table
Rare Prizes:
Papa's Taco Mia To Go! Prize Gallery
Short Overshirt
Md. Theater Table
Logo Cap
 Groovstock Poster
Pocket Shirt
White Tile
Newspaper
Side Stripe Pants
Striped Belt
Halloween Poster
Aviators
Blue Diamond Wall
Vase of Roses
Rare Prizes:
Papa's Pancakeria HD Prize Gallery
Crushers Poster
Beach Umbrella
Sm. Onion Crate
Shrimp Sign
Halloween Poster
Polka Dots
Sm. Heart Table
Lg. Wingeria Table
Tastyville Poster
Checkered Wall
Hanging Plant
Dunkle Fizzo
Lg. Racing Table
Rare Prize
(Silver) Large Chili Crate