Jojo is a male customer who made his first appearance as a Closer in Papa's Taco Mia!
As the local Food Critic, his scoring metrics are more challenging than those of the other Closers.
Flipdeck Info
Hometown: Tacodale
Loves: Food
Hates: Overcooking
Occupation: Food Critic
Jojo is known far and wide as the premier food critic. He is an adventurous foodie that never orders the same meal twice. Jojo makes weekly stops at restaurants to sample their food. If he enjoys his meal, he will award the shop his Blue Ribbon. Customers always tip more when a Blue Ribbon is in sight.
Appearance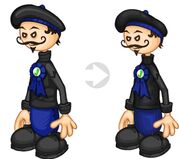 Jojo has light skin, short dark brown hair, diagonal-patterned eyebrows, a curved moustache, and a short stubble. He wears a black long-sleeved turtleneck sweater with dark gray shading, folded sleeves, dark check marks seen in each sleeve, and the Blue Ribbon pinned on his chest. He also wears a black French beret with blue accents, bright blue pants, and black sneakers.
Clean-Up
His clothes are more detailed.
Styles
Style B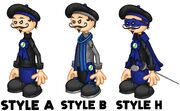 Jojo wears a gray turtleneck sweater, a beret with gray band that surrounds it, a blue and light cerulean-striped scarf put around his neck, and black pants. The Blue Ribbon is now pinned on the left side of his waist and his sneakers having pale cerulean laces.
Style H
Jojo shifts back into wearing his Style A outfit. He dresses as a superhero during Halloween. He dons a blue cape, blue eye mask, gray buckle, and a sword with a blue handle.
Orders
Jojo orders something completely different every time he visits a shop; between Papa's Freezeria and Papa's Wingeria, one can see what Jojo will order on the customers chart, but this does not show his future order, only his past order. In Papa's Taco Mia!, it says he's trying everything, between Papa's Hot Doggeria and Papa's Cheeseria, it says that it's different every time, and as of Papa's Bakeria, a question mark appears in place of the order ticket on his lookup. Because he is a food critic, he acts as a Closer, so his ratings of orders are tougher than that of a normal customer. Sometimes though, something about his order will stay the same. For example, he always orders a Small Cup and Regular Blended sundae in Papa's Freezeria/To Go! and he always orders Waffles in Papa's Pancakeria.
If the player get a total score of 80 to 100 points, he will give you the Blue Ribbon, which increases the tip of each customer by $2.00 (e.g. a tip of $5.00 instead of $3.00 from a non-star customer). If it's from a customer going to 5 stars, who will give $9.00, it'll stay the same. The Blue Ribbon is displayed on the lobby for three days, meaning that the increase in tips also lasts for that time.
Stickers
| Sticker Number | Name | Achievement | Sticker Earned |
| --- | --- | --- | --- |
| 38 | New Threads | Change your worker's shirt, pants, jacket, and shoes. | |
| 65 | Try Some Toffee | Serve a Shoofly Pie to Prudence | |
| 50 | Recipe Master | Master a Special Recipe by earning 5 Special Stars | |
| Sticker Number | Name | Achievement | Sticker Earned |
| --- | --- | --- | --- |
| 24 | Order Expert | Get a 100% Waiting Score on 20 orders | |
| 80 | Holiday Outfit | Wear a shirt, belt, jacket, and hat to match the current holiday | |
| 20 | Bronze Beginning | Earn 5 Bronze Customer Awards | |
| Sticker Number | Name | Achievement | Sticker Earned |
| --- | --- | --- | --- |
| 79 | Color Coordinated | Dress your chef and server in the exact same outfit but with different colors | |
| 20 | Bronze Beginning | Earn 5 Bronze Customer Awards | |
| 36 | New Coat of Paint | Buy any 4 Flooring or Wallpaper from the Shop | |
| Sticker Number | Name | Achievement | Sticker Earned |
| --- | --- | --- | --- |
| 69 | Blueberry Blast | Add Blueberry Syrup to Wally's order | |
| 24 | Order Expert | Get a 100% Waiting Score on 20 orders | |
| 27 | Drink Expert | Get a 100% Drink Score on 20 orders | |
Earn all three stickers in either game to get this ouftit:
Trivia
Jojo and Quinn both have been Closers since their debut in Papa's Taco Mia!
He is the leader of the Closers during the parade sequences, excluding Pizzeria HD, where Sarge Fan is the leader instead, and all versions of Papa's Scooperia, where Whippa is the leader instead.
Although he does not appear in Papa Louie 2 or Papa Louie 3, the Blue Ribbon makes an appearance as the checkpoint marker.

A daisy having the same design as the Blue Ribbon is used for the "Hot and Ready" sticker.

Jojo has an unique style of favor when ordering:
He is the first Closer to have a Flipdeck.

He is also the first Papa's Taco Mia! debutant to have a Flipdeck.

In the games from Papa's Taco Mia! till Papa's Cheeseria, checking Jojo's profile in the customers section says that his order is 'different every time!' Starting with Papa's Bakeria, it will show a question mark at his order.
Gallery
Fan Art