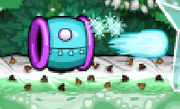 Ice Cannons
are an obstacle appearing in
Papa Louie 3: When Sundaes Attack!
. They're basically the same as the
Cheese Cannons
from
Papa Louie 2
, except they shoot ice instead of cheese. When the player is hit by an Ice Cannon's shots, they'll be frozen and have to jump three times to thaw out.
Radley Madish also uses an Ice Cannon during the second phase of his battle. After losing some health, his radish rocket will sprout an Ice Cannon that occasionally shoots ice all over the room to try and freeze the player.
Ad blocker interference detected!
Wikia is a free-to-use site that makes money from advertising. We have a modified experience for viewers using ad blockers

Wikia is not accessible if you've made further modifications. Remove the custom ad blocker rule(s) and the page will load as expected.