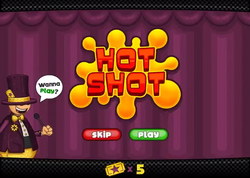 Hot Shot is a minigame that is played after a day is completed in Papa's Wingeria and Papa's Taco Mia HD. The weapon used in this game is a bottle of Hot Taco Sauce.
Enemies
Chilifeather
Guacamole-based monster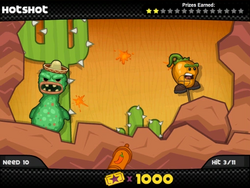 Taco Mia Poster
Orange Pants/Khaki Pants
Small Taco Table
Green Belt
Medium Taco Table
Taco Shell Wall
McCoy Shirt
Desert Cactus
Green Backpack 
Denim Vest 
Grouted Tiles 
Large Taco Table
Sombrero
Taco-Eating Trophy 
Papa's Wingeria HD Prizes Gallery
Sm. Starlight Table
Onion Poster
Beige Beanie
Cobblestone Floor
Brown Bottoms
 Sakura Bonsai
Summer Shoes
Shamrock Tee
Patriotic Wall
Rainbow Bucket
Poinsettia Box
Gondoliers Jacket
Gladiator Hat
Bonus:
Jukebox
Papa's Taco Mia HD Prizes Gallery
Ad blocker interference detected!
Wikia is a free-to-use site that makes money from advertising. We have a modified experience for viewers using ad blockers

Wikia is not accessible if you've made further modifications. Remove the custom ad blocker rule(s) and the page will load as expected.