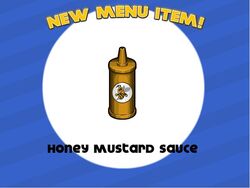 Honey Mustard Sauce is a sauce in Papa's Wingeria/HD and Papa's Cheeseria.
In Papa's Wingeria and HD, it is all unlocked with Scooter when the player reaches Rank 8 (Wingeria) / Rank 10 (Wingeria HD). The badge "Bee Knees" is given when you serve 30 orders with Honey Mustard Sauce.
It is also the sauce in Papa's Cheeseria, unlocked with Hugo when the player reaches Rank 50. It is the ninth of ten sauces in the Build Station.
Customers Who Order This in Papa's Wingeria
Customers Who Order This in Papa's Wingeria HD
Customers Who Order This in Papa's Cheeseria
Specials using this ingredient
Papa's Cheeseria:
Trivia