Home Run Derby
is a mini game in
Papa's Hot Doggeria
,
Papa's Freezeria HD
,
Papa's Pastaria
,
Papa's Sushiria
,
Papa's Pancakeria HD
,
Papa's Hot Doggeria HD
, and
Papa's Hot Doggeria To Go!
. A pitcher throws a baseball, and the player has to click at the right timing to hit the ball and score a home run to win a prize. You can see the Doggeria in the background. The ball gets faster each play.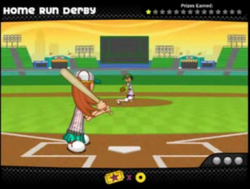 Buffaloes Hat
Small Wingeria Table
Buffaloes Poster
Buffaloes Jersey
Wing Sign
Buffaloes Wall
Fizzo Poster
Buffaloes Bottoms
Medium Wingeria Table
Star Flooring
Raincoat
Large Wingeria Table
Hot Dog Helmet
Streetlamp
Brown Stripe Pants
Coconuts Hat
Golden Tile
Planter Box
Zany Tropical Shirt
Maroon Shoes
Lime Stripe Wall
Red Vest
Snow Floor
Clown Nose
Chef Hat
Paddy's Poster
Halloween Wall
Poinsettia Box
Batters Poster
Baseball Wall
Hot Doggeria Shirt

This section may be having some missing details or it is incomplete! You can help by adding the correct info to finish the list. Once the list is complete, remove this template box.
Papa's Freezeria HD Prizes
Rugby Polo
Medium Blossom Table
White Rice Poster
Moccasins
Blossom Wall
Blue Flag
Open Knit Gloves
Tan Cobblestone
Side Stripe Pants
Pumpkin Pie Gum
Two-Tone Pullover
 Momoiro Poster
 Striped Knit Hat
Bonus:
Decaf Poster
Demin Vest
Fingerless Gloves
Blue Flag
Riveted Belt
Theater Wall
Thin Stripe Polo
Lg. Easter Table
Polka Dot Pants
Sugarplex Poster
Headphones
Pumpkin Pie Gum
Dark Star Carpet
Bonus:
Papa's Pancakeria HD prize gallery
Sakura Bonsai
Short Plaid Shirt
Mustard Poster
Powsicle Gum
Sakura Wall
Papa's Hot Doggeria HD Prizes Gallery
Hot Dog Bun Poster
Powsicle Gum
Md. Onion Table
White Crates
Turkeys Poster
Treats Freezer
Md. Lucky Table
Great Onion
Peanut Barrel
Sausage Poster
Daruma
Blossom Lantern
Fizzo Machine
Bonus:
Trivia
Ad blocker interference detected!
Wikia is a free-to-use site that makes money from advertising. We have a modified experience for viewers using ad blockers

Wikia is not accessible if you've made further modifications. Remove the custom ad blocker rule(s) and the page will load as expected.