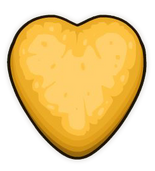 The Heart Cutter is a Valentine's Day holiday-exclusive Donut Cutter used in Papa's Donuteria.
It cuts out a heart-shaped donut when used.
It is unlocked with Scarlett when a player reaches Rank 31 during Valentine's Day.
Customer Who Order This
Trivia
All the closers order this except Jojo, since his orders change every time.
Ad blocker interference detected!
Wikia is a free-to-use site that makes money from advertising. We have a modified experience for viewers using ad blockers

Wikia is not accessible if you've made further modifications. Remove the custom ad blocker rule(s) and the page will load as expected.