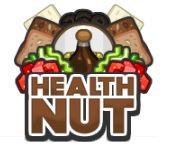 Health Nut
is a Special Sandwich that can be selected by players to be the "Special of the Day" in
Papa's Cheeseria
. Customers who order Health Nut will give the player 250% Points. The Special Prize for mastering this recipe is the Gaming Glove.
Recipe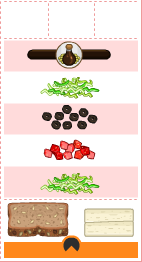 Trivia
The recipe gets its name because it has mostly healthy ingredients (lettuce, tomato, olives, multigrain bread). The toppings are also the ingredients to make a vegetable salad.
A maximum of 750 points can be earned by serving Health Nut to a 4-star customer.
Using this Special is the easiest way to gain points. You can even jump over one rank, but it will say the rank before that with 0 points left.
Gallery