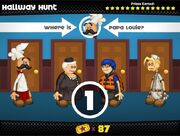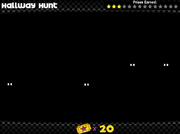 Hallway Hunt is a minigame first introduced in Papa's Pancakeria. In this game, the player tries to follow a certain customer's eyes and guess which room they went into. The game gets progressively harder, as other pairs of eyes may appear in the hallway.
Papa Poster
Sarge Poster
Multigrain Wall 
Pizza Monster Poster 
Small Multigrain Tiles 
Multigrain Floor 
Small Parsley Tiles 
Onion
Parsley Wall 
Large Multigrain Tiles
Yellow Onion 
Pasta Floor 
Large Parsley Tiles
Tribal Onion
Papa's Pancakeria Prize Gallery
Papa Poster

This section may be having some missing details or it is incomplete! You can help by adding the correct info to finish the list. Once the list is complete, remove this template box.
Papa's Burgeria HD Prizes Gallery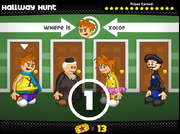 Papa Louie Poster
Multigrain Floor 
Pyramid Belt
Small Gilded Table
Xolo Tank
Medium Gilded Table
Multigrain Wall 
Camo Pants
Large Gilded Table
Lab Coat 
Velvet Rope
Chef Hat
Clown Nose 
Papa Bust
Small Pizza Table
Tastyville Poster 
Tomatoes Hat 
Pizzeria Fence
Green Tile Floor 
Italian Sausage Poster
Winter Parka 
Medium Pizza Table
Pizzeria Wall 
Jester Hat 
Papa Louie Balloons
Tomatoes Jersey 
Tomatoes Bottoms 
Large Pizza Table
Cherry Poster
Blue Plaid Floor
Jojo Beret
Sizzlers Bottoms 
Block Wall 
Sarge Sweatshirt 
Aviators
Starry Fence
Patterned Belt
Plaid Pants 
Color Swirl Wall 
Lab Coat 
Zebra Poster
Confetti Poster
Khaki Pants

This section may be having some missing details or it is incomplete! You can help by adding the correct info to finish the list. Once the list is complete, remove this template box.
Papa's Freezeria HD Prizes Gallery
Chilifest Poster
Jojo Beret 
Blue Polka Wall 
Green Dress Shirt 
Orange Bottoms 
Cheesy Poster
Pink Shoes
Starry Fence
Trenchcoat
Color Swirl Wall
Monocle
Hardshells Hat
Blue Plaid Floor
Neptune Poster
Teal Polo Shirt
Slice Poster
Teal Stripe
White Belt
Pine Tree
Cobblestone Floor
Chocolate Poster
Star Jacket
Medium Jubilee Table
Belltower Ghost
Jubilee Poster
Noel Poster 
Royal Crown
Bonus:
Papa's Donuteria Prize Gallery
Maracas Tee
White Tile
Striped V-Neck
Cinco Poster
Basic Gloves 
Banana Gum
Trim Knit Hat
Cinco Stripe Wall
Basic Belt
Fajita Poster
Biker Helmet
Stache Lamp 
Gaming Glove
Bonus:
Papa's Cheeseria Prize Gallery
Md. Valentine's Table
Orange Cap
Valentine Balloons
Denim Vest
White Tile
Orange Backpack
Chips Poster
Harvest Polo
Sunset Wall
Brown Bottoms
Plum Beanie
Banana Gum
Rose Shields
Bonus:
Papa Arcade Game
Puka Wristband
Green Striped Wall
Denim Vest
Md. Easter Table
Orange Butterflies
Valentine's Poster
Red and White Shirt
Spindly Spider
Yellow Dot Bottoms
Wood Planks
Chef Hat
Dark Beads
Spicy Poster
Papa's Taco Mia HD Prizes Gallery
Bonus:
Papa's Sushiria Prize Gallery
Lg. Harvest Table
Plain Pants
Green Carpet
Paddy's Poster
Solid Jersey
Waywards
Cactus
Backward Cap
Green Striped Wall
Pullover Hoodie
Valentine's Poster
Stitched Shoes
Spindly Spider
Bonus:
Chocolate Gum
Papa's Pancakeria HD Prizes gallery
Sneakers
Large Lantern
Panel Shirt
Festive Phonograph
Slim Blazer
Tall Window
Spooky Tile
Sm. Bavarian Table
Forest Green Wall
Pliad Trapper Hat
Thanks Poster
Rubber Wristband
Pepper Tee
Bonus:
Cherry Gum
Papa's Pizzeria HD Prizes Gallery
Trivia
In the dark, all of the customers' eyes are exactly the same shape regardless of their shape in the light or whether certain customers are wearing glasses or other accessories that conceal their eyes.
This mini-game does not appear in Papa's Bakeria.
Ad blocker interference detected!
Wikia is a free-to-use site that makes money from advertising. We have a modified experience for viewers using ad blockers

Wikia is not accessible if you've made further modifications. Remove the custom ad blocker rule(s) and the page will load as expected.