Grill Station is a cooking station that appeared in Papa's Burgeria, Papa's Taco Mia! / HD / To Go! , Papa's Pancakeria / HD, Papa's Hot Doggeria, and Papa's Cheeseria.
Gameplay
In Burgeria, drag raw patties to the grill and let them cook until the grilling time the customer desired. When the patty is done grilling, drag it to the pile.

In Taco Mia!, cook pans of meat on the stove, and flip or cut when it tells you to. Then drag the meat to the shell the customer desired.
In Pancakeria, drag batter or toast to the griddle, or drag batter to the waffle iron, and cook the items the customer desired. Flip when it's halfway done, then when it's cooked thoroughly on both sides, drag the item to the pile.
In Hot Doggeria, drag sausages on the grill, flip when they are halfway done, and drag them to the bun the customer desired. Every sausage has a different cooking time (for example, the hot dog has a medium cooking time, the cheddarwrust takes a bit shorter, the Italian sausage takes a bit longer, the veggie dog takes the shortest, and the kielbasa takes the longest).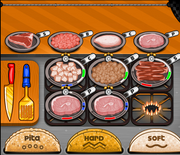 In Cheeseria, after you build the sandwich, drag it on the griddle and flip it when it's halfway done. Customers will either want their sandwiches light, medium, or well done. When the sandwich is finished grilling on both sides, drag it to the cutter to cut it in half.