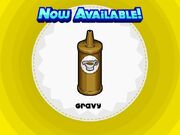 Gravy is an ingredient used in various Papa Louie's restaurant-time management games.
In Papa's Cheeseria, Gravy is a holiday-exclusive sauce during Thanksgiving and is unlocked on the 4th day of the holiday. The badge 'Thankful' is earned when it is unlocked, as it is the last Thanksgiving ingredient to be unlocked.
In Papa's Sushiria, Gravy is a holiday-exclusive sauce during Thanksgiving and is unlocked with Taylor when the player reaches Rank 42.
Customers who order this (Cheeseria)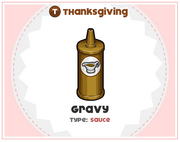 Customers who order this (Sushiria)
Toastwood Gravy was the twenty-first recipe featured in Papa's Cook Book, a feature on the Flipline Studios Blog. It was featured along with Toastwood Poutine.
Instructions
The instructions could be found here. 1: Cooking the Gravy
Before you start, you will want to measure everything out ahead of time. You will also want to warm the beef broth in the microwave or stove top. Not to the point of boiling though.
On the stovetop, melt the butter in a small saucepan while continuously stirring so it doesn't burn. Then add the flour while still whisking. Once the flour is fully blended in, then add the warmed beef broth.
Bring the gravy to a boil, then turn off the heat and remove it from the stovetop.
2: Final Touches
Let the gravy cool for 2 minutes, then mix in the salt, pepper, garlic powder, paprika, and worcester sauce. Now you have Toastwood gravy to use on your Toastwood Poutine!
Ad blocker interference detected!
Wikia is a free-to-use site that makes money from advertising. We have a modified experience for viewers using ad blockers

Wikia is not accessible if you've made further modifications. Remove the custom ad blocker rule(s) and the page will load as expected.