If looking for the entry for the French Fries seen in Papa's Wingeria, please visit this page.
French Fries are a side dish that appears in Papa's Cheeseria.
In Papa's Cheeseria, French-cut Fries are available as a side that can be selected by customers to go with their grilled cheese sandwiches. When you put these in the fryer, the handle will turn turquoise (similar to Chicken Strips in Papa's Wingeria). French Fries are unlocked at the start. 
Customers who order this (Cheeseria)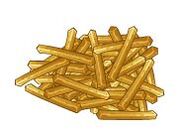 Trivia
They are called French Fries, not because they originated in France (pomme frites supposedly came from Belgium), but the way the potatoes are cut. The process is called frenching, which is defined as "cutting foods into long, thin strips." This ensures that the potatoes cook and will take seasonings evenly. [1]