Franco is a male customer who made his first appearance in Papa's Pizzeria.
Flipdeck Info
Hometown: Toastwood
Loves: Pepperoni Bread
Hates: Faux Brick Facades
Occupation: Architect
Franco grew up in Toastwood and studied Architecture at Torta Tech University. After college, he moved to Burgerburgh where he was hired by a firm to design tract homes for the fast growing suburb. There, he met his wife, Fernanda and the two soon had a daughter named Lisa. After 20 years and many promotions, Franco decided to leave his Senior Manager position. Soon after, he started his own architect firm in his hometown of Toastwood called Fernaco Architecture.
Appearance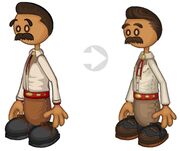 Franco has smooth brown hair, bushy eyebrows, and a moustache. He wears an off-white long-sleeved shirt with a button-up collar and a light gold bolo tie around his neck split into two red laces. He wears almond-colored pants, a red belt studded by light golden metallic spots, and black shoes with brown laces.
Clean-Up
His hair and outfit got remodeled. He now wears a pair of black and brown-colored wingtips.
Styles
Style B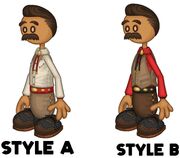 Franco wears a red long-sleeved shirt with black sleeve edges and brown buttons and linings. He wears it underneath a mocha-colored vest with light gold buttons and pockets. He also dons a black-laced bolo tie, brown pants, and black lace tied around his waist.
Orders
8 Pepperoni (all)
3 Olives (top and bottom left)
30 minutes (1/2 of meter)
8 Slices
Bottom Bun
Rare Patty
Mustard
Bottom Bun
Rare Patty
Cheese
Mayo
Top Bun
Pita Bread with Beef
Sour Cream
Black Beans
Pinto Beans
Lettuce
Guacamole
Large Cup
Nutty Butter Cups
Vanilla Syrup
Regular Blend
Chocolate Whipped Cream
Nuts
Cherry (far right)
Bottom Bun
Rare Patty
Mustard
Bottom Bun
Rare Patty
Pepperjack Cheese
Mayo
Top Bun
6 Atomic Shrimps (all)
6 Red Peppers (all)
Mango Chili Dip
Blue Cheese Dip
Italian Sausage on a Hoagie Roll
Sauerkraut
Relish
Onions
3 Tomatoes
Drink and Popcorn:

Medium Diet Fizzo
Medium Candy Jack
Bottom Bun
Rare Patty
Mustard
Bottom Bun
Rare Patty
Jalapeños
Mayo
Top Bun
Liner C
Chocolate Cake
Cupcake 1:

Sunglow Frosting
Strawberry Drizzle
Chocolate Chips
Marshmallow, Cherry, Marshmallow

Cupcake 2:

Chocolate Frosting
Chocolate Drizzle
Chocolate Chips
Nutty Butter Cup, Marshmallow, Nutty Butter Cup
Holiday (Starlight Jubilee)
Liner B
Chocolate Cake
Cupcake 1:

Sunglow Frosting
Strawberry Drizzle
Chocolate Chips
White Chocolate Star, Candy Rocket, White Chocolate Star

Cupcake 2:

Chocolate Frosting
Chocolate Drizzle
Chocolate Chips
Nutty Butter Cup, Marshmallow, Nutty Butter Cup
Large Cup
Nutty Butter Cups
Vanilla Syrup
Regular Blend
Chocolate Whipped Cream
Nuts
Hazelnut Swizzle, Hazelnut Swizzle, Cherry
Al Dente Penne
Garlic Basil
Italian Seasoning
4 Fried Calamari
2 Onions
2 Green Peppers
Pepperoni Bread
Holiday (St. Paddy's Day)
Al Dente Penne
Zesty Pesto
Italian Seasoning
4 Fried Calamari
2 Onions
2 Broccoli
Pepperoni Bread
Small Cup
Creameo Bits
Chocolate Syrup
Regular Blend
Chocolate Mousse
White Chocolate Syrup
Nuts
2 Hazelnut Swizzles, Cherry
Chocolate French Cruller with Chocolate Mousse

Cinnamon Sugar
Chocolate Chips

Red Velvet Round Donut with Chocolate Mousse

Chocolate Icing
Creameo Bits

Chocolate Long John with Cookie Dough Cream

Chocolate Icing
Vanilla Drizzle
Chocolate Chips
Holiday (New Year)
Chocolate French Cruller with Chocolate Mousse

Midnight Powder
Creameo Drizzle
Chocolate Chips

Red Velvet Round Donut with Chocolate Mousse

Chocolate Icing
Creameo Bits

Chocolate Long John with Cookie Dough Cream

Chocolate Icing
Vanilla Drizzle
Chocolate Chips
6 Smoky Bacon Shrimps
6 Red Peppers
Mango Chili Dip
Blue Cheese Dip
8 Pepperoni
4 Asiago Cheese
8 Olives
Well-Done Bake
Square Cut
Sourdough Bread with Grated Mozzarella
Regular Grill
Bacon
Tomatoes
Sauerkraut
Southwest Sauce
Fries:

French Fries
Rico's Chili
Bacobites
Holiday (Cinco de Mayo)
Sourdough Bread with Oaxaca Cheese
Regular Grill
Guacamole
Chorizo Sausage
Tomatoes
Sauerkraut
Southwest Sauce
Fries:

French Fries
Rico's Chili
Bacobites
Liner B
Chocolate Cake
Cupcake 1:

Sunglow Frosting
Strawberry Drizzle
Chocolate Chips
Marshmallow
Cherry

Cupcake 2:

Chocolate Frosting
Chocolate Drizzle
Chocolate Chips
Nutty Butter Cup
Marshmallow
Holiday (Cinco de Mayo)
Liner B
Horchata Cake
Cupcake 1:

Sunglow Frosting
Strawberry Drizzle
Cinco Swirls
Churro
Nutty Butter Cup

Cupcake 2:
Chocolate Frosting

Cocoa Chipotle Drizzle
Chocolate Chips
Sombrero
Churro
Liner C
Chocolate Cake
Cupcake 1:

Sunglow Frosting
Chocolate Chips
Nutty Butter Cup, Marshmallow, Nutty Butter Cup

Cupcake 2:

Chocolate Frosting
Chocolate Drizzle
Creameo Bits
Nutty Butter Cup
Holiday (New Year)
Liner C
Chocolate Cake
Cupcake 1:

Sunglow Frosting
Stache Sprinkles
Nutty Butter Cup, New Year Topper, Nutty Butter Cup

Cupcake 2:

Chocolate Frosting
Chocolate Drizzle
Creameo Bits
Streamers, Nutty Butter Cup, Streamers
Creameo Crust
Pecan Filling
Pecan Filling
Peanut Butter Fluff
Peanut Butter Fluff
Slit Top Crust
White Chocolate Syrup (All Over)
Chocolate Mousse (Outer Ring)
Crushed Peanuts (Outer Ring)
Holiday (Thanksgiving)
Creameo Crust
Pecan Filling
Pecan Filling
Pumpkin Filling
Pumpkin Filling
Autumn Leaves Crust
White Chocolate Syrup (All Over)
Chocolate Mousse (Outer Ring)
Crushed Peanuts (Outer Ring)
Pita Bread with Beef
Hot Sauce
Refried Beans
Black Beans
Guacamole
Sour Cream
Chips:
Holiday (New Year)
Pita Bread with Chorizo
Atomic Sauce
Refried Beans
Guacamole
Sour Cream
Fire Tortilla Strips
Chips:
Ukoniro Soy Paper with White Rice
Not Flipped

Avocado
Cream Cheese
Fried Calamari

Avocado
Bubble Tea:

Mocha Tea with Butterscotch Bubbles
Holiday (Cinco de Mayo)
Ukoniro Soy Paper with White Rice
Not Flipped

Avocado
Chipotle Cheddar
Chorizo

Avocado
Bubble Tea:

Mocha Tea with Butterscotch Bubbles
2 French Toasts
Maple Syrup
Chocolate Chips
Drink:
Holiday (Cinco de Mayo)
2 French Toasts
Cocoa Chipotle Syrup
Cinco Swirls
Chocolate Chips
Drink:

Large Horchata with Cocoa
Thick Crust
Rustic Romana
Papa's Cheese Blend
8 Black Olives
8 Pepperonis
2 Pepperjack Cheeses (left)
2 Asiago Cheeses (right)
Well-Done Bake
Square Cut
Holiday (Cinco de Mayo)
Thick Crust
Salsa with Papa's Cheese Blend
8 Black Olives
8 Chorizos
2 Avocados (left)
2 Asiago Cheeses (right)
Well-Done Bake
Square Cut
Italian Sausage on a Hoagie Bun
Sauerkraut
Relish
Onions
Southwest Sauce
3 Tomato Wedges
Drink and Popcorn:

Medium Diet Fizzo
Medium Candy Jack
Holiday (Summer Luau)
Italian Sausage on a Hawaiian Bun
Sauerkraut
Relish
Poke
Calypso Sauce
3 Tomato Wedges
Drink and Popcorn

Medium Diet Fizzo
Medium Tropical Charms Popcorn
Italian Sausage on a Hoagie Bun
Sauerkraut
Relish
Onions
Southwest Sauce
3 Tomato Wedges
Drink and Popcorn:

Medium Diet Fizzo
Medium Candy Jack
Holiday (Cinco de Mayo)
Italian Sausage on a Bolillo Bun
Sauerkraut
Relish
Fire Tortilla Strips
Enchilada Sauce
3 Tomato Wedges
Drink and Popcorn

Medium Diet Fizzo
Medium Cancha Corn
Ranks required to unlock him
Unlockables
Stickers
| Sticker Name | Name | Achievement | Sticker Earned |
| --- | --- | --- | --- |
| 18 | Hot and Ready | Have Quinn's order ready when she arrives and serve immediately | |
| 89 | Friendly Fill-Up | When dining in, fill the customer's pie with their friend's favorite fillings instead | |
| 49 | Successful Specials | Earn 3 Special Stars when serving Today's Special | |
| Sticker Name | Name | Achievement | Sticker Earned |
| --- | --- | --- | --- |
| 67 | Deano Churrasco | Serve a Cheesy Churrasco Special to Deano | |
| 10 | Holiday Tacos | Unlock all Christmas toppings | |
| 60 | Robby Ranchero | Serve a Cerdo Ranchero Special to Robby | |
| Sticker Name | Name | Achievement | Sticker Earned |
| --- | --- | --- | --- |
| 64 | Robby Lobster | Serve a Lava Lobster Special to Robby | |
| 66 | Xolo Kosho | Serve a Kiwi Kosho Special to Xolo | |
| 26 | Rice Expert | Get a 100% Cooking Score on 20 orders | |
| Sticker Name | Name | Achievement | Sticker Earned |
| --- | --- | --- | --- |
| 21 | Repeat Customers | Earn 15 Bronze Customer Awards | |
| 48 | Complete Cookbook | Earn 40 Special Recipes from customers | |
| 46 | Special Collector | Earn 5 Special Recipes from customers | |
| Sticker Name | Name | Achievement | Sticker Earned |
| --- | --- | --- | --- |
| 38 | New Threads | Change your work's shirt, pants, hat, and shoes | |
| 36 | New Coat of Paint | Buy any 4 Flooring or Wallpaper from the shop | |
| 24 | Order Expert | Get a 100% Waiting Score on 20 orders | |
Earn all three stickers in either game to get this outfit:
Papa's Next Chefs
Trivia
Order Tickets
Gallery
Fan Art