CELEBRATING NEPTUNE FEAST ALL AUGUST!!!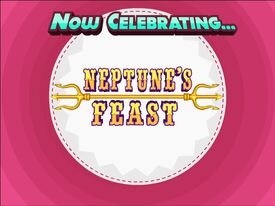 Featured Articles of August
Papa's Taco Mia To Go! is the fifth Papa Louie restaurant management series game made available for small-screened devices. It was released on March 21, 2017.
Read More...

Papa's Pizzeria HD is the seventh mobile game in the Papa Louie restaurant management game series. It was released on August 7, 2017 to celebrate the tenth anniversary of the original game.
Read More...

Featured Image of August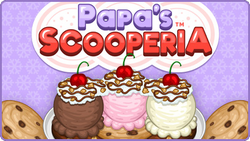 Latest Flipdeck
#200: Xolo (July 25, 2018)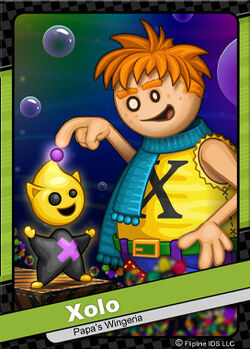 Xolo and his twin sister, Xandra, were being raised by the Xeppers to be the Royal Guardians of the Warp Coins. However, that all changed on one fateful night when a crystal-like asteroid with a faint pink tail was observed hurtling through space. It was on a collision course with the Kingdom of X, the core realm of the entire Flipverse. The Xeppers quickly patched together an escape balloon, and sent the twins off to the safest realm they could find. The stone pierced the sky and shattered the Kingdom of X, scattering all the sacred Warp Coins.
Blog Updates
August 2, 2018: Papa Louie Pals: Scenes and a Preview
July 28, 2018: Happy National Cookie Sundae Day
July 25, 2018: Flipdeck 200: Xolo
July 17, 2018: Sneak Peek: Launch Date!
July 10, 2018: Sneak Peek: Order Complete!
July 3, 2018: Sneak Peek: Ice Cream To Go!
June 26, 2018: Sneak Peek: Customer Coupons!
June 22, 2018: Papa Louie Pals: NEW UPDATE!!!
June 19, 2018: Sneak Peek: Lobby Editor To Go!
June 12, 2018: Sneak Peek: Shopping To Go!
Wiki Updates
This wiki will officially hit its seven-year anniversary on August 19, 2018. Happy Anniversary to the Wiki and thank you to all who have contributed to this site in the past, presently, and into the future.
COPPA has been updated, therefore disabling anonymous users from editing on this wiki. Read more here.
The forums are now open!
We can now use edit summaries so people can easily see your edits. See here for more information.
Featured Poll
Which holiday would you like the Flipline Studios Wikia to celebrate in September?:
Seafood Lovers (Customers who Favor Neptune's Feast)