The Staff and Editors of Flipline Studios Wikia would like to congratulate Tony and Mandi Solary on the birth of their baby girl Bruna. [1]
Welcome to Flipline Studios Wiki. We're a collaborative community website that provides details about the online and "app" games created by Flipline Studios that anyone, including you, can edit!
We currently have 995 articles and 146,320 edits since August 9, 2011.
Have you played the new Papa's Cheeseria game? Maybe you've played Papa's Cupcakeria or Papa's Wingeria before, or even the old Papa's Pizzeria, and Papa Louie: When Pizzas Attack! Or maybe you have tried other games by Flipline Studios, like Jacksmith, Steak and Jake or Remnants of Skystone. This is the Wikia full of information about Flipline Studios characters, updates, restaurants, and games!
Featured Articles
Papa's Cheeseria is the 11th game in the Papa Louie's restaurant management series that was released for play by Flipline Studios on June 10, 2015.
Read More..

Papa's Next Chefs 2015 is the fifth Papa Louie's Next Chef tournament in which fans selected the next two workers for the upcoming restaurant Papa's Cheeseria. After 15 weeks of votes, Rudy and Scarlett won the tournament.
Read More..

Featured Image
Latest Flipdeck
#138: Gummeel (June 27, 2015)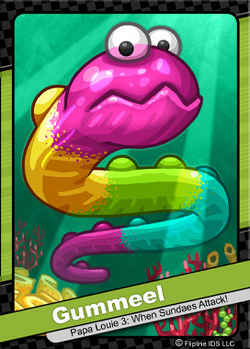 Lurking in the depths of Gummy Grotto lives the elusive fish known as Gummeels. These vibrant eels flow like a ribbon of rainbow through the otherwise blue abyss. Divers must exhibit great patience when approaching a group of Gummeels, as their long bodies can easily crowd the narrow passageways of the sea. They can be observed swimming endlessly left and right as they slowly snack on tiny Jelly Plankton.
Blog Updates
July 29, 2015: Sneak Peek: Mini Games!
July 28, 2015: Papa's Cook Book: Rudy's Reuben
July 27, 2015: Flipdeck 138: Gummeel
July 23, 2015: Happy National Hot Dog Day!
July 22, 2015: Sneak Peek: Seasons!
July 21, 2015: Papa's Cook Book: Blondie Bops
July 20, 2015: Flipdeck 137: Bertha
July 15, 2015: Sneak Peek: Newcomers!
July 14, 2015: Papa's Cook Book: Awesome Sauce!
July 13, 2015: Flipdeck 136: Rocky Road
Wiki Updates
To nominate featured polls go here.
Which holiday-exclusive topping would you add as an everyday item in Papa's Cheeseria?
Flipline Studios Antagonists


Official Flipline Websites
Other Flipline Games Wikias
Remnants of Skystone Wiki * Cactus McCoy Wiki * Steak and Jake Wiki * Jacksmith Wiki
Fanon Wikias
Flipline Fanfiction Wiki * Papa Louie Episodes Wiki * Fan Papa Louie Customers Wiki * Flipline Fiction Wiki * Papa Louie Fanon Wiki * Papa Louie Fanon 2 Wiki * Papa Louie Fanfiction-eria Wiki* Papa Louie Studios Wiki
Mochiblogs
[2]
[3]
[4]
[5]