The Staff and Editors of Flipline Studios Wikia would like to congratulate Tony and Mandi Solary on the birth of their baby girl Bruna. [1]
Welcome to Flipline Studios Wiki. We're a collaborative community website that provides details about the online and "app" games created by Flipline Studios that anyone, including you, can edit!
We currently have 1,024 articles and 150,396 edits since August 9, 2011.
Have you played the new Papa's Cheeseria game? Maybe you've played Papa's Cupcakeria or Papa's Wingeria before, or even the old Papa's Pizzeria, and Papa Louie: When Pizzas Attack! Or maybe you have tried other games by Flipline Studios, like Jacksmith, Steak and Jake or Remnants of Skystone. This is the Wikia full of information about Flipline Studios characters, updates, restaurants, and games!
Featured Articles
Papa's Cheeseria is the 11th game in the Papa Louie's restaurant management series that was released for play by Flipline Studios on June 10, 2015.
Read More..

Papa's Next Chefs 2015 is the fifth Papa Louie's Next Chef tournament in which fans selected the next two workers for the upcoming restaurant Papa's Cheeseria. After 15 weeks of votes, Rudy and Scarlett won the tournament.
Read More..

Featured Image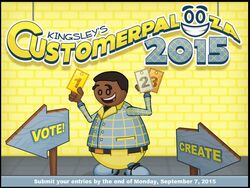 Latest Flipdeck
#141: Sue (August 17, 2015)
Sue is a long-standing, albeit high-strung, customer of Papa's many restaurants. She is a hard working team leader at the Tastyville Fluffmart. On a normal workday, Sue can be seen pacing the sales floor while frantically barking orders to her underlings. Unfortunately, for all the diligent work that she accomplishes, Sue rarely receives any praise from upper management, which only adds to her irritability.
Blog Updates
August 31, 2015: Kingsley's Customerpalooza 2015!
August 26, 2015: Sneak Peek: The Build Station!
August 25, 2015: Papa's Cook Book: Lumberjack Toast
August 19, 2015: Sneak Peek: The Bake Station!
August 18, 2015: Papa's Cook Book: Rico's Chili Dogs
August 17, 2015: Flipdeck 141: Sue
August 12, 2015: Sneak Peek: New Holiday!
August 11, 2015: Papa's Cook Book: Caramel Cookie Apples
August 10, 2015: Flipdeck 140: Cooladas
August 5, 2015: Sneak Peek: The Batter Station!
Wiki Updates
To nominate featured polls go here.
You were given a gift certificate to go to any store in the Flipverse. Where would you go?
Papa's Hot Doggeria Debutants


Official Flipline Websites
Other Flipline Games Wikias
Remnants of Skystone Wiki * Cactus McCoy Wiki * Steak and Jake Wiki * Jacksmith Wiki
Fanon Wikias
Flipline Fanfiction Wiki * Papa Louie Episodes Wiki * Fan Papa Louie Customers Wiki * Flipline Fiction Wiki * Papa Louie Fanon Wiki * Papa Louie Fanon 2 Wiki * Papa Louie Fanfiction-eria Wiki* Papa Louie Studios Wiki
Mochiblogs
[2]
[3]
[4]
[5]