The Staff and Editors of Flipline Studios Wikia would like to congratulate Tony and Mandi Solary on the birth of their baby girl Bruna. [1]
Welcome to Flipline Studios Wiki. We're a collaborative community website that provides details about the online and "app" games created by Flipline Studios that anyone, including you, can edit!
We currently have 960 articles and 142,692 edits since August 9, 2011.
Have you played the new Papa's Donuteria? Maybe you've played Papa's Pastaria or Papa's Hot Doggeria before, or even the old Papa's Pizzeria, and Papa Louie: When Pizzas Attack! Or maybe you have tried other games by Flipline Studios, like Jacksmith, Steak and Jake or Remnants of Skystone. This is the Wikia full of information about Flipline Studios characters, updates, restaurants, and games!
Featured Articles
Papa's Next Chefs 2015 is the fifth Papa Louie's Next Chef tournament in which fans selected the next two workers for the upcoming restaurant Papa's Cheeseria. After 15 weeks of votes, Rudy and Scarlett won the tournament.
Read More..

Papa Louie 3: When Sundaes Attack! is the third game in the Papa Louie series of platformer games, following Papa Louie: When Pizzas Attack! and Papa Louie 2: When Burgers Attack! The game premiered on Wednesday, March 4, 2015.
Read More...

Featured Image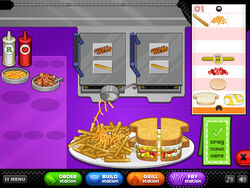 Latest Flipdeck
#134: Thorn Shroom (June 09, 2015)
Thorn Shrooms are large, prickly Shrooms that grow abundantly in the muggy marshes of the Saucelands. They have evolved a menacing cap of sharp, blue thorns to ward off any annoying creature from jumping on their heads. Being firmly planted in BBQ sauce, Thorn Shrooms prefer growing in large groups. This can be rather problematic for passers by, as a large briar of Thorn Shrooms can easily block an unkempt path.
Blog Updates
June 29, 2015: Flipline Update
June 10, 2015: Papa's Cheeseria Now Open!
June 09, 2015: Flipdeck 134: Thorn Shroom
June 03, 2015: Sneak Peek: Papa's Cheeseria Launch Date!!!
June 02, 2015: Sneak Peek: The Fry Station!
June 01, 2015: Sneak Peek: The Grill Station!
May 28, 2015: Flipdeck 133: Mayor Mallow
May 26, 2015: Sneak Peek: The Build Station!
May 20, 2015: Sneak Peek: 3,554!
May 19, 2015: Sneak Peek: New Customer!
Wiki Updates
To nominate featured polls go here.
Which holiday-exclusive topping would you add as an everyday item in Papa's Cheeseria?
Flipline Studios Antagonists


Official Flipline Websites
Other Flipline Games Wikias
Remnants of Skystone Wiki * Cactus McCoy Wiki * Steak and Jake Wiki * Jacksmith Wiki
Fanon Wikias
Flipline Fanfiction Wiki * Papa Louie Episodes Wiki * Fan Papa Louie Customers Wiki * Flipline Fiction Wiki * Papa Louie Fanon Wiki * Papa Louie Fanon 2 Wiki * Papa Louie Fanfiction-eria Wiki* Papa Louie Studios Wiki
Mochiblogs
[2]
[3]
[4]
[5]