Home
Talk

26
331pages on
this wiki
04:07 (24hr UTC)– Sunday,May 19, 2013.
Currently 331 articles since August 19, 2011

Have played the new Papa's Hot Doggeria? Maybe you've played Papa's Wingeria or Papa's Burgeria before, or even the old Papa's Pizzeria, and Papa Louie: When Pizzas Attack! Or maybe you have tried other games by Flipline Studios, like Jacksmith or Remnants of Skystone. This is the Wikia full of information about Flipline Studios characters, restaurants, and games.
Featured Article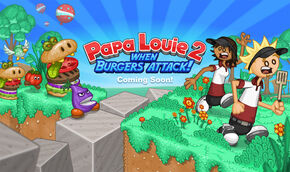 Papa Louie 2: When Burgers Attack! is the upcoming sequel to Papa Louie: When Pizzas Attack!
Read More..

Featured Image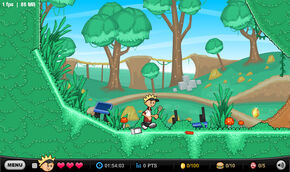 Latest Flipdeck
#72: The Green Guerillas (May 14)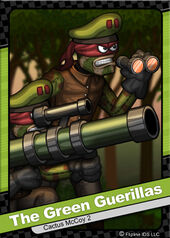 The Green Guerillas are a fearless group of mercenaries whose camp is hidden deep within Makopa Jungle. They were hired by Malana Mire to keep Cactus McCoy out of the jungle and off her trail. Green Guerillas were paid in advance by Malana Mire with an ancient Reptara relic, The Jade Skull.
To nominate featured polls go here.
What is your favorite Non Papa Louie Game?
Websites
Offical Flipline Websites
Flipline.com
papalouie.com
remnantsofskystone.com
Other Flipline Games Wikias
Remnants of Skystone Wiki * Cactus McCoy Wiki * Steak and Jake Wiki * Jacksmith Wiki
Fanon Wikias
Flipline Fanfiction Wiki * Papa Louie Episodes Wiki * Fan Papa Louie Customers Wiki * Flipline Fiction Wiki * Papa Louie Fanon Wiki * Papa Louie Fanon 2 Wiki * Papa Louie Fanfiction-eria Wiki
Mochiblogs
Other Flipline Wikias (listing and rating in order of wiki appearance and number of articles)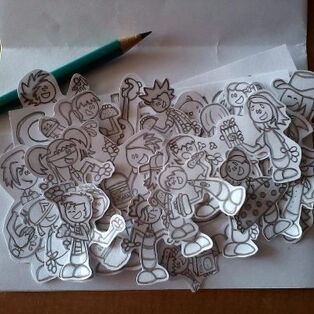 Wiki Updates
The main page is improved with a featured column.
TouhouandMarioFan and Woo224 are properly nominated as administrators!
User:Angry Hearts becomes an admin.
The record for most users on chat has been broken, it is 12.
Papl(MintIceCream) has started off the new forums here!
We host games on chat often.  Please see me for further details. Keep out or be Banned. (talk) 22:52, December 1, 2012 (UTC)