CONGRATULATIONS TO ROSECUPID, AKA FAITHESQUE, AND AMY, WINNERS OF KINGSLEY'S CUSTOMERPALOOZA 2017!!!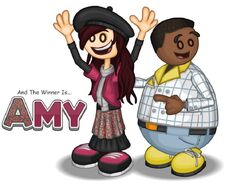 CELEBRATING CHRISTMAS ALL DECEMBER!!!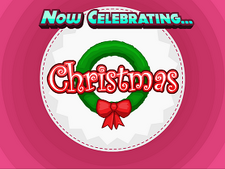 Featured Articles of December
Papa's Taco Mia To Go! is the fifth Papa Louie restaurant management series game made available for small-screened devices. It was released on March 21, 2017.
Read More...

Papa's Pizzeria HD is the seventh mobile game in the Papa Louie restaurant management game series. It was released on August 7, 2017 to celebrate the tenth anniversary of the original game.
Read More...

Kingsley's Customerpalooza 2017
Featured Image of December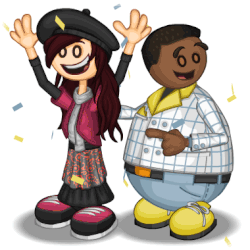 Latest Flipdeck
#196: Emmlette (December 13, 2017)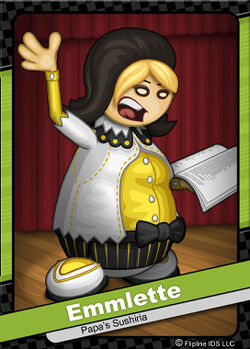 Emmlette thoroughly enjoys her job as Sakura Bay High's only drama teacher. There she trains her pupils to be well rounded thespians through song, dance, and acting. Each year, Emmlette is in charge of directing the high school's award winning plays. Having no theater houses in Sakura Bay, her annual shows bring in huge crowds well beyond that of normal school plays. When Emmlette's not working overtime at school, she is tending to her brood of free-range chickens who supply her with a surplus of delicious eggs.
Blog Updates
December 13, 2017: Flipdeck 196: Emmlette
December 11, 2017: Sneak Peek: Intro to Papa Louie Pals
December 8, 2017: Flipdeck 195: Scuba Radish
December 4, 2017: Sneak Peek: Papa Louie Pals!?!
November 29, 2017: Wendy's Wheels: The SilverScale
November 28, 2017: Flipdeck 194: Vincent
November 23, 2017: Happy Thanksgiving!
November 20, 2017: THEY'RE HERE: Papa's Hot Doggeria HD and To Go!!!
November 17, 2017: Peggy's Fan Art Round Up!
November 13, 2017: Sneak Peek: Launching Next Week!
Wiki Updates
This wiki officially hit its five-year anniversary on August 19, 2016. Happy Anniversary to the Wiki and thank you to all who have contributed to this site in the past, presently, and into the future.
COPPA has been updated, therefore disabling anonymous users from editing on this wiki. Read more here.
The forums are now open!
We can now use edit summaries so people can easily see your edits. See here for more information.
Featured Poll
The year is almost over. Who is your favorite new Papa Louie's character for 2017?
Meet the Scoopians
Happy Holidays


Ad blocker interference detected!
Wikia is a free-to-use site that makes money from advertising. We have a modified experience for viewers using ad blockers

Wikia is not accessible if you've made further modifications. Remove the custom ad blocker rule(s) and the page will load as expected.