BREAKING NEWS: Papa's Scooperia will be Flipline Studios' last Flash game published for web browsers.
Congratulations to CupcakePro aka AquaMelon, whose character Ranulph was the runner up in this year's KCP.
CELEBRATING CHRISTMAS ALL DECEMBER!!!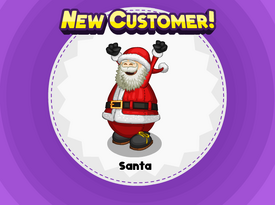 Featured Articles of December
Papa's Taco Mia To Go! is the fifth Papa Louie restaurant management series game made available for small-screened devices. It was released on March 21, 2017.
Read More...

Papa's Pizzeria HD is the seventh mobile game in the Papa Louie restaurant management game series. It was released on August 7, 2017 to celebrate the tenth anniversary of the original game.
Read More...

Kingsley's Customerpalooza 2018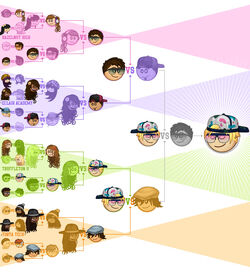 Featured Images of December
Latest Flipdeck
#202: Wylan B (November 6, 2018)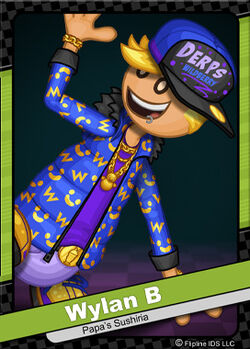 Wylan B is a high school kid who grew up in Sakura Bay. He recently had to move to Powder Point with his dad who received a new job. Although they get along at home, Wylan would be mortified if his new classmates knew his dad was their principal at Cornelius Central High. In order to keep that a secret, Wylan Bombolony simply goes by the name Wylan B. To impress the kids at school, he started practicing breakdancing and freestyle rap. Unfortunately, Wylan still has a ways to go before people take him seriously.
Blog Updates
December 7, 2018: Papa Louie Pals: Scenes and a Preview!
December 5, 2018: Sneak Peek: Nye in Starlight City
December 4, 2018: Best of 2018: Papa's Freezeria!
November 30, 2018: Papa Louie Pals: Scenes and a Preview!
November 28, 2018: Coming Soon: Papa's Wingeria To Go!
November 27, 2018: Peggy's Fan Art Round Up!
November 26, 2018: Kingsley's Customerpalooza 2018 Champion… Nye!!!
November 22, 2018: Happy Thanksgiving!
November 19, 2018: Kingsley's Customerpalooza 2018: Final Match!
November 16, 2018: Papa Louie Pals: Scenes and a Preview!
November 15, 2018: KCP18: Semifinals!!
Wiki Updates
This wiki has officially hit its seven-year anniversary on August 19, 2018. Happy Anniversary to the Wiki and thank you to all who have contributed to this site in the past, present, and into the future.
We can now use edit summaries so people can easily see your edits. See here for more information.
Featured Poll
It's the end of the year. What was your favorite part of it in the world of Flipline Studios?:
To nominate featured polls go here.
Papa's Wingeria Debutants
Merry Christmas!!!