Home
Talk

27
839pages on
this wiki
Have you played the new Papa's Donuteria? Maybe you've played Papa's Pastaria or Papa's Hot Doggeria before, or even the old Papa's Pizzeria, and Papa Louie: When Pizzas Attack! Or maybe you have tried other games by Flipline Studios, like Jacksmith, Steak and Jake or Remnants of Skystone. This is the Wikia full of information about Flipline Studios characters, restaurants, and games!
Featured Article
Papa's Wingeria HD Papa's Wingeria HD is the third Papa Louie's restaurant management series game that will be made available on iPads and Android Tablets. The game was released on Thursday, August 28, 2014.
Read More..

Featured Image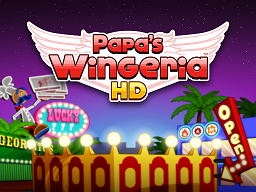 Latest Flipdeck
#119: Dill Worms (September 1, 2014)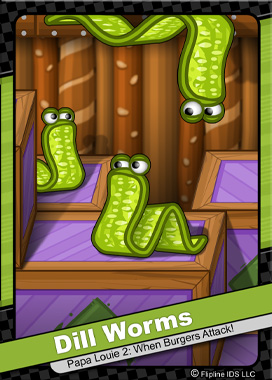 Dill Worms are pickled baddies who prefer the view from above. They spend most of their time stuck to ceilings while on the lookout for intruders. When they are above their target, Dill Worms will dive bomb the unsuspecting visitor. If a Dill Worm misses its mark, they will continue to inch their way towards battle.
Blog Updates
September 01, 2014: Flipdeck 119: Dill Worms
August 28, 2014: Papa's Wingeria HD is released!
August 26, 2014: Flipdeck 118: Cletus
August 21, 2014: Papa's Wingeria HD Available August 28th!
August 19, 2014: Sneak Peek: Papa's Wingeria HD: Hairstyles!
August 18, 2014: Flipdeck 117: Blue Shroom
August 12, 2014: Sneak Peek: Papa's Wingeria HD: Servers!
August 07, 2014: Quinn's Q&A: Apps, Difficulty, and Gummy Worms!
Wiki Updates
To nominate featured polls go here.
Are you excited for the release of Papa's Wingeria HD coming soon to iPad/Andriod tablets?


Papa Louie: When Pizzas Attack!
Papa Louie • Roy • Big Pauly • Mindy • Chuck • Taylor • Allan • Timm • Penny • Sue • Cooper • Maggie • Marty • Wally • Robby • Rita • Mitch • James • Greg • Mary • Prudence
Kingsley • Cecilia • Mandi • Sasha • Olga • Franco • Tohru • Clair • Clover • Hugo • Peggy • Carlo Romano • Gino Romano • Bruna Romano • Edoardo Romano • Sarge Fan!
Akari • Alberto • Tony • Doan • Matt • Lisa • Cletus • Kayla • Connor • Edna • Vicky
Zoe • Nick • Georgito • Quinn • Rico • Xandra • Jojo
Ivy • Utah • Ninjoy • Kahuna • Captain Cori • Gremmie
Wendy • Yippy • Hank • Johnny • Foodini
Scooter • Skyler • Boomer • Xolo • Professor Fitz
Bertha • Pinch Hitwell • Kenji • Shannon • Radlynn • Willow
Mayor Mallow • Trishna • Scarlett • Nevada • Santa
Crystal • Hope • Deano • Olivia • Sienna
Rudy • Iggy • Ember • Julep • Hacky Zak

Official Flipline Websites
Flipline.com
*
papalouie.com
*
remnantsofskystone.com
Other Flipline Games Wikias
Remnants of Skystone Wiki * Cactus McCoy Wiki * Steak and Jake Wiki * Jacksmith Wiki* Papa Louie Studios Wiki
Fanon Wikias
Flipline Fanfiction Wiki * Papa Louie Episodes Wiki * Fan Papa Louie Customers Wiki * Flipline Fiction Wiki * Papa Louie Fanon Wiki * Papa Louie Fanon 2 Wiki * Papa Louie Fanfiction-eria Wiki
Mochiblogs
[2]
[3]
[4]
[5]