Home
Talk

27
603pages on
this wiki

Have you played the new Papa's Pastaria? Maybe you've played Papa's Cupcakeria or Papa's Burgeria before, or even the old Papa's Pizzeria, and Papa Louie: When Pizzas Attack! Or maybe you have tried other games by Flipline Studios, like Jacksmith, Steak and Jake or Remnants of Skystone. This is the Wikia full of information about Flipline Studios characters, restaurants, and games!
Featured Article
Papa's Donuteria is the 10th gameria. The winners of Papa's Next Chefs 2014 will be featured as the new chefs in the game. It was confirmed on their blog and Facebook page, as well as will be coming soon.
Read More..

Featured Image
Latest Flipdeck
#105: Guppy (April 08, 2014)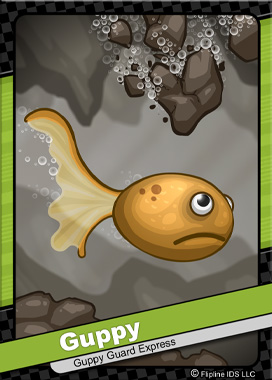 Guppy is a helpless fish stuck in an endless cave of murky doom. Although underwater demise is unavoidable for Guppy, he still needs your help to stay afloat amid the jagged corridors and sinking boulders of this treacherous tunnel.
Blog Updates
April 16, 2014: Coming Soon... Papa's Donuteria
April 15, 2014: Post Mortem: Papa's Taco Mia!
April 8, 2014: Flipdeck 105: Guppy
April 1, 2014: April Fool's Joke: Taco Mia! opening in Cleavland
Wiki Updates
To nominate featured polls go
here
.
Are you Excited for Papa's Donuteria?

Papa Louie Games
Papa Louie: When Pizzas Attack! • Papa's Pizzeria • Papa's Burgeria (HD • To Go!) • Papa's Taco Mia! • Papa's Freezeria (HD • To Go!) • Papa's Pancakeria • Papa's Wingeria • Papa's Hot Doggeria • Papa Louie 2: When Burgers Attack! • Papa's Cupcakeria • Papa's Pastaria • Papa's Donuteria
Other Flipline games
Guppy Guard Express • Meteor Blaster • Rock Garden Deluxe • Remnants of Skystone • The Expendables 8-bit • Steak and Jake • Steak and Jake: Midnight March • Cactus McCoy and the Curse of Thorns • Cactus McCoy 2: The Ruins of Calavera • Jacksmith

Papa Louie: When Pizzas Attack!
Papa Louie • Roy • Big Pauly • Mindy • Chuck • Taylor • Allan • Timm • Penny • Sue • Cooper • Maggie • Marty • Wally • Robby • Rita • Mitch • James • Greg • Mary • Prudence
Kingsley • Cecilia • Mandi • Sasha • Olga • Franco • Tohru • Clair • Clover • Hugo • Peggy • Carlo Romano • Gino Romano • Bruna Romano • Edoardo Romano • Sarge Fan!
Akari • Alberto • Tony • Doan • Matt • Lisa • Cletus • Kayla • Connor • Edna • Vicky
Zoe • Nick • Georgito • Quinn • Rico • Xandra • Jojo
Ivy • Utah • Ninjoy • Kahuna • Captain Cori • Gremmie
Wendy • Yippy • Hank • Johnny • Foodini
Scooter • Skyler • Boomer • Xolo • Professor Fitz
Bertha • Pinch Hitwell • Kenji • Shannon • Radlynn • Willow
Mayor Mallow • Trishna • Scarlett • Nevada • Santa
Crystal • Hope • Deano • Olivia • Sienna

Official Flipline Websites
Flipline.com
*
papalouie.com
*
remnantsofskystone.com
Other Flipline Games Wikias
Remnants of Skystone Wiki * Cactus McCoy Wiki * Steak and Jake Wiki * Jacksmith Wiki
Fanon Wikias
Flipline Fanfiction Wiki * Papa Louie Episodes Wiki * Fan Papa Louie Customers Wiki * Flipline Fiction Wiki * Papa Louie Fanon Wiki * Papa Louie Fanon 2 Wiki * Papa Louie Fanfiction-eria Wiki
Mochiblogs
[2]
[3]
[4]
[5]