CELEBRATING HALLOWEEN ALL OCTOBER!!!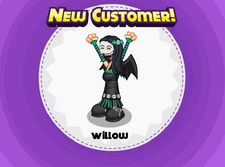 Featured Articles of October
Papa's Taco Mia To Go! is the fifth Papa Louie restaurant management series game made available for small-screened devices. It was released on March 21, 2017.
Read More...

Papa's Sushiria is the 13th game in the Papa Louie's restaurant management series that was released for play by Flipline Studios on December 13, 2016.
Read More...

Kingsley's Customerpalooza 2017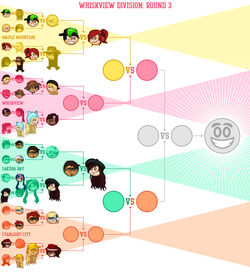 Featured Image of October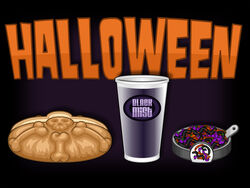 Latest Flipdeck
#192: Olivia (October 6, 2017)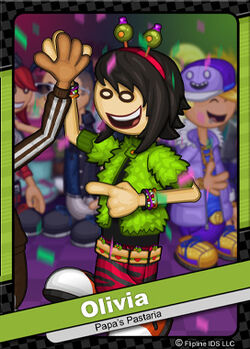 Although she has never seen one in real life, Olivia feels a deep connection to the Party Subs of Munchmore. She even refers to them as her "Spirit Snackimal". This is probably because Olivia loves to party, so much so that she hosts around six a year. Olivia spends months coordinating each party down to the finest detail. The music, food, decorations, and games of her parties are perfectly orchestrated. Olivia is currently pursuing her degree at Cavatelli Community College in hopes of one day becoming a professional party planner.
Blog Updates
October 19, 2017: KCP17: KCP17: Whiskview Division: Round 3
October 17, 2017: Sneak Peek: The Pop Station
October 16, 2017: KCP17: Sakura Bay Division: Round 3
October 12, 2017: KCP17: Maple Mountain Division: Round 3
October 10, 2017: Sneak Peek: Holiday Toppings!
October 9, 2017: KCP17: Starlight City Division: Round 2
October 6, 2017: Flipdeck 192: Olivia
October 5, 2017: KCP17: Starlight City Division: Round 1
October 3, 2017: Sneak Peek: The Build Station
October 2, 2017: KCP17: Whiskview Division: Round 2
Wiki Updates
This wiki officially hit its five-year anniversary on August 19, 2016. Happy Anniversary to the Wiki and thank you to all who have contributed to this site in the past, presently, and into the future.
COPPA has been updated, therefore disabling anonymous users from editing on this wiki. Read more here.
The forums are now open!
We can now use edit summaries so people can easily see your edits. See here for more information.
Featured Poll
It was announced that Adobe is ending development and support for Flash in 2020. With the possibility that Flipline Studios' games will no longer be playable after 2020, what are you hoping Matt and Tony will do?
Papa's Cheeseria Debutants
Happy Halloween!!!


Ad blocker interference detected!
Wikia is a free-to-use site that makes money from advertising. We have a modified experience for viewers using ad blockers

Wikia is not accessible if you've made further modifications. Remove the custom ad blocker rule(s) and the page will load as expected.