The Staff and Editors of Flipline Studios Wikia would like to congratulate Tony and Mandi Solary on the birth of their baby girl Bruna. [1]
Welcome to Flipline Studios Wiki. We're a collaborative community website that provides details about the online and "app" games created by Flipline Studios that anyone, including you, can edit!
We currently have 1,058 articles and 153,956 edits since August 9, 2011.
Have you played the new Papa's Cheeseria game? Maybe you've played Papa's Cupcakeria or Papa's Wingeria before, or even the old Papa's Pizzeria, and Papa Louie: When Pizzas Attack! Or maybe you have tried other games by Flipline Studios, like Jacksmith, Steak and Jake or Remnants of Skystone. This is the Wikia full of information about Flipline Studios characters, updates, restaurants, and games!
Featured Articles
Papa's Cheeseria is the 11th game in the Papa Louie's restaurant management series that was released for play by Flipline Studios on June 10, 2015.
Read More..

Papa's Next Chefs 2015 is the fifth Papa Louie's Next Chef tournament in which fans selected the next two workers for the upcoming restaurant Papa's Cheeseria. After 15 weeks of votes, Rudy and Scarlett won the tournament.
Read More..

Featured Image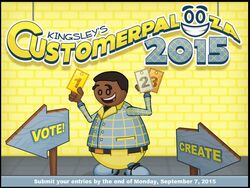 Latest Flipdeck
#142: Mallow Men (September 29, 2015)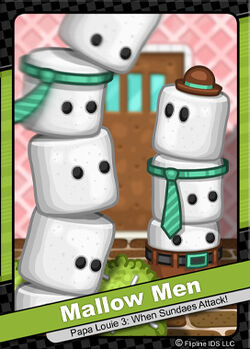 Mallow Men are air-puffed patrollers originally from Wintergreen Way. Being soft and weak, Mallow Men walk in tall stacks to appear more intimidating to their natural predators. They quickly joined Radley's army when he promised safe homes for all Mallow Men in the recently conquered streets of Neapolitown. Soon, hordes of Mallow Men arrived in the town wearing their finest clothes to match their big city dreams.
Blog Updates
October 1, 2015: KCP15: Neapolitown Divison: Round 1
September 29, 2015: Flipdeck #142: Mallow Men
September 28, 2015: KCP15: Wintergreen Way Division: Round 2
September 23, 2015: Fan Art Round Up!
September 22, 2015: Papa's Cook Book: Blue Moon Cookie Dough Freeze
September 21, 2015: KCP15: Wintergreen Way Division: Round 1
September 17, 2015: KCP15: Blue Moon Bay Division: Round 2
September 14, 2015: Play Papa's Cupcakeria To Go!!!
September 9, 2015: We need your Votes!!!
September 9, 2015: 5 More Days Until Papa's Cupcakeria To Go!
Wiki Updates
To nominate featured polls go here.
Which Jacksmith warrior group would you lead into battle against Dudley and his horde?
Jacksmith Characters


Official Flipline Websites
Other Flipline Games Wikias
Remnants of Skystone Wiki * Cactus McCoy Wiki * Steak and Jake Wiki * Jacksmith Wiki
Fanon Wikias
Flipline Fanfiction Wiki * Papa Louie Episodes Wiki * Fan Papa Louie Customers Wiki * Flipline Fiction Wiki * Papa Louie Fanon Wiki * Papa Louie Fanon 2 Wiki * Papa Louie Fanfiction-eria Wiki* Papa Louie Studios Wiki
Mochiblogs
[2]
[3]
[4]
[5]