Home
Talk

27
438pages on
this wiki
14:26 (24hr UTC)– Saturday,December 7, 2013.
Currently 438 articles and 72,013 edits since August 19, 2011 We have 93 active users This all for the moment, this updates whenever a user updates this page.

To chat on this wiki, click here.

Have you played the new Papa's Cupcakeria ? Maybe you've played Papa's Hot Doggeria or Papa's Burgeria before, or even the old Papa's Pizzeria, and Papa Louie: When Pizzas Attack! Or maybe you have tried other games by Flipline Studios, like Jacksmith or Remnants of Skystone. This is the Wikia full of information about Flipline Studios characters, restaurants, and games!
Featured Article
Papa's Pastaria is an upcoming Papa Louie gameria. It was announced on November 5, 2013. The Winner of Kingsley's Customerpalooza 2013 will be featured in the game.
Read More..

Featured Image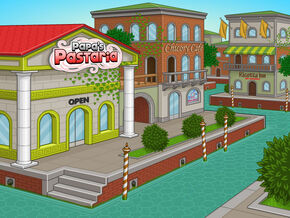 Latest Flipdeck
#93: Cheddar Macks (November 20, 2013)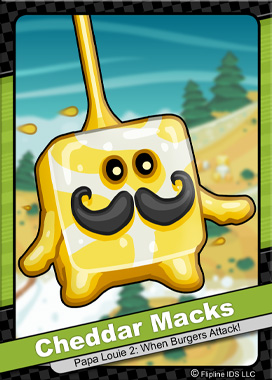 Cheddar Macks are stringy blocks of mustachioed cheese. They spend most of their days swinging carefree from overhangs and bridges. Numerous Cheddar Macks make their home along the gooey slopes of Mount Monterrey. They can be rather oblivious to others around them which makes navigating their territory quite hazardous.
Blog Updates
December 05, 2013: Papa's Pastaria: Launching Day: December 09th
December 04, 2013: Papa's Pastaria: Sneak Peek: New Station: Bread Station
December 03, 2013: Papa's Pastaria: Sneak Peek: Clothing
December 02, 2013: Papa's Pastaria: Sneak Peek: Stations
November 27, 2013: Holidays are announced to be in Papa's Pastaria
November 26, 2013: Dining Rooms are announced for Papa's Pastaria 
November 25 2013: KPC Winner: Hope
November 20, 2013: Flipdeck 93: Cheddar Macks
November 19, 2013:  New Customer: Crystal
November 13, 2013: Flipdeck 92: Taylor
Wiki Updates