Welcome to Flipline Studios Wiki. We're a collaborative community website that provides details about the online and "app" games created by Flipline Studios that anyone, including you, can edit!
We currently have 817 articles and 134,039 edits since August 9, 2011.
Have you played the new Papa's Donuteria? Maybe you've played Papa's Pastaria or Papa's Hot Doggeria before, or even the old Papa's Pizzeria, and Papa Louie: When Pizzas Attack! Or maybe you have tried other games by Flipline Studios, like Jacksmith, Steak and Jake or Remnants of Skystone. This is the Wikia full of information about Flipline Studios characters, updates, restaurants, and games!
Featured Articles
Papa's Next Chefs 2015 is the fifth Papa Louie's Next Chef tournament in which fans selected the next two workers for the upcoming restaurant Papa's Cheeseria. After 15 weeks of votes, Rudy and Scarlett won the tournament.
Read More..

Papa Louie 3: When Sundaes Attack! is the third game in the Papa Louie series of platformer games, following Papa Louie: When Pizzas Attack! and Papa Louie 2: When Burgers Attack! The game premiered on Wednesday, March 4, 2015.
Read More...

Featured Image
Latest Flipdeck
#132: SundaeSaurus (April 16, 2015)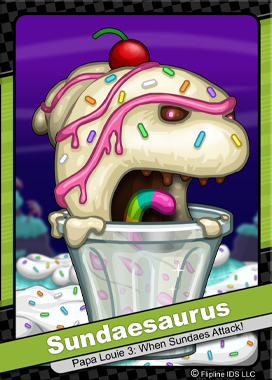 Sundaesauruses are frigid ice-cream monsters concocted by the evil, Radley Madish. Given their soft-serve consistency, they are highly adaptable and can easily roll with the punches. They have been known to use their glass cups as helmets, and even shoot the occasional ice cream ball at would-be attackers. Although Radley tried many flavors, he found the vanilla/strawberry Sundaesaurus to be best suited for the job at hand.
Blog Updates
May 20, 2015: Sneak Peek: 3,554!
May 19, 2015: Sneak Peek: New Customer!
May 12, 2015: Sneak Peek: Today's Special!
May 06, 2015: Quinn's Q&A: BBQ, Chicory Cafe, and McCoy!
May 05, 2015: Sneak Peek: Cinco De Mayo
May 04, 2015: New Flipdeck Pack!
April 28, 2015: Sneak Peek: The Location
April 21, 2015: Sneak Peek: Uniforms
April 20, 2015: PNC 2015: Champions!!!
April 16, 2015: Flipdeck 132: Sundaesaurus
Wiki Updates
To nominate featured polls go here.
Now that Papa's Cheeseria has been named as the next restaurant time-management game, what are you most looking forward to seeing when the game goes live?
Papa's Pancakeria Debutants


Official Flipline Websites
Other Flipline Games Wikias
Remnants of Skystone Wiki * Cactus McCoy Wiki * Steak and Jake Wiki * Jacksmith Wiki
Fanon Wikias
Flipline Fanfiction Wiki * Papa Louie Episodes Wiki * Fan Papa Louie Customers Wiki * Flipline Fiction Wiki * Papa Louie Fanon Wiki * Papa Louie Fanon 2 Wiki * Papa Louie Fanfiction-eria Wiki* Papa Louie Studios Wiki
Mochiblogs
[1]
[2]
[3]
[4]