CELEBRATING BASEBALL SEASON ALL AUGUST!!!
Featured Articles of August
Papa's Taco Mia To Go! is the fifth Papa Louie restaurant management series game made available for small-screened devices. It was released on March 21, 2017.
Read More...

Papa's Sushiria is the 13th game in the Papa Louie's restaurant management series that was released for play by Flipline Studios on December 13, 2016.
Read More...

Papa's Next Chef 2017
Featured Image of August
Latest Flipdeck
#188: Guy Mortadello (July 28, 2017)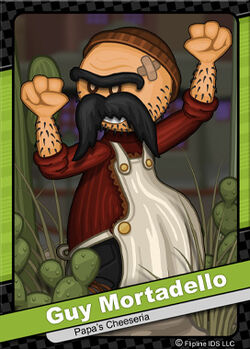 Guy Mortadello was once the owner of the world's largest restaurant chain, Mortadello's Meat Pies. He was a pioneer in made-to-order meals. At the time, people had very few choices for fast food. Guy took advantage of this and baked pies made of the cheapest ingredients, rendering them barely palatable. That all changed when Papa's Pizzeria came along. As Papa Louie opened more and more restaurants, Guy slowly lost all his customers. His last remaining Meat Pie shop in Toastwood was put out of business by the delicious sandwiches of Papa's Cheeseria.
Blog Updates
August 15, 2017: Quinn's Q&A: Apps, Games, and Contests
August 7, 2017: Papa's Pizzeria HD is HERE!!!!!
August 4, 2017: Wendy's Wheels: The Fab Turismo
July 31, 2017: Sneak Peek: Papa's Pizzeria HD coming next week!
July 28, 2017: Flipdeck 188: Guy Mortadello
July 27, 2017: Sneak Peek: The Cut Station!
July 24, 2017: Sneak Peek: Specials!
July 18, 2017: Flipdeck 187: Strawbuzzy
July 17, 2017: Sneak Peek: The Bake Station!
July 11, 2017: Wendy's Wheels: The ThunderVolt II
Wiki Updates
This wiki officially hit its five-year anniversary on August 19, 2016. Happy Anniversary to the Wiki and thank you to all who have contributed to this site in the past, presently, and into the future.
COPPA has been updated, therefore disabling anonymous users from editing on this wiki. Read more here.
The forums are now open!
We can now use edit summaries so people can easily see your edits. See here for more information.
Featured Poll
For the first time in years, Foodini's Friday Games did not appear on the Flipline Blog. Which of these blog articles do you like to read most?
Play Ball!!! (Customers who Favor Baseball Season)
MEET THE TEAMS


Ad blocker interference detected!
Wikia is a free-to-use site that makes money from advertising. We have a modified experience for viewers using ad blockers

Wikia is not accessible if you've made further modifications. Remove the custom ad blocker rule(s) and the page will load as expected.