Welcome to Flipline Studios Wiki. We're a collaborative community website that provides details about the online and "app" games created by Flipline Studios that anyone, including you, can edit!
We currently have 1,089 articles and 167,155 edits since August 9, 2011.
Have you played the new Papa's Cheeseria game? Maybe you've played Papa's Cupcakeria or Papa's Wingeria before, or even the old Papa's Pizzeria, and Papa Louie: When Pizzas Attack! Or maybe you have tried other games by Flipline Studios, like Jacksmith, Steak and Jake or Remnants of Skystone. This is the Wikia full of information about Flipline Studios characters, updates, restaurants, and games!
Featured Articles
Papa's Cheeseria is the 11th game in the Papa Louie's restaurant management series that was released for play by Flipline Studios on June 10, 2015.
Read More..

Kingsley's Customerpalooza 2015 is the third tournament giving fans an opportunity to create a customer that will be added in future restaurant time-management games. After weeks of competitions and over 43,000 entries, Steven, created by Kiki, was voted as the winner.
Read More..

Featured Image
Latest Flipdeck
#155: Splashberry Derps (February 4, 2016)
Derps can be found just about anywhere in the Land of Munchmore. Dive into any body of water, and you will likely encounter the aquatic, Splashberry Derps. They are the oldest known living species of derps in the land. Hoards of them live together amongst the coral and rocks in their soggy Derp Boxes. All day long, Splashberry Derps dart and circle around their homes, keeping a lookout for any would-be invaders.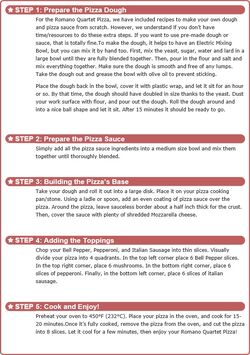 Recent Recipes:
Blog Updates
February 8, 2016: Sneak Peek: No More Badges!
February 4, 2016: Flipdeck 155: Splashberry Derps
February 3, 2016: Rico: All Cleaned Up!
February 1, 2016: Sneak Peek: Build Station Part 2
January 28, 2016: Akari: All Cleaned Up!
January 27, 2016: Flipdeck 154: Rhonda
January 26, 2016: Flipline Rewind: Papa's Freezeria
January 25, 2016: Sneak Peek: Build Station Part 1
January 21, 2016: Penny: All Cleaned Up!
January 20, 2016: Papa's Cook Book: Romano Quartet Pizza
Wiki Updates
To nominate featured polls go here.
While Matt and Tony work hard to get Papa's Bakeria developed, what are you most looking forward to seeing when the game goes live?


Official Flipline Websites
Other Flipline Games Wikias
Remnants of Skystone Wiki * Cactus McCoy Wiki * Steak and Jake Wiki * Jacksmith Wiki
Fanon Wikias
Flipline Fanfiction Wiki * Papa Louie Episodes Wiki * Fan Papa Louie Customers Wiki * Flipline Fiction Wiki * Papa Louie Fanon Wiki * Papa Louie Fanon 2 Wiki * Papa Louie Fanfiction-eria Wiki* Papa Louie Studios Wiki
Mochiblogs
[1]
[2]
[3]
[4]