Welcome to Flipline Studios Wiki. We're a collaborative community website that provides details about the online and "app" games created by Flipline Studios that anyone, including you, can edit!
We currently have 1,083 articles and 157,688 edits since August 9, 2011.
Have you played the new Papa's Cheeseria game? Maybe you've played Papa's Cupcakeria or Papa's Wingeria before, or even the old Papa's Pizzeria, and Papa Louie: When Pizzas Attack! Or maybe you have tried other games by Flipline Studios, like Jacksmith, Steak and Jake or Remnants of Skystone. This is the Wikia full of information about Flipline Studios characters, updates, restaurants, and games!
Featured Articles
Papa's Cheeseria is the 11th game in the Papa Louie's restaurant management series that was released for play by Flipline Studios on June 10, 2015.
Read More..

Kingsley's Customerpalooza 2015 is the third tournament giving fans an opportunity to create a customer that will be added in future restaurant time-management games. After weeks of competitions and over 43,000 entries, Steven, created by Kiki, was voted as the winner.
Read More..

Featured Image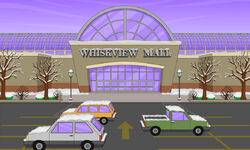 Latest Flipdeck
#146: Kaiser Onion (December 1, 2015)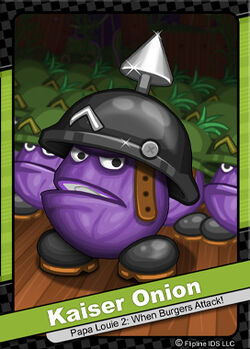 Kaiser Onions are a small group of high ranking officials within the infamous Onion Ring. They take direct orders from Sarge and oversee squads of Army Onions. Kaiser Onions have sharp, pointed helmets that counter attack any customer foolish enough pounce on them from above. They can be spotted marching atop the wooded walls of Fort Onion.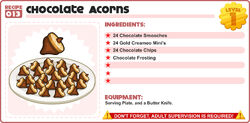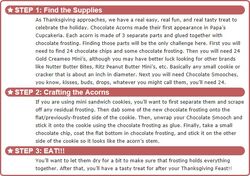 Recent Recipes:
Novmeber 24, 2015: 013: Chocolate Acorns
October 27, 2015: 012: Jack-o-Mole
October 6, 2015: 011: Sizzle Shell Tacos
September 22, 2015: 010: Blue Moon Cookie Dough Freeze
September 2, 2015: 009: Sour Cream Sliders
August 25, 2015: 008: Lumberjack Toast
August 18, 2015: 007: Rico's Chili Dogs
August 11, 2015: 006: Caramel Cookie Apples
August 04, 2015: 005: Blazeberry Wings
July 28, 2015: 004: Rudy's Reuben
Blog Updates
December 1, 2015: Flipdeck #146: Kaiser Onion
November 30, 2015: Sneak Peek: Whiskview Mall
November 26, 2015: Happy Thanksgiving!!!
November 24, 2015: Papa's Cook Book: Chocolate Acorns!
November 23, 2015: Flipdeck #145: Iggy
November 19, 2015: Get Papa's Cupcakeria HD Today!!!
November 17, 2015: Papa's Cupcakeria HD: Coming This Thursday!!!
November 12, 2015: Kingsley's Customerpalooza 2015 Champion… STEVEN!!!
November 9, 2015: KCP15: Finals! Steven vs. Angela
November 5, 2015: KCP15: Semi-Finals! Nina vs. Steven / Colette vs. Angela
Wiki Updates
To nominate featured polls go here.
Which of these Neapolitown Scoopians would you like to see on a future Flipdeck card?
When Pizzas Attack Baddies


Official Flipline Websites
Other Flipline Games Wikias
Remnants of Skystone Wiki * Cactus McCoy Wiki * Steak and Jake Wiki * Jacksmith Wiki
Fanon Wikias
Flipline Fanfiction Wiki * Papa Louie Episodes Wiki * Fan Papa Louie Customers Wiki * Flipline Fiction Wiki * Papa Louie Fanon Wiki * Papa Louie Fanon 2 Wiki * Papa Louie Fanfiction-eria Wiki* Papa Louie Studios Wiki
Mochiblogs
[1]
[2]
[3]
[4]