Welcome to Flipline Studios Wiki. We're a collaborative community website that provides details about the online and "app" games created by Flipline Studios that anyone, including you, can edit!
We currently have 1,217 articles and 184,835 edits since August 9, 2011.
Have you played the new Papa's Cheeseria game? Maybe you've played Papa's Cupcakeria or Papa's Wingeria before, or even the old Papa's Pizzeria, and Papa Louie: When Pizzas Attack! Or maybe you have tried other games by Flipline Studios, like Jacksmith, Steak and Jake or Remnants of Skystone. This is the Wikia full of information about Flipline Studios characters, updates, restaurants, and games!
Featured Articles
Papa's Cheeseria is the 11th game in the Papa Louie's restaurant management series that was released for play by Flipline Studios on June 10, 2015.
Read More..

Kingsley's Customerpalooza 2015 is the third tournament giving fans an opportunity to create a customer that will be added in future restaurant time-management games. After weeks of competitions and over 43,000 entries, Steven, created by Kiki, was voted as the winner.
Read More..

Featured Image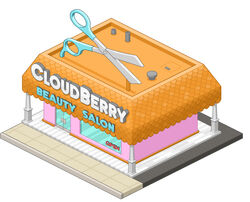 Latest Flipdeck
#161: Lavaleech (April 19, 2016)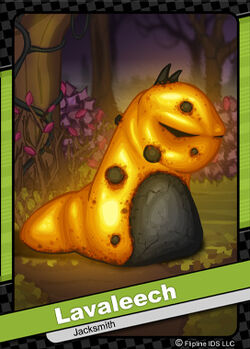 Terragoos are slimy slugs that are known for hastily using their heads in battle. They have the innate ability to dislodge and roll their heads at enemies. Then, they can quickly regenerate a new one in its place. The Lavaleech is a type of Terragoo that has been enchanted with the element of Fire. There are seven other elemental forms of a Terragoo that can be found across the land. Variants include Pondscum, Shiverslime, Rubbleworm, Gustrapod, Jellyjolt, Leafslugger, and Gloombug.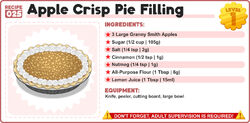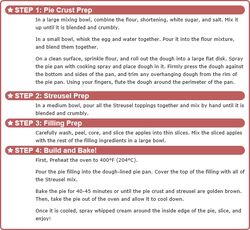 Recent Recipes:
Blog Updates
April 26, 2016: Travel Trout Tours: Cloudberry Beauty Salon
April 25, 2016: Papa's Next Chefs 2016: Austin vs Greg/Olivia vs Trishna
April 20, 2016: Papa's Cook Book: Apple Crisp Pie
April 19, 2016: Flipdeck 161: Lavaleech
April 18, 2016: Papa's Next Chefs 2016: Robby vs Kenji/Lisa vs Shannon
April 12, 2016: Flipdeck 160: Trishna
April 11, 2016: Papa's Next Chefs 2016!: Carlo vs. Brody/Julep vs. Tohru
April 7, 2016: Flipdeck 159: Spearmint
April 6, 2016: Flipline Rewind: Jacksmith
April 5, 2016: Peggy's Fan Art Round Up!
Wiki Updates
To nominate featured polls go here.
*Which of these 12 stores should open within Whiskview Mall after their one-month trial next to the Bakeria
Papa's Next Chefs Winners


Official Flipline Websites
Other Flipline Games Wikias
Remnants of Skystone Wiki * Cactus McCoy Wiki * Steak and Jake Wiki * Jacksmith Wiki
Fanon Wikias
Flipline Fanfiction Wiki * Papa Louie Episodes Wiki * Fan Papa Louie Customers Wiki * Flipline Fiction Wiki * Papa Louie Fanon Wiki * Papa Louie Fanon 2 Wiki * Papa Louie Fanfiction-eria Wiki* Papa Louie Studios Wiki* Flipline Fan Customers Wikia
Mochiblogs
[1]
[2]
[3]
[4]