CONGRATULATIONS TO TONY AND MANDI SOLARY ON THE BIRTH OF THEIR FOURTH CHILD, COSMO!!!
HAPPY NEW YEAR!!!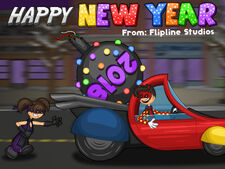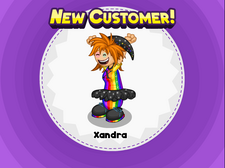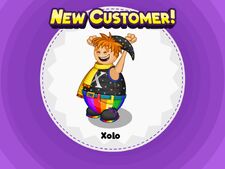 Featured Articles of January
Papa's Taco Mia To Go! is the fifth Papa Louie restaurant management series game made available for small-screened devices. It was released on March 21, 2017.
Read More...

Papa's Pizzeria HD is the seventh mobile game in the Papa Louie restaurant management game series. It was released on August 7, 2017 to celebrate the tenth anniversary of the original game.
Read More...

Featured Image of January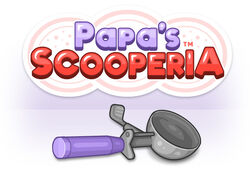 Latest Flipdeck
#197: Teslataur (January 15, 2018)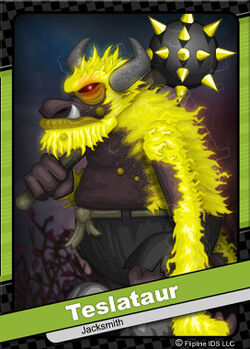 Teslataurs are a form of Stronghorn that have been enchanted with elemental lightning. These hulking beasts slowly gather static electricity as they lumber through the dry night air. The Teslataur keeps this charge to zap away the flies that swarm around most Stronghorns, but when threatened, the Teslataur can channel this electricity into its large, menacing mace. Other Stronghorn varieties include Oxfire, Mermace, Cryosteer, Boulderbull, Bisonwing, Greenhide, and Shadowhorn. All of these Stronghorns are under the complete control of the great wizard, Dudley.
Blog Updates
January 16, 2018: The next gameria will be…Papa's Scooperia!
January 15, 2018: Flipdeck 197: Teslataurs
January 10, 2018: Sneak Peek: Bookmarks
January 2, 2018: Sneak Peek: Clothing
January 1, 2018: Happy New Year!
December 27, 2017: Sneak Peek: Mouth and Eyes
December 26, 2017: Quinn's Q&A: Where is the new Gameria???
December 25, 2017: Happy Holidays!
December 18, 2017: Sneak Peek: Colors and Styles
December 13, 2017: Flipdeck 196: Emmlette
Wiki Updates
This wiki officially hit its six-year anniversary on August 19, 2017. Happy Anniversary to the Wiki and thank you to all who have contributed to this site in the past, presently, and into the future.
COPPA has been updated, therefore disabling anonymous users from editing on this wiki. Read more here.
The forums are now open!
We can now use edit summaries so people can easily see your edits. See here for more information.
Featured Poll
What are you looking forward to most in 2018??
Stop and Smell the Onions (Customers Who Favor Onionfest)
Happy New Year


Ad blocker interference detected!
Wikia is a free-to-use site that makes money from advertising. We have a modified experience for viewers using ad blockers

Wikia is not accessible if you've made further modifications. Remove the custom ad blocker rule(s) and the page will load as expected.