CELEBRATING EASTER ALL APRIL!!!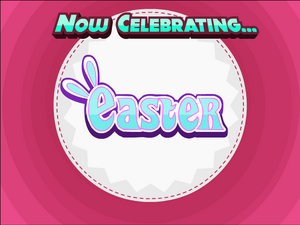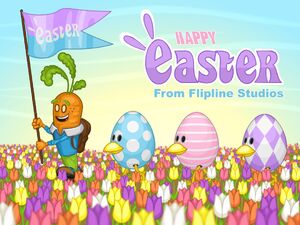 Featured Articles of April
Papa's Taco Mia To Go! is the fifth Papa Louie restaurant management series game made available for small-screened devices. It was released on March 21, 2017.
Read More...

Papa's Pizzeria HD is the seventh mobile game in the Papa Louie restaurant management game series. It was released on August 7, 2017 to celebrate the tenth anniversary of the original game.
Read More...

Featured Image of April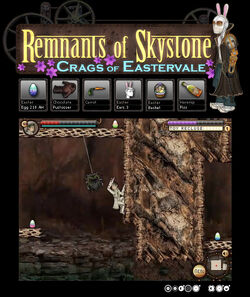 Latest Flipdeck
#199: Yum n' M's (February 26, 2018)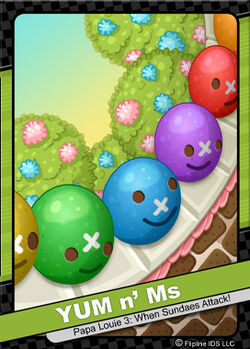 Yum n' Ms are colorful snackimals with a thin candy shell. They usually roam in packs and are rarely found on their own. Yum n' Ms roll along the ground and can even scale walls and ceilings. As of today, there are six known varieties: red, orange, yellow, green, blue, and purple. Near the end of their life cycle, the pack splits apart. Then, an individual Yum n' M will burrow into the ground. Several weeks later, it grows into a large colorful flower called a Bloom n' M. Soon, the flower's petals will grow into new Yum n' Ms that will eventually drop to the ground and roll away.
Blog Updates
April 17, 2018: Sneak Peak: The Build Station!
April 10, 2018: Sneak Peak: Amy visits Papa's Scooperia!
April 3, 2018: Summertime Scooperia!
April 1, 2018: Remnants of Skystone: Crags of Eastervale
April 1, 2018: Happy Easter!!
March 29, 2018: Sneak Peak: The Bake Station!
March 26, 2018: Get Papa Louie Pals Now!
March 25, 2018: 1 More Day!
March 24, 2018: 2 More Days!
March 23, 2018: 3 More Days!
Wiki Updates
This wiki officially hit its six-year anniversary on August 19, 2017. Happy Anniversary to the Wiki and thank you to all who have contributed to this site in the past, presently, and into the future.
COPPA has been updated, therefore disabling anonymous users from editing on this wiki. Read more here.
The forums are now open!
We can now use edit summaries so people can easily see your edits. See here for more information.
Featured Poll
In honor of the upcoming Papa's Scooperia, which is your go-to treat. You can only pick one or the other:
Riding the Rails (Customers who Favor Sky Ninja Returns)
Happy Easter
HAPPY ANNIVERSARY TO OLGA AND EDOARDO ROMANO!!!