Elle is a female customer who debuted in Papa's Sushiria. She's a fan-made customer selected by fans in Kingsley's Customerpalooza 2016 created by Clare.
Appearance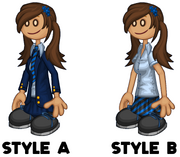 Elle has tanned skin and dark brown hair tied in pigtails adorned by a blue flower hairclip. She dons a collared sky blue shirt, a striped blue and black tie, and navy blue blazer with yellow buttons and dark blue skirt. She also wears black shoes with blue laces and grey soles.
Styles
Style B
Elle wears a light blue collared shirt and a black and blue skirt in a diagonal stripe pattern.
Kingsley's Customerpalooza 2016
On her way to winning the fourth KCP, Elle received more votes than:
Gracie in Round 1 of the Portallini Division (3,684-1,399)
Bella in the Portallini Semi-Finals (4,085-1,077)
Peter in the Portallini Finals (5,312-2,261)
Roxxane in the Final-Four (5,054-3,298)
Emmeline in the Grand Finals (9,062-4,338)
Orders
Nori with Shiso Rice
Not Flipped

Cucumber Slices
Tuna
Cream Cheese

Avocado
Bubble Tea:

Tangerine Tea with Mango Bubbles
Holiday (Cherry Blossom Festival)
Nori with Shiso Rice
Flipped

Cucumber Slices
Kampachi
Cream Cheese

Narutomaki
Wakame
Bubble Tea:

Hakuto Tea with Mango Bubbles
Pita Bread with Steak
Cheese
Guacamole
White Rice
Guacamole
Queso Blanco
Chips:

Multigrain Chips
Queso Blanco
Holiday (St. Paddy's Day)
Cilantro Lime Soda Shell with Steak
Cheese
Avocado
White Rice
Guacamole
Creamy Tomatillo Sauce
Chips:

Multigrain Chips
Queso Blanco
2 Pecan Pancakes
Honey
Chocolate Chips
2 Butters
Drink:

Large Orange Juice with Ice
Holiday (Starlight Jubilee)
2 Pecan Pancakes
Honey
Blue Star Sprinkles
2 Star Cookies
Drink:

Large Powsicle Punch with Ice
​Stickers
| Sticker Number | Name | Achievement | Sticker Earned |
| --- | --- | --- | --- |
| 34 | Interior Decorator | Buy 8 Furniture items from the Shop | |
| 33 | Advertiser | Buy 8 Posters from the Shop | |
| 17 | Make 'Em Wait | Serve the first customer last | |
Earn all three stickers to get this outfit:
Unlockables
Ranks required to unlock her
Trivia
Elle received 4,725 more votes than Emmeline in the finals. This was the biggest difference of votes there has ever been earned in the history of Kingsley's Customerpalooza.
Order Tickets
Gallery
Fan Art
Ad blocker interference detected!
Wikia is a free-to-use site that makes money from advertising. We have a modified experience for viewers using ad blockers

Wikia is not accessible if you've made further modifications. Remove the custom ad blocker rule(s) and the page will load as expected.